The High Fidelity Pure Audio Industry Group was launched last week in Dolby's headquarters in London to drive the development of Pure Audio - utilisation of the Blu-ray disc to offer original uncompressed studio master recordings.

Were present some 70 representatives from companies across the whole spectrum of music, recording, audio technology, production, manufacture, distribution and retail including Universal Music Group, Warner Music Group, LSO (London Symphony Orchestra) Live, Dolby, Bang & Olufsen, Bose, QOL, Metropolis, Allainé Plastic and others.

According to Olivier Robert-Murphy, Global Head of New Business at Universal Music Group and Chairman of the new group - and the driving force behind the format push - the hidef audio disc will be available in the UK, Japan, Germany and the US by September. Universal itself expects to release 150 titles by the end of the year. By then, Robert-Murphy estimates the worldwide number of releases at 300. High Fidelity Pure Audio titles were introduced in the French market last month.

"If the revival of the analogue vinyl is anything to go by, the appetite for high quality audio is there and that bodes well for Pure Audio," says Robert-Murphy. According to Nielsen SoundScan, sales of vinyl hit a 15-year high, jumping 39% in 2012.

According to research undertaken by Universal Music Group's Insight team last year, the proportion of music consumers who said they were 'fairly,' 'very' or 'extremely likely' to buy a high definition format audio product within the following six months was 21% in the UK, 28% in France, 31% in Germany and 32% in the US.

Pure Audio unit sales and turnover are already higher than the ill-fated SACD, only after three weeks of sales in France. And according to In-Stat, Blu-ray will take over from DVD completely by 2015.

Jim Bottoms, who leads MESA Europe (Media and Entertainment Services Alliance) and who has recently been appointed to lead the Blu-ray Disc Association's local and industry activities, will run the High Fidelity Pure Audio Industry Group and its marketing and promotional activity moving forward.

Beside "working together to promote the format" and "creating a platform for cross industry co-operation," perhaps the key stated objective of the new industry group is "to create a standardised product offering."

Discussions with several of the top audio engineers assembled last week around demo booths revealed that some fine-tuning is still expected on the navigation and functionality fronts "to guarantee Pure Audio is the unmitigated success it deserves to be with consumers," as one of them put it. This is certainly what Stefan Bock, MD of msm-Studios (present at the meeting), who coined the term and pioneered the concept, hopes for.

Watch our exclusive interview with Olivier Robert-Murphy and read our background article.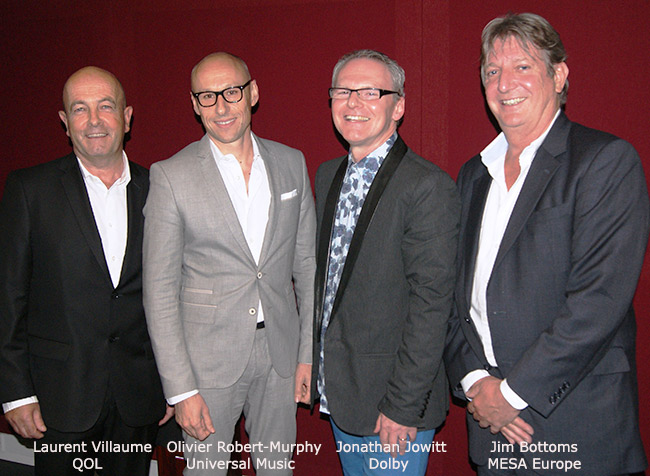 Story filed 24.06.13