Universal Music is inviting on 20 June in London all parties with a stake - existing or potential - in the new format, provisionally called High Fidelity Pure Audio, which the world's largest music group developed and just launched in France. The London gathering should see the establishment of an industry-wide group to coordinate the push for the new Blu-ray support.

In an exclusive, wide-ranging interview with DVD and Beyond, Olivier Robert-Murphy, Global Head of New Business at Universal Music Group - and the project's progenitor - explains why it is the right time to use the existing Blu-ray disc to offer the highest quality sound to consumers.

In a nutshell, the (up to) 50GB capacity of a BD disc is solely allocated to (allegedly uncopyable) audio material. It makes it possible to provide uncompressed 24bit/96khz music in the 2.0 Stereo PCM format, straight from the original studio recordings from Universal's vaults. Titles in 5.1 surround will only be available if the original studio recording was produced in that surround format 'as the artist intended.'

The disc offers as well DTS-HD Master Audio and Dolby TrueHD versions "to ensure compatibility with all consumer-level hi-fi equipment and listener's preference," says the backers.

Users can also download both a mp3 (320kbit/s) and a FLAC (16bit/44.1khz) version for their portable devices by accessing a dedicated website ( www.hifipureaudio.com) using a code supplied on a leaflet in the disc case.

The High Fidelity Pure Audio group will be run by Jim Bottoms (formerly Understanding & Solutions, then Futuresource co-founder and director) who has also been appointed by the Blu-ray Disc Association to spearhead its European activities.

It is not the first attempt to bring high-resolution audio to the market, DVD Audio and SACD have tried before. Not only the ensuing format war killed off any prospect of a successful adoption, but both formats necessitated audiophiles to purchase a compatible - and expensive - player. No such problem with High Fidelity Pure Audio. It is a 'standard' Blu-ray disc that plays - like a CD - in any Blu-ray player and BD-capable devices such as PlayStation consoles, Freebox players and others.

Some purists noted that, while 24bit/96khz is an undeniable achievement, it is still a sampling process, whereas SACD with its Direct Stream Digital (DSD) is closer to the analogue signal of a vinyl.

The hidef BD audio discs were launched at a press conference in Paris last month by Universal Music France. Retail chain FNAC (in an exclusive partnership lasting until September) offers the first 36 titles priced at €19.99. Incidentally, Serge Gainsbourg's l'Histoire de Melody Nelson is released with a 5.1 surround as well.

Closely involved in the genesis of this audio support, France's leading independent replicator QOL manufactures the discs. Dolby is also associated with the format.

An initial 'taster,' The Rolling Stones' Grrr! has been available on amazon.co.uk (from January) for £11.15. If customer reviews are anything to go by, the format is promised to a brilliant future. Of the 58 reviews currently posted, 38 buyers gave the maximum 5-star and 14 a 4-star rating. The single disc includes over 3 hours of music, which would require 27 CDs to fit the uncompressed material.

While staying with the Blu-ray pack size, Universal Music has adopted a clear box for packaging, to differentiate the product.

High Fidelity Pure Audio does not break into virgin territory, however. US studio AIX Records, founded by Mark Waldrep, pioneered the use of Blu-ray disc for uncompressed audio. It even produces Blu-ray 3D Music!

In Germany, msm-Studios introduced its Pure Audio Blu-ray concept back in 2009 with some unique features. Whereas High Fidelity Pure Audio users would be well advised to turn on their TV if they want to select the alternative DTS or Dolby formats (PCM is the default option), Pure Audio Blu-ray users can do so using the remote's colour-coded buttons, without visually checking the selection on TV. Also, mp3 and FLAC files are stored on the disc itself and accessible with the studio's patented mShuttle. They are not downloadable from a website, but it requires that the BD player be connected to a computer via a home network - not a practical option for many users.

Universal points out that, unlike msm-Studios' system, High Fidelity Pure Audio uses no proprietary, royalty-collecting features and is thus open to anyone wanting to bring hi-def audio on a Blu-ray disc to the market, without hindrance.

So, is another format war brewing? Highly unlikely. Both parties met last week to address potential consumer confusion. DVD and Beyond understands that the meeting was "very good, very constructive." The participants "share the same vision and strategies towards the same goal."

After France, High Fidelity Pure Audio will roll out in Japan with imported titles first then followed by Japanese titles. Next is Germany in June-July and the UK in the summer. The BD audio format will be present in every market by September.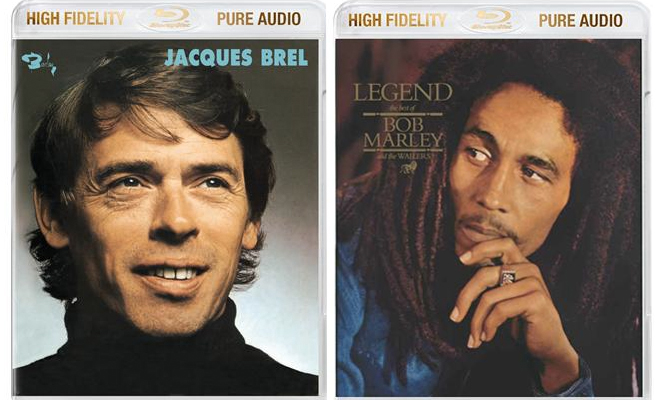 Story filed 09.06.13