Going by 2016 sales figures – 110 titles, 2 million units in the US alone – the Blu-ray Disc Association is buoyant about the future of Ultra HD Blu-ray. The Digital Entertainment Group forecasts a total of 250 4K BD titles released in the US this year. Compared to the track record of 'standard' Blu-ray Discs, the 4K BD format is already doing better.

DEG said that more than 45 UHD Blu-ray title releases were available in the first half of 2016, and about 288,000 units were sold in that time frame. Home Media Magazine separately reported that 228,000 UHD Blu-ray discs had been sold as of June 24, 2016. Victor Matsuda, BDA chair (and VP of Sony Visual Entertainment Products Division), points out that only 57,000 Blu-ray discs were sold in a comparable time frame after the original format was introduced in 2006. Total physical sales of home entertainment content inched up only 3% in Q2 from a year ago, the DEG said. However, Blu-ray sales (including UHD Blu-ray) jumped 35%.

No official 4K BD disc sales numbers have yet been published for the full year 2016. The Digital Bits quotes the 'tentative' figure of "just over 2 million" from the UHD Alliance. USA Today obtained a "1.8 million" figure from The Digital Entertainment Group.

The growing installed base of 4K UHD displays is a fertile ground for 4K BD disc prospects. The Consumer Technology Association projects US shipments of 4K UHD displays to reach 13 million units (an 83% increase), and expects revenue to top $10 billion, a 65% increase from last year. Manufacturers expect to ship 80% more UHD TVs this year than last and, by the end of 2016, 16% of US homes owned at least one 4K UHD TV.

Purchasing an Ultra Blu-ray player is risk-free. All new 4K players must be able to play back current Blu-ray Discs, giving consumers access to the vast library of more than BD 12,000 titles. In comparison, All Blu-ray playback devices (including set-tops and game consoles) are at 88 million US households.

So, Ultra HD Blu-ray is not the flop many feared. Of course, there is talk of a niche market for enthusiasts, without counting the ruthless competition from streaming services like Netflix, Hulu and Amazon Video starting to have in their catalogs more and more content in 4K (much less, however, than even in HDR ).

The fact that Sony, LG, Oppo, Samsung, Philips, Panasonic and Microsoft now list at least one UHD Blu-ray player bodes well for an expanding Ultra HD disc market. Approximately 300,000 4K BD players were sold in the US alone last year, accounting for $66 million – three times the number of Blu-ray players sold in a time frame from their launch.

Matsuda spelt out for Italian specialist magazine AFdigitale three reasons for Ultra HD Blu-ray's early success.

The first is that the average internet connection speed in the United States is 15 Mbps, a speed that does not always provide an optimal streaming content in 4K, especially if the bandwidth is shared with other household members.

The second reason is that Netflix, Hulu and Amazon Video do not offer lossless audio tracks for their content in 4K, while the original tracks of Ultra HD Blu-ray specs are more and more often in Dolby Atmos, or to a much lesser extent in DTS X – difference noticeable not just to the hardcore enthusiast.

The third reason is image-improving High Dynamic Range (HDR) technology. The HDR or Dolby Vision content offered by Netflix, Hulu and Amazon Video is still few, while all Ultra HD Blu-ray titles on the market are encoded in HDR (HDR 10). Consumers who have forked out $1000, $2000 or $5,000 for a new 4K UHD TV expect the optimum video. The best way to experience native 4K with HDR on their new TVs is with UHD Blu-ray and not via streaming, said Tom Campbell, corporate director at California retailer Video & Audio Center to Home Theater Review. Indeed, the average customer is buying one to three UHD Blu-ray movies along with each player and 4K TV sold at its stores, he estimated.

The first Ultra HD Blu-ray titles of 2017 in Italy, are Sony Pictures' The Magnificent Seven to be followed soon by Warner's Traffickers and 20th Century Fox's Independence Day – Regeneration. In February comes Hell, Pets - Life of animals, The Accountant, Jack Reacher - Event Horizon, Storks on a Mission and Mike & Dave - a Wedding Rocking. Fast & Furious 6 and Battelship are scheduled for March.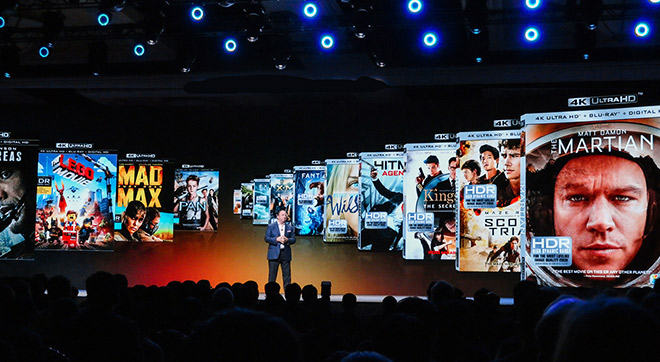 In a less optimistic report published last month, IHS Media & Technology senior analyst Richard Cooper points out that the content side of the Ultra HD supply chain has been "slow to respond" in providing UHD programming to consumers. Cooper reckons that there are some 400 titles available in UHD across various platforms and formats, although the "vast majority" of these have simply been up-scaled to 4K. IHS says that Ultrafix, a US transactional online VoD service, boasts the greatest number of UHD titles (229), though these are almost all scaled-up versions and – for the most part – less well-known titles.

Cooper cautions that the definition of UHD is itself very broad, and that it is unlikely that most (so-called) UHD TVs can even make the most of the UHD material that is available. The IHS analyst concludes is that unless this situation is resolved UHD could, like 3D, become just a little-used, high-end feature of large-screen TVs.
Story filed 19.01.17