A combination of a slower-than-expected fall in retail prices and the impact of the worst economic recession in living memory ensured that – unlike in the US – sales of Blu-ray hardware failed to live up to expectations in the key international markets in 2009, according to Screen Digest's latest report.

Furthermore, those homes that did acquire a BD player or PS3 by the end of the year bought fewer Blu-ray Discs than anticipated – less than 1.5 titles per household on average. For many people, it seems, DVD remains 'good enough' for most titles and the additional cost of opting for a hi-def BD version simply cannot be justified in the current climate of austerity.

As a result, total international consumer spending on buying packaged media fell 2.9% (at fixed exchange rates) to $17.1bn in 2009, according to Screen Digest analysis. "Furthermore," says report author and Head of Video Helen Davis Jayalath, "the failure of the Blu-ray format to capture enough of the market in 2009 means this downward trend is now set to continue, with the short-term uplift in video spending that we had previously expect to see in 2010-2011 now unlikely to materialise." Over the next five years (2010-2014) Screen Digest now expects international consumer spending on buying DVDs and BDs to fall to $14.5bn, an average decline of 3.5% per year.

This is despite recent reports of an upturn in total video spending in the first quarter of 2010 in both France and Germany and stability in the UK. Since these territories alone account for two thirds of all Western European spending, this resulted in an apparent surge in BD sales across the whole region in the first quarter of 2010.

However, Screen Digest research shows that this growth reflects a combination of specific market conditions in France and Germany with a stronger title slate than in Q1 2009. Not only were several strong Hollywood titles (including, in some territories, Disney's Up) released in Q1 to take advantage of the early Easter break (it fell in March this year compared with April in 2009) but both France and Germany also benefitted from strong local titles in the first quarter (Oscar-nominated Un prophète and family movie Wickie und die starken Männer respectively).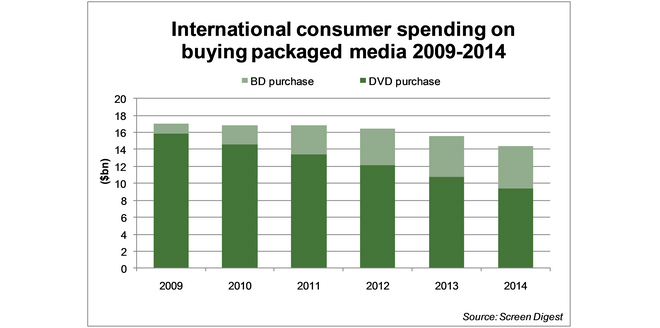 Outside the US, industry promotions for BD hardware came 'too little, too late' and failed to piggyback successfully on high profile HDTV advertising campaigns. Sales of BD hardware and software are lagging those of DVD at a similar stage in that format's evolution everywhere except Japan.

In 2000, four years after DVD was launched internationally, the format accounted for more than one in five (22%) video units sold (DVD + VHS) in the key international markets of West Europe, Japan and Australia/New Zealand. Since then the total number of video units sold each year has more than doubled, but last year (four years after BD's launch), the hi-def format accounted for less than one in 20 (4%) of the 850m video discs (BD + DVD) sold.

And contrary to some reports, even the April release of James Cameron's record-breaking Avatar is unlikely to change this situation. As expected – given the combination of the biggest box office hit of all time and a steadily expanding installed base of hardware – the title has smashed BD sales records worldwide, but it's also selling extremely well on DVD.

And unlike in the US, where Nielsen VideoScan data reveals that the title sold a massive 50% on BD in its first four days, Screen Digest research shows the format's initial share of sales in key international territories was not significantly higher than that of other recent releases.

This was certainly the case in the UK, where consumers' reluctance to upgrade to the BD version (which also contained a DVD copy) may partly be a reflection of the substantial price differential between it and the DVD-only version. While US consumers could pay as little as $4 extra for the hi-def option, a week-one DVD price war between British retailers meant that the DVD version was available for as little as £8 ($11.40) in some UK supermarkets, barely half the £15 generally charged for the BD.

Assuming no change in studio pricing policies, BD will account for 35% of total international spending on buying physical video formats by 2014, spending which will have fallen by 22% since 2007, from $18.6bn to $14.5bn. By contrast, in the US, BD will represent over 68% of physical video purchasing by 2014, although that figure will have declined by 35% since 2007, from $13.3bn to $8.6bn.

When physical rental, digital retail and rental and TV-based VoD are included in the equation, international spending on home entertainment is expected to reach $24.3bn in 2014, for a more modest 14% decline from 2007's comparable figure. Meanwhile, US consumer spending will have slipped just 8% over the same period, to $21.9bn.

"The situation in the UK is particularly difficult for BD," says Davis Jayalath. "As long as deep discounting of the standard definition format by the supermarkets continues, Blu-ray adoption will continue to be slow because the price differential is simply too large for most consumers to justify in today's climate of austerity."

Click here for information on the report.

Story filed 01.06.10