The first Blu-ray Disc Academy's one-day forum brought together at Frankfurt, Germany, some 140 professionals from 23 countries, representing all facets of the packaged media industry. They were treated to live demonstrations of the range of advanced applications the Blu-ray Disc format offers. A report by JEAN-LUC RENAUD, Forum Director.

Do consumers care about BD-Live capability, that enables a BD player to connect to the Internet? Very much so, if one goes by the hard data presented by Todd Collart, Senior VP New Media at Deluxe Digital Studios. He has been tracking consumer usage of BD-Live titles from six Hollywood majors via 1,200 servers worldwide. In the last six months, 75 million BD discs have been inserted into connected players that log on for updates – a 150% increased over the previous period. The number of inserts has risen from 4 million to 7 million a month. And the number of unique BD players tracked was 12 million as of April 2010.

Of that 75 million disc inserted, 65% were from North America, 35% Europe, and 5% from the rest of the world. The prominence of North America in the usage figures is more a function of the fact that the major studios ship their BD-Live titles in the US first, rather than usage patterns. As titles are now released internationally, the balance will change. Actually, the use of online features is higher in Europe than in the US.

Some 12 to 16 months ago, the PS3 console accounted for 98% of connected devices. Now it is under 80%, with the arrival of Internet-ready BD players.

What have we learnt over the past 6 to 12 months? Internet-connected BD players become a great movie-watching machine. Not only can you watch BD movies or enjoying BD-Live material, but more players ship with movie service provider built-in such Netflix, Cinemanow, Amazon, and in the UK, Redbox.

"We also see Blu-ray, especially BD-Java compatibility improving,"? note Collart. "However, many players are still shipping without local storage, and when you stream BD-Live content, you need this local storage. It's very confusing for the consumers that they have to go buy a SD card or USB stick to plug in their consumer electronics device."

Network start time is still an issue. Some players take 30 to 45 seconds to effectuate a network detection before they can start. It is still challenging for authoring studios to create compelling live video features that don't automatically delay the experience.

"We also realise that trying to replicate what you can do with a game console on a browser does not translate well in the Blu-ray experience. A case in point is to offer a chat room capability on a BD disc. It does give you the press release, but the usage pattern is terrible. Which really beg the question: What is going to be interesting for consumers?," adds Collart.

We are also learning that costs are not only related to start-up. It's one thing to provide a turnkey - I can BD-Live-enable your disc -solution, but we are finding that publishers are not necessarily thinking about the long-term maintenance costs. The disc will be in the market, possibly, for at least 10 years.

"That is one thing I have learnt from my InterActual experience," recalls Collart. "Some 150 million 'web-connected' discs have been shipping since 1997, and they are still shipping now! You will have to maintain the life of these products for a long time."

The BD player is ideal for watching movies, that's what people are doing with it. Therefore, the types of experiences we are trying to deliver, especially via BD-Live, really need to focus on how to enhance that core movie experience.

"We are going to see the studios integrating BD-Live into a broader marketing strategy,"? says Collart. "I think i's a big mistake for people to focus their press release on BD-Live as the showcase feature of the title. It should instead focus on what is the overall consumer experience."?

Fundamentally, the best BD-Live experience is the one no-one has a clue that's a BD-Live experience. How many consumers are out there shouting "this has got great things with branching -? BD-Live is a technology. One needs to focus on what is the experience BD-Live is giving rather than focusing on the term "BD-Live."

Todd Collart puts the range of activities regarding BD-Live into four categories:

First is the basic BD-Live enabling experience, what you can do with it. It is not possible to BD-Live-enable a disc once it is shipped. If you want to have a disc that has the opportunity in the future to be BD-Live enabled you have to put some software on the disc. That's called boot-strapping. A piece of code is put on the disc that has that ability to phone the server and check for additional software update.

It thus allows the client to future-proof their discs. They may not have a BD-Live strategy right now, but they ought not to exclude developing one over time for their disc. Boot-strapping already offers you the possibility of gathering usage data.

Forty-seven percent of BD-Live users insert the disc once; 21% twice, 10% three times, 6% four times; 4% five times, but 12% six or more times. Repeat-viewing behaviour is particularly interesting in terms of promotional campaign you might be able to do with BD-Live enabled disc.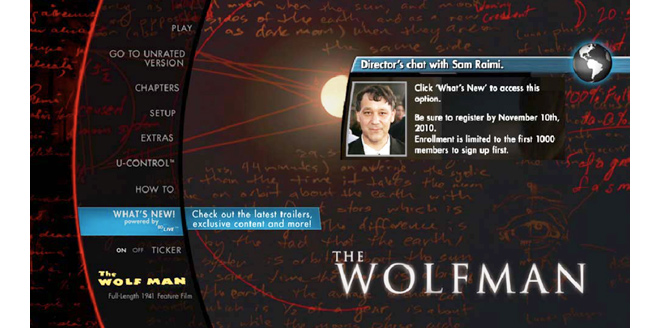 Leverage BD-Live to promote market-relevant content, around the movie-watching experience. Film trailers do not need to reside on the disc, they can be served up on line. The disc interrogates the server to check for news trailers. When it finds new material, it accesses them while keeping on screen the Studio logo located on the disc. It can also check the player speed and the Internet speed to optimize online delivery.

The speed threshold for a standard definition trailer is about 1.5Mb/s, the HD trailer (720p) is about 2.2Mb/s. So far, Collart noted a 75% success rate in accessing HD-quality trailers. Because of demographics (early adopted, technology savvy, better network environment), the average BD-Live player owner in the US enjoys a connection of 6Mb/s, whereas the average speed is 2.5Mb/s.

Augmenting the core movie experience that makes movie-watching even better. Sony's MovieIQ or Fox's Live Lookup are good example of how to enhance the experience. They provide additional information about cast, crews, etc. Extra information can be brought on screen while the movie is running, either on top or into a window.

Providing timely content is especially pertinent in the case of franchise properties. In the case of a sequel, the provision of content from the original disc release would be appropriate. For example, additional content on Terminator 2 is only available to consumers who bought Terminator 1 as well. Paramount recorded a 3-time sell-though uptake of the Terminator 1 disc after T2 was released.

Using the disc as an enabling tool to communicate with consumers and fans, get them on line, extending that experience beyond the BD disc itself. The purchased disc provides access to additional movie content in the form of electronic sell-though (EST) or video-on-demand (VOD) transactions. Wolfman is a case in point. When consumers buy the 2010 BD version they have the ability to stream the original 1949 version via the BD-Live enabled player using all the player's functionalities.

Studios can pitch a prequel. "We are going to see them integrating EST/VOD transaction capabilities on the disc. Because, currently, many more people watch BD discs than access Internet via a BD-Live player, it makes much sense to turn every disc into a transaction as well," says Collart.

Universal goes one step further and enables consumers to access content on secondary devices, such as handsets and computers. They are leveraging PocketBlu, a secondary device applications already shipping with titles from three studios, today. The idea is to extend the BD experience onto a handset, for example, using it as a basic remote control connected to a network enabling the user to navigate the disc.

"More interesting is to push the experience off the disc and into an environment more conducive to actual navigation, and at a much lower cost than trying to operate in a BD-Java environment," Collart suggests. "While watching a movie on a TV, I turn my handset horizontally and see the movie timeline and bonuses, and it offers the ability to purchase tracks on iTunes. This additional content does not necessarily have to reside on the disc. Personally, I do not want these to be on top of the movie when I watch it."





Studios now make available this bonus material on the handset. Once the network checks the user owns a legitimate copy of the BD disc he gets the ability to stream or download this content from the web. You can, thus, take a portion of the movie-watching experience with you.

The problem, for far, is that it's only a portion of the movie-watching experience. Now, though, some studios enable consumer to take the whole feature with them. "Imagine you are watching a movie or TV series on your BD player, but don't have time to finish it in your living room. I can now pause, or stop, and resume watching on my handset, Blackberry, Android, iPhone," Collart says. While a core part of the movie-watching experience, BD-Live becomes only a part of the experience. And why stop there? One could continue watching the movie on your PC (though only streaming for safety purpose).

So, BD-Live is here to stay. In the US, 30% of BD-Live player-connected households access on-line features. In Europe, the figure is 15-18%. This year, the majority of BD players will be shipping Internet-ready, heavily driven by the online movie service providers who are begging to be able to use BD players to stream their movies.

Download Todd Collart presentation


Chris Neely, VP European Operations at Sonic Solutions, exceptionally got the hard-to-get green light from the Neil Young management to showcase the Neil Young Archives, a 10-BD disc, $350 boxset, considered to be one of the most accomplished use of BD-Live technology to date.

Musician-cum-movie producer-cum-political activist-cum-inventor Neil Young wanted to create an entire archive of his life and music covering his career in the 60s with continuing updated content. This was not a one-off project for him, but a continuing, evolving project. Already 1.5Gb of new material available have been made available on line.

The producers saw BD-Live criticial to bringing new content to fans, and carry Neil Young brand forward. There has already been ten updates since the title was released last year. New material is added once or twice a month, with a commitment to carry on as long as the artist is alive. He continues to go back to his own archive to refresh them. Some 2,000 pieces of information were scanned.

Neely's demo show the key menu with a timeline of everything Neil Young has done, dotted with grey, yellow, and blue pins: grey for material residing on the disc, yellow for new material available for download, blue for material already downloaded.




"BD-Live has to be looked at as a marketing opportunity,"? says Neely. "From a budgeting perspective, the investment does not stop with the release of the disc. There is life beyond the disc."? Given the financial commitment to the project - initially ten people worked for 4-5 months - it is critical to maximize the investment via a variety of services to the fans. So, communicating with the audience through enhancing the consuming experience and, thus, gathering marketing intelligence, is important.

"BD-Live is a bridge to the future. We are in a transition from one format to the next. Online is the next major distribution mechanism for EST/VOD. When we move to this new distribution mechanism as an industry, all these opportunities that exist with BD-Live today are going to be there as well,"? Neely says. "Try to take advantage of those, that is something you can start understanding now using BD-Live."

Download Chris Neely presentation


Andreas Thran, CEO of Imagion, a leading German authoring and production house, demonstrated dynamicHD - an 'ut-of-the-box' BD-Live content management solution affordable to smaller, independent publishers. DynamicHD consists of BD-Live client support and implementation, a basic package of components (trailers, banners, texts, pictures, etc), Web-hosting and access to content management, downloading technology, content delivery through the worldwide Akamai network and boot-strapping.

"For BD-Live to succeed requires adoption by smaller content publishers, tha's why a vertical, widespread, cheap, easy-to-integrate and manage solution is needed,"? says Thran. Available for licensing, the solution is designed to be implemented into a fully operational BD-Live proposition within two hours. DynamicHD is already used in 500 BD titles worldwide.

"We see BD-Live as a marketing tool rather than a content tool. With decreasing budget for production, nobody has money to produce extra content to make available online. As a marketing tool BD-Live is taking off. We can track the location of the BD player, what is being watched, how often and how long is the disc played. We collect all these market data which we pass on to our clients. As long as you push free stuff to the users, they are happy to give away a lot of information."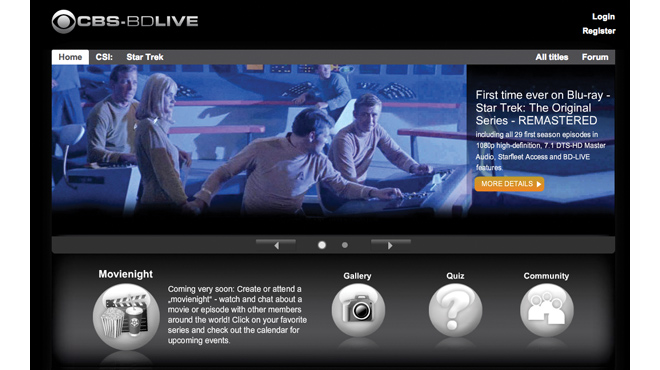 BD-Live is pushed farther, involving social networking. Imagon has built its own social network, tunedhd.net, originally used for Star Treks, where fans can create, upload and manage their own content, create and upload quizzes. Then, this material can be taken out of the social network into the fan's living room via their BD player. Pictures can be taken out of the Flicker gallery and integrate into the disc on the fly. Facebook, tweeter integration is possible as well. Furthermore, everybody can create their own Wikipedia about the movie they play.

Thran left for the end of his presentation a bombshell: Imagion has produced Europe's first 3D Blu-ray title, Grand Canyon Adventure, available in Germany from the end of June through distributor Eurovideo. The 3D title, which uses the new Blu-ray 3D MVC codec (for active shutter glasses), was finalised the night before the Frankfurt event. The title integrates the studio's dynamicHD. A substantial number of 3D Blu-ray discs, including special interest and feature film titles, are already slated for production in 2010." Read story.

Download Andreas Thran presentation


Lothar Kerestedjian, Director of Products & Business Development at Hamburg-based Enteractive, one of Europe's pioneer BD production studios, demonstrated their BD-Live Video on Demand service 'Videociety' - a digital pay-per-view video delivery service that lets users rent movies via their Blu-ray player.

In a nutshell, Enteractive's ground-breaking videociety technology transforms a Blu-ray player into a Home Entertainment Centre with access to a video delivery service. A Blu-ray Disc runs a specialised Java software application acting as a Client (browser). The Java application synchronises with the Java operating system inside the Blu-ray player, controlling and performing all the necessary tasks to ready the delivery of movies from a dedicated content management system and video server (performed by Akaimai). AACS copy protection is used for video streaming. The movies are encoded in the high quality MPEG-4 (H.264) video format with either Dolby Digital 2.0 stereo and 5.1 surround audio.

"The streaming service is so fast you can even start watching the movie as it's downloading. All you need is a Blu-ray Profile 2.0 player or Playstation3, a personal computer, high-speed Internet connection and a BD-Live VoD-enabled disc,"? explains Kerestedjian. "Register, preselect your favorite movies and create your play list on your PC, laptop or iPhone. Insert your BD-Live VoD-enabled disc in your Blu-ray player. Establish a broadband connection, login and enjoy your movies with the remote control. Just like watching a DVD."

"Intentionally, we do not support the personal computer or laptops to viewing movies with a web browser (such as Media Player). We believe, that the living room is the premiere location to view movies in the household. In our concept, we do see the personal computer and smart phone with a web browser as the device to register and accept all terms and condition for the service. That way we can also ensure that all legal and payment security issues as well as parent control are handled according to government regulations,"? says Kerestedjian.





Download Lothar Kerestedjian presentation


Paulette Pantoja, Founder & CEO of California-based BluFocus, the entertainment industry's first advanced testing and advisory service specialist for Blu-ray, demonstrated the company's BD Touch, a technology developed with NetBlender. This technology allows for two-way communication between a Blu-ray player/disc and a Wi-Fi-enabled smart device such as the iPhone, iPod Touch, Blackberry, Google Android, and others.

All basic remote functions (Play, Pause, Rewind, Pop Up Menu and more) are found on the BD Touch application. The user simply launches the application from their device, such as their iPhone, and it will connect with the Blu-ray player through their internal home network and give the user instant control.

BT Touch enables the transfer of content to the smart device. Content owners can now offer various files (web links, ringtones, songs, deleted scenes, trailers) that can be transferred to the users' device while they are watching the movie. This content can come from files that are authored on the Blu-ray disc, stored in the Blu-ray player (internal hard drive, memory card, etc), delivered from a BD-Live server, or hosted on an Internet website.

Content that has been transferred can be saved on the device, making it portable and usable outside the living room. Users can share experiences with friends, re-launch content on the go, access web links and see updated information about products, titles and more.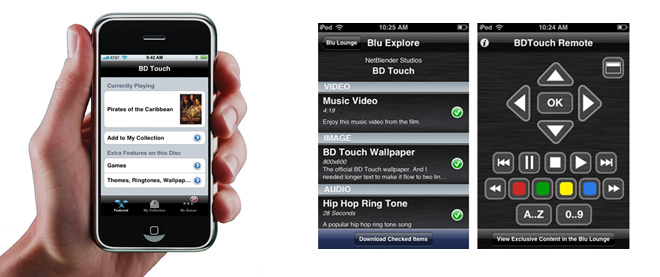 BD Touch is a single application (living on the smart device) that will work across all titles and players that are BD Touch-enabled. Consumers will only need this one application for the remote control, the movie information feature, and to host all their content so it is easy to find at any time.

BluFocus has also developed a wide range of 3D testing capabilities. As Pantoja spelt out the many different areas where things can go wrong, one realises how much of a challenge producing a good 3D title is. Each people see 3D differently. "We have created unique 3D material with our own 3D camera setting we built and put graphics on the video and created Blu-ray disc," says Pantoja. "The purpose of this is to demonstrate 'bad 3D' and what should not be done because bad 3D can cause negative effects for the viewer. It is looking at the quality aspect, not from a technical standpoint (specs), but from the physiological aspect and if the creative part was implemented for the best user experience."

Delegates were invited to a demonstration on her 3D laptop.

Download Paulette Pantoja presentation


Daniel Hromadko, Executive Head of Czech authoring house Brickbox Digital Media, reminded the audience that Blu-ray is ideally suited for restoration work on classic movies. If the BD version of a catalogue title is to be worth the premium price consumers are asked to pay, especially for materpieces, restoration should be a must. The challenge is that, at the same time, it has to be budget-conscious to ensure distributor's return.

The studios received kudos for its restoration of Dario Argento's acclaimed 1977 classic horror film Suspiria on Blu-ray and DVD. Brickbox's team initially reviewed all the materials available and produced recommendations on improvements that could be made to the picture and audio. The restoration techniques employed included frame-by-frame film and digital artefact restoration, scene-by-scene colour correction and noise reduction. The opening credits were fully restored by taking out damaged frames and stabilising the picture.

Suspiria had previously been released with stereo audio, and Brickbox's audio department fully restored the original audio by taking out low level audio noise and up mixing the stereo audio track to a dynamic 5.1 DTS HD Master Audio mix.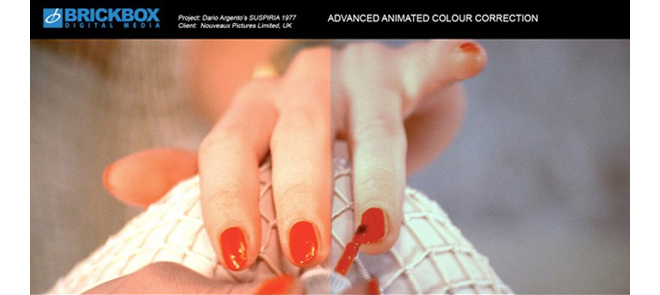 Other titles that got the Blu-ray restoration treatment include: Arrow Video's Day of the Dead (noise & grain management, scratch & dirt removal, color leveling, sound mastering). Hollywood C.E's Kvaska (scanning from 35mm to digital, color correction, noise & grain management, scratch & dirt removal). FEX's Blaznova Kronika (film transfer from 35 mm, color balancing, noise & grain management, scratch & dirt removal, sound restoring). Bontonfilm's Údolí včel (film transfer from 35 mm, color balancing, noise & grain management, scratch & dirt removal, sound restoring).

"Our company is working intensively on the development and improvement of unique processes for the preparation and processing of film materials with the aim on transferring film material efficiently and cost-effectively in 16mm or 35mm format to the highest technical quality required on the market in these days,"? says Hromadko.

Download Daniel Hromadko presentation


Stewart Dickison, Head of Authoring & Post-productions at Sony DADC DigitalWorks, introduced the company's MovieIQ. Launched in Autumn 2009, the system offers viewers access to a real-time movie database. With a movieIQ-enabled Blu-ray Disc and an internet-connected Blu-ray player, movie fans can immediately access continuously-updated information on cast and crew and explore relevant trivia such as production facts, music and soundtrack information all tied to scenes within the movie. It is designed for use on both HDMV and BD-J titles. Already 60 titles with movieIQ feature will be available by end of year.

The e-commerce opportunities are rich, especially with the company's movieIQ+sync. A case in point is the Jackson - This Is It title. Fans can build a list of their favourite songs from the movie, which will then be emailed to them and linked to the iTunes Stores where they can purchase the tracks.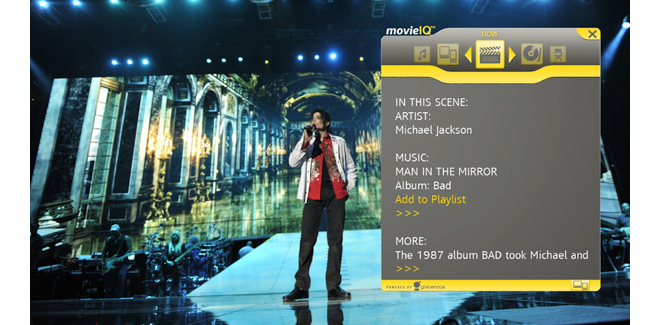 With Julie & Julia viewers can request the specific recipe of a meal served in the movie. The address for downloading this recipe is emailed to the viewer's phone. In fact, interactivity can be switched on to the viewer's smart phone so not to be distracted from watching the film on the disc.

In a note on 3D Blu-ray, Dickison said Sony wants to be involved in native 3D content. "We are involved in all the 3D supply chain. We are into R&D, film and post-production, we have 3D film crews for shooting special-interest material. Our motto is "From lens to living room.'"

It was announced that Sony DADC authored and manufactured the Blu-ray 3D release of Jean-Michel Cousteau's Ocean World 3D for independent distributor Eagle Pictures. The underwater adventure movie was the first ocean documentary to be completely filmed and released in 3D.

Download Stewart Dickison presentation


"Why would people only watch movie on a BD player after having spent money on it. Why not listening to music, the same way DVD players are used to play CDs?"? asks Stefan Bock, Managing Director of msm-studios, a leading audio specialist.

Already the high-end Hollywood movie format, Blu-ray could serve as a high-end audio format as well. Music aficionados or collectors may not be happy with downloaded music, and they value surround sound.

"Sure, DVD-Audio was a disaster and SACD did not fare better. But a special player was required for exploiting the merits of these two high-resolution music formats, and there was a format war,"? says Bock. "Other lessons include the fact that the audio market alone just isn't big enough to have its own HD format; we have to use a platform that is accepted by the mass market."

Bock strongly believes that Blu-ray is the solution. The format's standard offers high resolution surround audio as it stands, but it's a format that isn't just for high-end audio enthusiasts. It is the successor to DVD-Video. While Blu-ray is not an audio format itself, it can be used as such. And this is where msm-studios brings out its Pure Audio Blu-ray.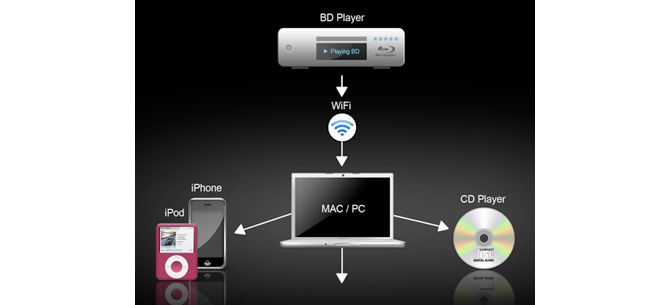 Developed in cooperation with Norwegian label 2L Lindberg, Pure Audio Blu-ray combines the Blu-ray format's vast storage capacity and bandwidth necessary for high resolution audio (up to 192 kHz/24Bit) in surround and stereo with the easy handling of a CD. All functions of a Pure Audio Blu-ray can be operated by remote control without the need of a TV screen. The preferred audio format (e.g. 2.0 LPCM or 5.1 DTS -HD Master) is selected via the four colour buttons featured on the remote control of any Blu-ray player.

Bock also demonstrated the company's Pure Audio Blu-ray-to-computer copy technology mShuttle. With it users can copy music from a Blu-ray disc via a network connection to a computer - as WAV, MP3 or FLAC file - then transfer it to any MP3 players or burn a CD. mShuttle has been used for the first time by Norwegian label 2L for its recent Pure Audio Blu-ray release Ole Bull's Violin Concertos.

Download Stefan Bock presentation


Vincent Haeffner, Founder and CEO of leading Paris-based authoring and post production facility dvdpartners, presented work in HDMV and BD-Java, starting with a novel use of chaptering on the BD version of Jonathon Mostow's 2000 submarine hunter thriller U-571. The video menu chapters play their own audio when rolled over - a first in Blu-ray publishing.

Also shown was a children's game developed for Arte France, to create one's own short film version of Peter and the Wolf on a Java-powered editing console, out of 30 video extracts from the classic masterpiece. Each of the extracts is a self-contained sequence which, placed in various order, can create different narratives. This is one of the rare few BD titles to date to offer several sophisticated educational games and exercises.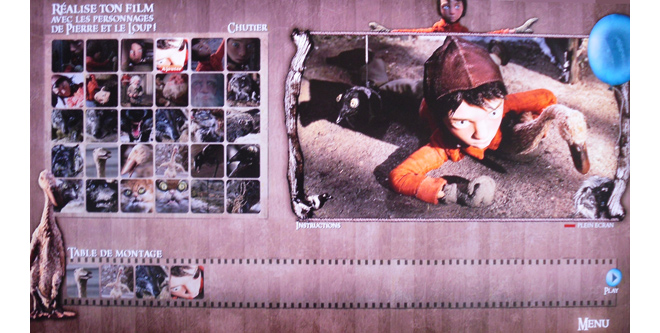 Sofatronic, authoring solution supplier and developer of the Kaleidoscope platform, was instrumental is developing the BD-Live capability of Optimum's BD release of Terminator 2 - Skynet Edition, considered to be one of the most impressive BD-Live titles so far.

"Bringing social networks in the BD-Live movie-watching experience is an essential ingredient for the format success,"? says Dieter Schwengler, VP Business Development. "Stick the disc in the player and a world map points your location. BD-Live is the perfect place to build up communities around films and brands. By connecting to social communities like Facebook, My Space, twitter, etc., BD-Live enables viewers to share their programme with the world."

Terminator 2 is a fans' product. Increasing numbers of viewers are using more than one screen at the same time, so, finding new ways to interact with movie and with each others is important. Social communities are key. They enable users to tell their friends what they are watching, which part/actor/scene they like best. They should be able to load the material they generate and access it via their BD player.

Schwengler reiterates what other speakers have said, namely, that BD-Live is first and foremost a marketing tool through which to collect user information. Users are more willing to part with data about themselves when they are enticed to do so through free offers. Some 30% of users who have BD-Live enabled player connected to the Internet gave away their details.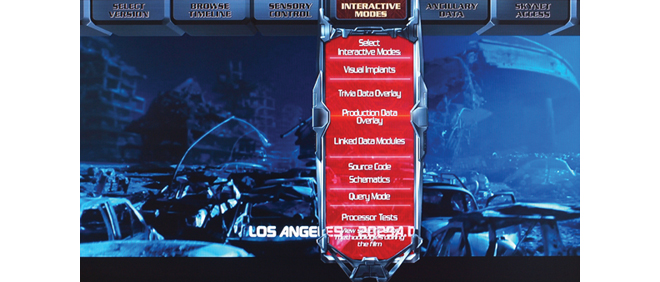 Schwengler's recommendations: "Let the user spread your message. Every message send to facebook is distributed to 130 friends on average and every tweet is read by 130 followers (according to facebook and twitter stats). If done right, messages will start a discussion, adding more visibility within the network. Every user sends the message to peers who trust him/her. That's the most powerful mouth-to-mouth advertising campaign you could get! By integrating links or hooks to film or brand websites, users can be dragged to other communication tools."

Adding fan features can differentiate Blu-ray from DVD, VoD or illegal copies. Cross-promotions can help make all kind of on-/offline marketing campaigns more efficient and reach the targeted customer. Social communities can be perfectly used for viral marketing campaigns.

Download Dieter Schwengler presentation


Andy Evans, Founder and Managing Director of London-based high-end authoring and digital production facility, The Pavement, treated delegates to a pre-release demonstration of the forthcoming BD-Live version of U2-360o - At the Rose Bowl, which they produced using Imagion's dynamicHD solution.

It was also an opportunity to hear a reality check from someone who has seen it all and who does not mince his words. "Clients worry about costs as soon as you mention BD-Live. They are worried about developing and maintaining a website. The idea that BD-Live material is up there and left stagnating is a real concern to them. They want to sell the disc, get the money and bye-bye," Evans observes.

"It was a personal battle just to boot-strap the disc to make it future-proof as U2 management did not know what to put on yet. On all the DVD titles they did there was DVD-ROM content for the computer. There is no such thing on a Blu-ray disc, that is why I suggested a BD-Live option, something the management never heard of,"? recalls Evans.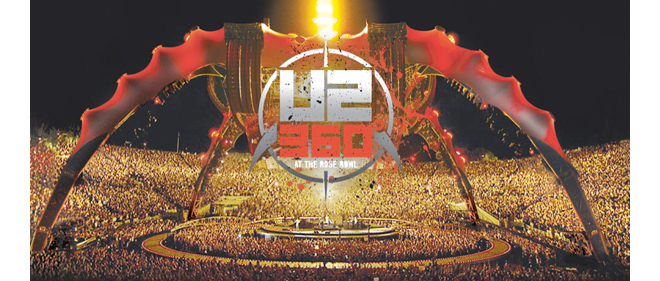 For fans to watch the concert on a DVD and then go to their PC to see additional material on the Internet is one thing. To be able to watch HD content from the disc and, via BD-Live, to access their own user-generated material, all on their TV set, is another, more exciting, experience which the band eventually has come around to value.

Beside their own film crew that will produce a lot of content, U2 is allowing fans to video the concerts with their own camera, take photos and post this user-generated material on the band's www.U2.com website. It it the fans who now drive the brand, no longer the band itself. U2 is interested with iTrack, where information related to songs pops up on the screen. They also want to see the YouTube subscribers database band integrated in the BD-Live disc to be able to sell tickets.

Generally speaking, when it comes to BD-Live production, there is internal politics. Who will pay for it? The video production department gets squeezed budgets and the marketing department does not want to spend extra money. "They do not talk to each other when we come to discuss BD-Live. This creates a total lack of awareness of what they could do with the format and the potential of their own products. That ends up causing delays and mistakes," laments Evans. "They have been so geared to DVD for 10 years that it is their benchmark for a BD title in terms of budget, costs, production procedure. But Blu-ray is a different animal."

Extra content is a big issue. Distributors get licence for the movie, but little else. They are often not allowed to put up a bespoke website, biographies, interviews, other film bits.

There is another issue on the technology front. "Buffering and connection delays are massive problems," Evans reckons. "Consumers are use to inserting their DVD or Blu-ray discs into the players and get instant access to the film. They accept delays and buffering when they use their computers because that is the environment they are in. But, they do not expect - and accept - these delays on their living room TV with BD-Live. 'Have you solve that?' is a question I get about it all the time."

It's also a challenge to get clients to push the production of a BD-Live up the priority ladder. They hardly ever seem to have the time and resources. On the U2 project, the Pavement had two weeks to produce, from inception to masters, a double-disc DVD with DVD-ROM material, screen saver, wallpaper together with a BD disc with four hours of material.

"We started talking with U2 in January about going for BD-Java vs HDMV menus. They did not want BD-J menu purely because it would have taken too much time, with potential delays. They wanted thing as quickly as possible. Even up to the day before delivering the master, the band manager was asking to include some more content,"? says Evans. "What amazes me is that, in the grand scheme of things, the budget allocated for this BD-Live is peanuts compared to the enormous budget the band commits to its tours."?

"Future-proofing a Blu-ray disc with bootstrap, keeping it going for 12 months, and populate it with, say, a clip a month costs around £4-5,000 a year. That's in addition to the regular BD master. That's a long way from the £50,000 pricetag our clients were expecting. If you don't think it's not worth it, that's a decision you have to make. I think it's worth it,"? Evans concludes.


Adam Lesh, US Chief Technology of Testronic Labs, a global leader in quality assurance and testing services to DVD and Blu-ray, and now 3D with the opening of a 3D test lab in Burbank, California, presented a wide-ranging and details explanation of why 3D production is a very challenging exercise to get it right.

"3D adds complexity that goes well beyond what we have seen before. There are content, authoring or encoding issues. With 3D, content issues are much more difficult to determine because sometime what might appear to be a player issue might actually be in the original content,"? says Adam.

Adam spelt out the problematic areas regarding quality control of 3D content. It includes ghosting (when the viewer does not have proper registration of left and right eyes and sees two images); temporal sampling flicker and motion judder (problem with frame rate: 24fps in film, 30fps in video, 60fps in HD, none fast enough to capture pure motion); maintaining depth across scene cuts; window violations; vergence-accommodation conflict (focal distance); subtitle placement in Z-axis; subtitle/content collisions; right/left eye synchronization and floating window issues.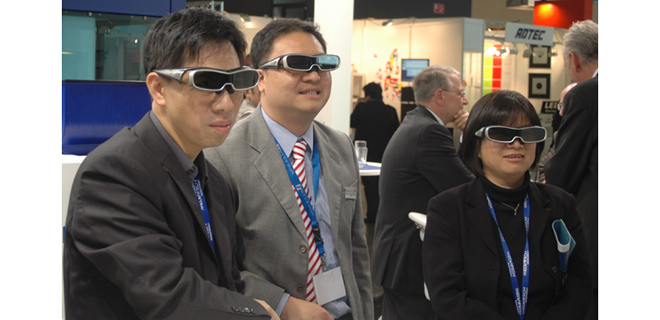 When it comes to compatibility issue in 3D, quality control examines 3D backward compatibility on 2D players; 3D version showing on 2D display; choosing 2D version while still showing 3D version; right/left eye image inversion; subtitle placement in Z-axis and decoding artifacts in dependent view.

Adam says that several issues have already appeared. For one, almost all 3D discs have problems playing back in most 2D BD players. Video stuttering, audio stuttering, or even complete stop after a few minutes playing have been observed. When it comes to subtitles, switching back and forth from 2D to 3D subtitles, from one subtitle to next, is problematic. On the interoperability front, some Samsung players would not connect to Panasonic monitors without a firmware update.

Testing itself presents its own challenges. There was an inability for some to see 3D continuously; eyestrain and fatigue is also a byproduct of 3D imaging. And there is 'Flattening'? when the brain begins to flatten the image as a way of compensating over time for 3D which is not the most comfortable condition.

Lesh strongly believes that 3D is not a fad. The 3D format is successful in the cinemas where customers are willing to pay a premium. In fact, there are still not enough 3D digital cinemas to satisfy the demand.

More importantly, filmmakers are using 3D more effectively. "It's no longer a gimmick. In films like Coraline, Up, Avatar, 3D is part of the texture of the movie, not something which is thrust at your face, it's part of the story process,"? Lesh says. "3D will trickle into the home. Once a consumer has seen a 3D theatrical version, will they be satisfied with a 2D home version?"

Download Adam Lesh presentation


Germany's Infodisc Technology, Europe's first independent replicator to invest in the Blu-ray format in 2007, has expanded the portfolio of its design and authoring arm, Infomedia, unveiling its 3D BD authoring capabilities. In an announcement made at Frankfurt, Michael Gutowski, Infodisc Managing Director, says the company has become one of Europe's first facilities to offer a full 3D BD service.

Infomedia will be ready to service 3D clients in time for Christmas, says the company. The range of services includes the 3D authoring and subtitling of Blu-ray discs. Furthermore, in the next weeks Infomedia will set the necessary technical capabilities to convert 2D material into a 3D version.

"This service is directed especially to clients whose material is not available in 3D and may be attractive for both feature films and documentaries," says Gutowski. "At present, the number of movies originally produced in 3D is quite small and many content owners plan a technical upgrade of their material. The 3D technical opportunities and requirements are set, now only suitable content is missing."

Download Michael Gutowski presentation
Story filed 29.05.10