Technicolor has announced that Greg Gudorf and Peter Lee have joined the company to launch a newly-created business focused on integrated digital content delivery and device management. The new team will be focused on the convergence of content, cloud-based applications and a variety of devices for use at home and on-the-go.

In their new posts, Gudorf will serve as general manager and Lee will serve as executive vice president of technology and strategy. Both will be based in Technicolor's Burbank, California offices. Prior to joining Technicolor, Gudorf served as CEO for Digeo and brings more than 25 years of experience in consumer electronics, with an emphasis on the convergence of cable, satellite, and internet services, to new hardware and software products.

Lee was previously CEO of Channel M, a digital out-of-home video company, and has held senior level positions at The Walt Disney Company, Fox, GeoVideo Networks (a Lucent Technology company), MyPotential (a well-being company chaired by Deepak Chopra), Hitplay Media, and IBM.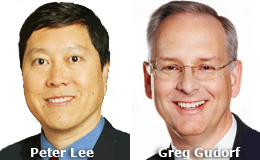 Story filed 09.01.10