From VHS, CD, DVD and Blu-ray authoring, replication and duplication to encoding for digital cinema, VOD, Internet and mobile, not forgetting archiving, SYMON ROUE, Chairman of re:fine, explains why the one-stop shop approach he has taken was a successful strategy to strive in the corporate market.

How did the company start?

My colleague Yives Reed and I started in the DVD business by setting up 24-7 DVD in 2001 from a bedroom in Shepherds Bush in London. I had been working for Boxer Systems, a company that sold DVD authoring systems. I installed Spruce DVD Maestro authoring systems into many of the post-production companies in London and also in Europe. I sold, installed, maintained and trained the software users.

At that time – about 1998-9 – DVD was going really wild and I was right in the thick of it, but had always wanted to work for myself. I didn't want to go into competition with my employer or their clients, the post-production facilities setting up DVD authoring studios.

At that time, DVD manufacturing was a black art and there were only a handful of suppliers. I established a relationship with a factory in Taiwan that enabled me to offer the same prices as European manufacturers.

There were a lot of problems with replication and I knew many of the answers. Whether it was an authoring problem or an issue with a DVD player, I knew how to get round it. I gained the trust of people who recognised my expertise, and DVD manufacturing orders started to come. That's how we started 24-7DVD, as a broker for DVD replication.

What was the state of DVD replication and duplication at the time?

At that time a recordable DVD cost about £50 so DVD duplication wasn't really viable. We found a small Swedish company who were happy to do 100-disc runs in a 7-day turnaround for us. Most of the larger DVD factories in Europe were not interested in talking to us unless we had a number of titles with minimum runs of 2000 units. In this way we became the first company to service clients with smaller volumes. For example, companies who wanted 300 DVDs to publicise a new television series or produce corporate communications or training titles.

We also sold recordable DVDs. When the General DVD-R version 2.0 specification was launched we already had relationships with TDK and Verbatim who gave us good prices as we were ordering reasonable quantities.

We then set up a website, dvdr.co.uk, with mixed success because of the rapid fall in the price of discs. Initially we would sell a disc for £10 that we bought for £6. But, two years later you could buy them for 30p and sell them for 45p, the market changed rapidly.

You further diversified your offering into VOD?

Yes, in 2003, we moved to a larger building in Ravenscourt Park, which suited our needs for a few years, but by 2006 we had been growing so rapidly in that building it was getting to bursting point.

At this point we decided to start another business called Vode. It grew out of 24-7 DVD's compression department because we were starting to do more encoding work for VOD. I saw, with one eye on the future, that packaged media wasn't going to be around forever. Vode's mission was to work with content owners to digitise their content and help them in the digital exploitation of their assets.

We started working with two Hollywood studios to digitise their films – processing their content to reliably work on closed-circuit video-on-demand networks. The likes of Joost hadn't started yet – it was still called the Venice Project then. BT Vision didn't exist, let alone Hulu and Netflix.

We wanted to bring 24-7DVD and Vode under the same roof and build a facility of the future. After much research we decided to look at purchasing another business. I picked up the phone to John Casey of Caseys Film & Video, a well established video duplicating firm. I'd trained them how to make DVDs in 1999 and had kept in touch.

To cut a long story short, we secured the financing, acquired Caseys, retained the management and moved in their much larger offices in February 2008. Then we rebranded to re:fine. We now have a staff of 53.

You are heavily involved in the corporate market. How big is this industry sector for packaged media?

It's a huge business: if the small orders are added altogether, they are of the size of a major. From a small bedroom, 24-7 moved into a 1,800 square foot facility in Ravenscourt Park then to today 18,500 square foot to accommodate the equipment and personnel to keep up with this market.

Large DVD manufacturers like Technicolor or Sony DADC may turn their noses up an order for 500 discs for a corporate client. Kindly, they will often pass it on to us, with who we maintain very good relationships.

Give me some examples of the type of work you are getting.

There are clients who want to publicise their own services like coaching or training, that is quite a big market. There are companies with new products, for example the latest Bravia TV. Employee communications is a substantial sector, too. Recently we worked on a job for Norwich Union insurance with their production company duplicating compilation DVD of adverts they gave to all members of staff as it re-branded its entire operations into Aviva.

Like many corporates the order was for 3,000 discs that needed to be duplicated because, for a corporate business, 7-10 days for a replication job was not acceptable.

Our target is any company with a video message to distribute among clients or staff. There are a lot more firms out there than there are movie studios!

Are the barriers to entry into the corporate market high?

There are a huge amount of clients in the corporate space. Anybody can go and buy a DVD duplicator, set up an elementary website, buy some Google AdWords and all of a sudden, they're in business with no real experience on what pricing should be.

Pricing for corporate clients is becoming more competitive, primarily because a number of Internet-based duplicators offer inexpensive services. The barriers to entry are relatively low. However, while anybody can buy a DVD duplicator for £500 it's a lot more difficult to print the discs, stock the packaging and design and print the paper parts. Duplicating the disc is easy; it is the rest of the production that is tough.

Who has the advantage for small run?

Though replicators can handle fairly small orders, a duplicator can definitely give a replicator a run for his money. A replicator has got a lot more automated equipment, we can compete with them on cost but in terms of man-hours involved, they certainly have a massive, distinct advantage.

Duplicator's turnaround is typically 48hrs or less than five days whereas the minimum replication turnaround time is seven days.

Your service range is unique as it includes master tape archiving.

In our new building, we hold tape libraries for many clients, including big names like Universal and Paramount and many major television content owners. We offer our clients safe custodianship of their content. Our vault holds about 200,000 tape masters.

We work with the studios in delivering content to all the links of the release chain. Many clients have a different coding specification. As a new film comes out, the master gets sent to us, we digitise it and then as clients place orders on those films, we then execute those downstream deliverables.

So you also provide versions for mobile video, for example?

Absolutely, because we store the films uncompressed, we're starting with a very high quality master. Many people think it's OK to use a DVD copy as a source master to create a mobile file or an MPEG-4 file. But from DVD an MPEG-2 process has already thrown data away. We start with an uncompressed master to ensure we get great quality pictures at low bit rates.

If you are preparing a clip for YouTube, it surely does not make much difference producing it from an already compressed DVD file?

We do have an account with YouTube. It's a professional service that supplies them with a high quality upload, it doesn't go through the consumer's encoder. A lot of our clients use YouTube to PR their products. For example, we've worked with a music content distributor who gets clips of concerts, for which they own the worldwide rights. They will put a couple of songs on YouTube, edited, in which we have inserted a header, a bumper and a burn-in of where consumers can download this concert to drive traffic.

And how do you see the volume of DVD work evolving?

Obviously, although falling, packaged media is still massive for the studios and digital delivery represents a tiny slice of the pie, albeit an expanding part of the equation.

The studios are willing to try new things, but are only willing to test new delivery channels if they feel their content is safe. They don't want to open up the floodgates and, also, they don't want to annoy their other customers – the Skys or the Virgin Medias of the world who are paying much higher fees for use of that content on their platforms. At the moment the studios are just dipping their toes in the water.

How much authoring are you currently doing?

We produce millions of discs per year, but we only author a small percentage of projects. We complete about five authoring jobs per day. Some of these are straight forward 'play and stop' others are more substantial with moving menus and so on.

Oddly, we're doing quite a lot on UMD at the moment, we have just completed Quantum of Solace on UMD.

How many of your corporate clients start asking for Blu-ray?

A few, mainly those who are engaged in an educational task. We produced a BD disc for Sky in Italy. Every reseller of Sky got a Blu-ray disc to show the customer what Sky could look like in high definition.

How do you see Blu-ray fitting into the corporate market?

In terms of duplication and replication about one in fifty projects are Blu-ray discs. The corporate market has not totally embraced Blu-ray yet. But in terms of authoring, I would say 30% of our authoring jobs are Blu-ray now, which is great.

How is the revenue pie split amongst your various activities?

I'd say: tape 40, disc 40, and digital 20, at the moment. In three years, I see it levelling out. But if you asked me what it's going to be in 5 years time I'd say it will be much more focused on digital, although we're not going to get rid of packaged media soon.

How do you see the market evolving?

I think standard definition DVD will eventually go the way of the CD. I don't think that's a bad thing: it's got its place in the market and CD isn't dead yet – a lot of people still buy CDs – they still sell millions of discs.

As for Blu-ray growth, I think for every 100 discs sold it will be 70/30 DVD/Blu-ray – that's about as good as it's going to get. The volumes will be lower all round though. A Blu-ray disc will end up being slightly more expensive than a DVD which is a pain for content owners as they still have to produce in both formats.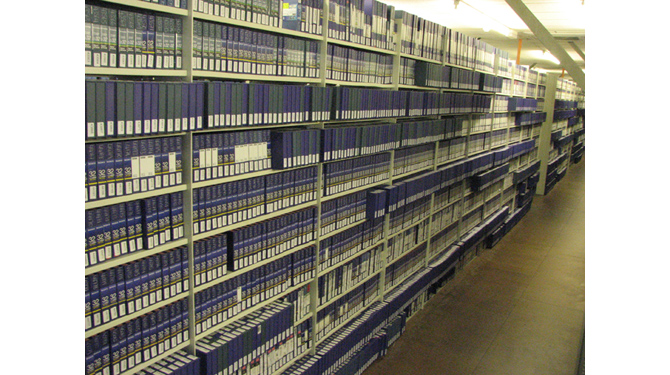 (Another executive interview also published in the companion magazine 'DVD and Beyond 2009'. Request your free copy)
Story filed 25.10.09