Digital Interactive Interface for Video & Audio (DiiVA), a new high-speed interface for which specifications were finalised at the end of April 2009, is about to appear in the world of audio-visual equipment. DiiVA combines faster speed faster than the HDMI standard with the network functionality of Ethernet.

It has been referred to as the "Chinese HDMI" because of support announced by Chinese government agencies and industry groups, according to Nikkei Electronics Asia, that reports the latest developments. Already major AV equipment manufacturers in China, but also in Japan and South Korea, have announced support for the new standard. It may well develop into a serious competitor for HDMI.

In terms of functionality, DiiVA offers peak data transfer rates of 13.5Gbps against HDMI's 10.2Gbps. It can transfer uncompressed high-definition video in the same way as HDMI, and also has network functions to allow it to share the content with multiple other devices. It can even transfer Ethernet data.

In addition, it has advantages when it comes to component cost. Usage royalties may end up lower than HDMI, and cables are inexpensive Category 6. These characteristics have led many people in the industry to believe that DiiVA may develop into a serious competitor for HDMI, says Nikkei.

Even though the standard has only just been finalized and no compliant integrated circuits (IC) have even been announced yet, many major Chinese manufacturers including TCL Corp and Nanjing Panda Electronics Co Ltd have already announced support. In addition, leading Korean and Japanese manufacturers including LG Electronics Inc of Korea, Samsung Electronics Co Ltd of Korea, Panasonic Corp of Japan and Sharp Corp of Japan announced they are joining the DiiVA promotion group in April 2009.

The format is boosted with Panasonic, a key driver of the HDMI interface, joining the group.
DiiVA and HDMI are different when it comes to networking functions. DiiVA supports daisy chains, stars and other topologies, making it possible to transfer uncompressed HD video through multiple devices on the network. For example, the HD video content output by a Blu-ray player in the living room could be transferred, without high-efficiency coding, to the digital TV in the bedroom. The maximum range is a long 25m, which means the home network can span multiple rooms.

While HDMI 1.3a, the current HDMI specification, can only control two interconnected devices using the CEC function, the newest HDMI 1.4 standard offers enhanced networking functionality. A single HDMI cable can now handle Ethernet data as well, thanks to the new HDMI Ethernet Channel (HEC) function, and this makes it possible to share content among multiple devices.

Some potential problem areas have also been cited for DiiVA, however. First, while the cables themselves are general-purpose items, the connectors are a special design. This will boost the cost above common Category 6 cables using standard RJ-45 connectors.

Also, the supply of DiiVA transceiver ICs is limited to only Synerchip, which could make price competition difficult and prevent component prices from dropping. The firm is thinking about making the intellectual property (IP) core available to other semiconductor manufacturers, but does not appear to have actually done so yet. Other industry sources point out that DiiVA could make measurement instrumentation more expensive as well.

The first DiiVA-compliant equipment may hit the shelves as early as spring 2010. Synerchip Co Ltd of Taiwan, now developing a DiiVA transceiver IC, plans to sample-ship in the third quarter of 2009. As a result, a variety of DiiVA-compliant equipment is expected to be displayed at 2010 International Consumer Electronics Show (CES), in Jan 2010.

HDMI shares their belief that networked consumer electronics are spreading fast, and already the latest version of the standard, HDMI 1.4, provides support for data transfer via Transmission Control Protocol/Internet Protocol (TCP/IP) over HDMI. HDMI is also getting serious about boosting its share of the networked consumer electronics markets.

HDMI is already extensively used worldwide, including in Japan, Europe and the US, whereas DiiVA is only just taking off in the Chinese market. Therefore developments in China over the next few years will play a big part in deciding the ultimate winner.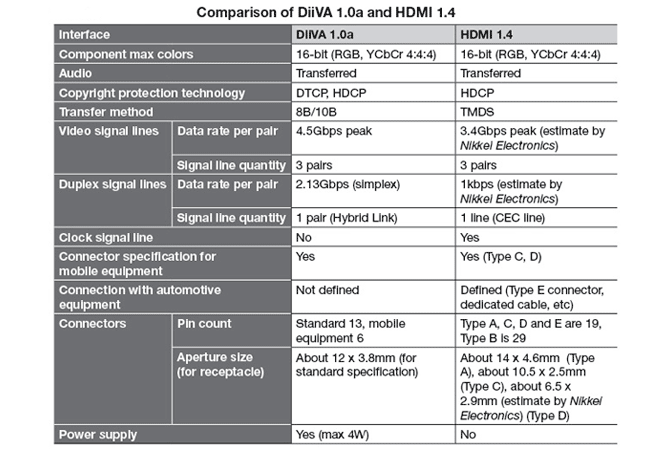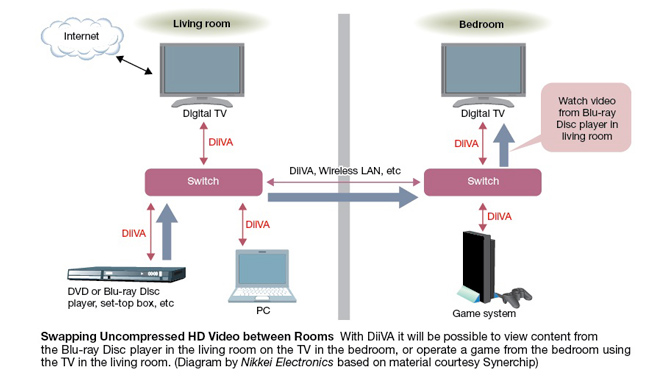 Story filed 29.09.09