The ways in which people can watch video have exploded in the last couple of years as video streaming and download websites and services have proliferated. DAVID MERCER, from Strategy Analytics, looks at what DVD users are doing.

Suddenly, the optical disc is being seen as a quaint, if not outmoded, platform which will be swept aside by the apparent inevitability of online access to all content, all of the time, from any device.

Brands like Hulu and iPlayer have emerged seemingly from nowhere to become major venues for home video entertainment in their respective markets. Content owners and broadcasters have been scrabbling to make their programming available through these and many other outlets.

What began with user-generated content, popularised by YouTube in particular, is now spreading rapidly to the world of commercial content. Indeed, as YouTube itself realises the challenges involved in making money from amateur videos, it is steadily becoming recognised as a destination for professionally produced content as much as for home movies and mobile phone videos.

Successful business models for online video have still not been defined. Content owners and distributors are still experimenting with the appropriate mix of paid-for and advertising models. There is growing evidence of some willingness to pay for video programmes on a pay-as-you-go basis; the iTunes service is the obvious example of a success story, at least as far as Apple is concerned.

Strategy Analytics estimates that around 260 million units of TV shows, movies and other video content were sold worldwide for digital download in 2008.
Content owners themselves may not be happy to support iTunes and similar services forever. As usual they resent the share of revenues taken by companies they see as intermediaries and distributors. That argument has been a familiar story in the traditional VHS and DVD home video business for many years.

Hulu, the fast growing US-based service, in fact originates from a partnership between content owners – NBC Universal and News Corp – and Disney's ABC recently became an investor. Since its launch just over a year ago, Hulu has steadily expanded its range of programming, and latest Nielsen data indicates that monthly streams reached 373 million in April 2009.

There is no equivalent to Hulu on a pan-European basis, and even though Hulu is investigating the potential for international services, there may never be, since programming and distribution in Europe are likely to remain polarised towards national markets in the online era just as they have been in broadcasting and video. But in most larger, and some smaller, European countries a number of successful online video services have emerged in the last year or so.

The most prominent is the BBC's iPlayer. Supported by the vast resources of one of the world's largest public service broadcasters, and without the need to generate revenues through pay or advertising, the iPlayer has become symbolic in the UK market of the next generation of online entertainment services. Even though it currently offers only BBC content, the wide appeal and variety of this material makes it powerful enough to have achieved early dominance in the online video arena.

iPlayer offers an entire week's worth of television programming from across its main and digital television (and radio) channels, available for (more or less) instant access to anyone with a PC and a decent broadband connection. Availability of the iPlayer is also being expanded to other devices such as mobile phones and smartphones, and it has also achieved high ratings from users of Virgin Media's digital cable video-on-demand service. We fully expect other TV-based iPlayer solutions to become available in one form or another within the next 12 months.

In other European markets online TV and video services have also proliferated. Most of the leading public and commercial broadcasters offer some level of online programming service, either in the form of "catch-up" TV or downloads. Germany's ARD and ZDF both offer video content through their Mediathek portals. In France, France Televisions offers web video and catch-up TV via its France TVOD web portal (www.francetvod.fr) as well as directly from the various TV channel websites.

Study: Online consumption habits of DVD users

So, what impact is the availability of online video and TV having on the consumption habits of DVD users? In mid 2008, Strategy Analytics surveyed 3,500 people across Europe and the US to understand the growing impact of online video and TV services. We have segmented the findings to focus on how the online activities of DVD users – those who frequently rent and/or buy DVDs – compare to those of the wider population.

A majority of the broadband population is now watching television programmes and movies on the PC. But as Table 1 shows, regular DVD users are even more active users of the PC for video entertainment than the wider population. Some 63% of people who buy DVDs at least once a month are also regularly watching TV and movies on PCs. Those who rent DVDs regularly are the most likely to use PCs in this way, with nearly three quarters regularly engaging in this activity.

One of the most important ways that people are bringing television shows to their PCs is by using websites established by the broadcasters themselves. More than a third of all broadband users are now watching TV shows and movies streamed from broadcaster websites on a regular (at least monthly) basis. Again, DVD users are more likely to engage in this activity than the wider population. Perhaps not surprisingly, the DVD user group which is most likely to watch online TV are those who regularly buy DVDs from an online retailer.

A number of online video websites offer "rental" services which offer similar temporary viewing terms to traditional DVD rental models. 18% of all broadband users claim to use such online video rental services at least every month. DVD users are again much more likely also to use online video rental services (Table 2), and regular DVD renters are the most likely also to be regular users of online video rental.

The number of broadband users claiming to download movies over the internet on a regular basis is still relatively small, at 15% of the total. But again the proportion of DVD users downloading movies is nearly twice the population average (Table 3). Around a third of regular DVD buyers and renters also claim to be downloading movies at least on a monthly basis.

A similar pattern emerges when we investigate purchase of individual TV shows over the internet. Only 14% of all broadband users are claiming to do this regularly, but the proportion of DVD users is more than twice as high. Nearly a third of people who regularly buy DVDs at an online store are also regularly purchasing TV shows for online download.

So, the research suggests that DVD users are already quite active in various types of online video activity, and much more so than most broadband internet users. We can't draw the conclusion that usage of DVDs will inevitably fall directly as a result the growing number of alternative sources of video content. But we would expect that DVD usage will come under increasing pressure as the quality of online video and the range of available content continue to improve.

Last hurdle: The access to the TV set

One of the final barriers to such services becoming true competitors to DVD is to bring them to the home's big screen. At the moment they are accessed overwhelmingly on a PC, and interfaces are designed for the needs of a single user with access to a keyboard and mouse. While a number of solutions are available to bring internet video to the TV screen, none of them are particularly user-friendly, and unless the broadband connection is fast and reliable, video quality can suffer to the point where it becomes unacceptable as a "TV" experience.

In our view, one of the most important players to watch to understand the potential for online video on the TV screen is Netflix, the US-based DVD rental-by-mail firm. Not only has Netflix emerged as a leader in the DVD and BD business, but it is now offering its subscribers online access to video content, on the TV as well as the PC. Netflix has signed deals with BD player manufacturers such as LG, and is also offering online movies to users of Microsoft's Xbox 360, a service which has seen rapid take-up in recent months. While Netflix remains focused on the US market for the moment, we fully expect similar services to emerge in European markets in the near future.

The optical disc industry is placing its bets on Blu-ray Disc to raise the video quality benchmark to a point where online video struggles to compete. Challenges certainly lie ahead for both disc and online models, and in our view there is clearly room for both disc-based media and online sources to co-exist for the foreseeable future.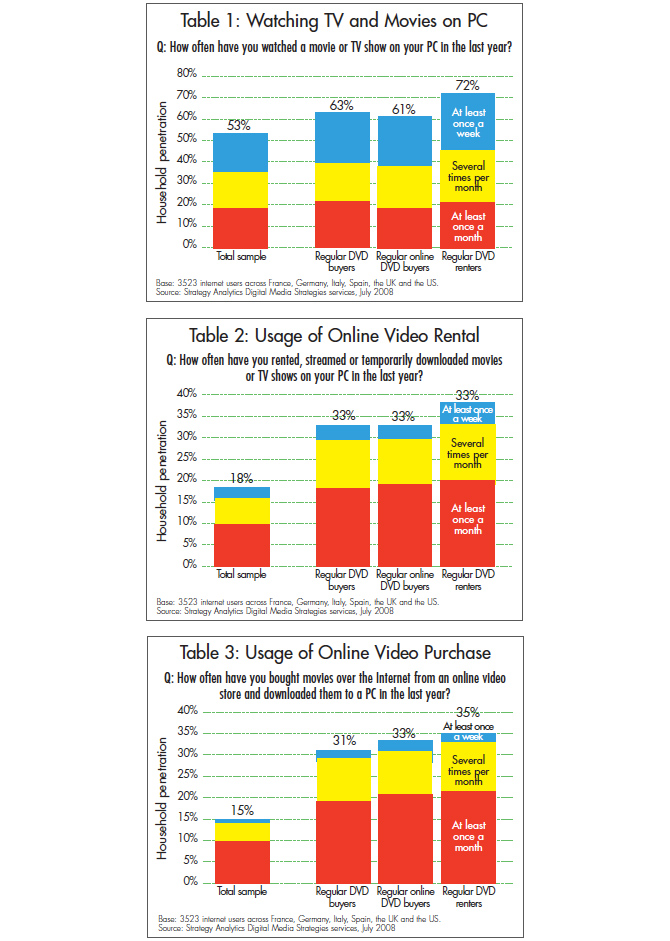 David Mercer is Vice President, Principal Analyst of the Digital Consumer Practice at Strategy Analytics. He has 20 years experience in analysing and consulting within the digital consumer broadband and media industries. He has worked with major global players across the value chain. For full details of the report, visit www.strategyanalytics.com

Story filed 14.09.09