French National Assembly lawmakers passed on Tuesday the so-called Création and Internet bill that would cut the Internet connections of those who repeatedly download music and films illegally. The Senat was expected to enshrine it into law in a final vote on Wednesday.

Snubbed on 8 April by a low turnout and skirmishing by his socialist opponents, which derailed the Création et Internet adoption, President Nicolas Sarkozy this time around rallied his conservative troops and the bill was passed 296 to 233.

The new law establishes an independent body to protect rights holders of content delivered on the internet, the HADOPI (Haute autorité pour la diffusion des oeuvres et la protection des droits de l'internet). The new body is empowered to shut down as the ultimate sanction – for two months to one year – the internet access of a broadband subscriber caught illegally downloading copyrighted content if the user refuses to comply to an initial email warning then to a registered letter enjoining to stop – the so-called "graduated riposte."

The bill passed is tougher that the initial draft. It reintroduces the "double strike." The user whose Internet connection has been suspended has to continue paying his broadband contract for the duration of the sanction. Furthermore, the amnesty initially offered to those caught illegally downloading before the law comes into force, has been rescinded.

International music labels, film distributors and artists have hailed the bill as a decisive step in combating online piracy in France, where CD and DVD sales have plummeted 60 percent in the past six years.

However, the legislation is hotly opposed by the rival Socialists as well as militants who claim that it kills freedoms by denying accused Internet pirates the right to challenge the charges against them. Others fear it will pave the way for Big Brother-style intrusions by the government into citizens' private lives.

A clash with Brussels may look unavoidable. On 21 April, members of the European Parliament's Industry, Research and Energy commission voted an amendment, part of a telecom reform law, which bans "any restriction to the rights and fundamental liberties of Internet users without prior decision from a judge." This is would have been at odd with the French legislation which empowers HADOPI – an administrative body – to impose sanctions, not a judge.

However, under French pressure, a redraft of Amendment 46 of the telecom reform law now refers to "an impartial and independent court created by law", a wording vague enough that no longer sets HADOPI in opposition to European laws, given that this new administrative body is to be made up of magistrates.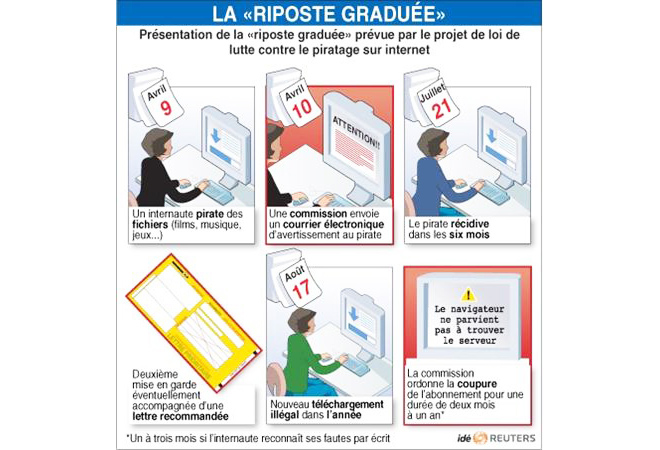 Story filed 12.05.09