While UK views watched content for an average of 5 hours a day across a host of devices and platforms - on catch-up and streaming services, in home and out of home, on the move and on mobile phones, on subscription, for free and via ad-funded models - over 80% of this content is from 'traditional' broadcasters, according to Thinkbox research for the Broadcasters' Audience Research Board (BARB). Whilst reach is being maintained at 94.6%, minutes have fallen by 4.5% (10 minutes) year-on-year, a change that when combined with high demand brings a sharp increase in the price of linear TV for advertisers.

"It is a fundamental misunderstanding to believe that we are witnessing a drop off in TV viewing," says Frances Ralston-Good, Chief Strategy & Innovation Officer, PHD UK, in a contribution to the recently-published BARB's The Viewing Report. "Rather we are witnessing an evolution, for running alongside this linear ratings drop off is a totally different tale as video consumption has never been so high."

Ralston-Good illustrates the point by looking at the non-commercial BBC iPlayer. It received 201 million requests from computers for BBC content in January of 2015, but in same month 6.7 billion requests for BBC TV content were delivered through the TV. "The iPlayer is still the tip of the iceberg when it comes to viewing. [...] Industry-accepted estimates for the proportion of viewing that is through a desktop or laptop computer is no more than 1%. Add in tablets and this grows to perhaps 2%."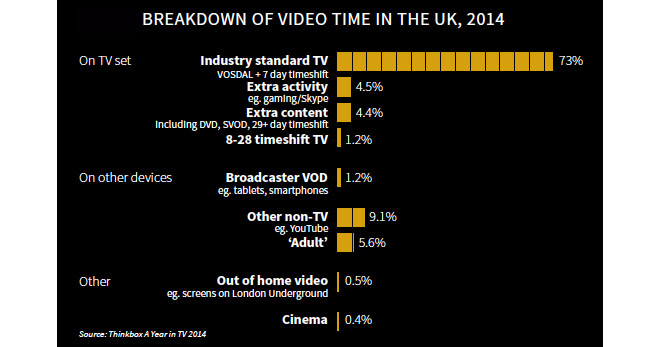 Focusing on Netflix, the BARB Viewing Report sees that a two-part narrative is being constructed. First, the US video streaming service's recent subscription growth will inevitably accelerate; and second, we are now witnessing a genuine structural break from the past. The Netflix generation, it is argued, won't own a TV set and will have absolutely no exposure whatsoever to traditional linear TV channels.

In the fourth quarter of 2014, it put on around 4 million new subscribers worldwide to hit 57.4 million and it now expects to repeat that growth each quarter. BARB figures show that 14.1% of UK homes now subscribe to Netflix. However, the broadcasters' organization cautions again witnessing a paradigm shift. It notes that Netflix indexes poorly against households that do not have a TV - the households that probably consume video entertainment via broadband on other sorts of digital screen. In other words, digital natives are not huge fans of Netflix.

Rather Netflix viewers tend to be found in cable households; they tend to be people who own three or more TV sets and also subscribe to sports and movie packages. "They are, not to put too fine a point upon it, inveterate telly addicts."

BARB observes that the SVOD market as a whole in the UK was actually flat in the fourth quarter, with modest Netflix growth coming at the expense of a small loss at Amazon. Competition in this sector will intensify if YouTube goes ahead with plans for introducing paid for subscriptions.

"There's an unshakable millenarian faith in some quarters of the business world that established TV networks will ultimately suffer the same sort of fate as, say, Eastman Kodak in the world of photography," contends BARB. "Based on our analysis of the figures here, we'd suggest that this doomsday scenario is, to say the least, unlikely to be triggered by the rise of Netflix."

The battle between TV networks and Nexflix is likely to be an old-fashioned sort of programming battle, taking place on the more level playing fields of entertainment brands and perception of content quality.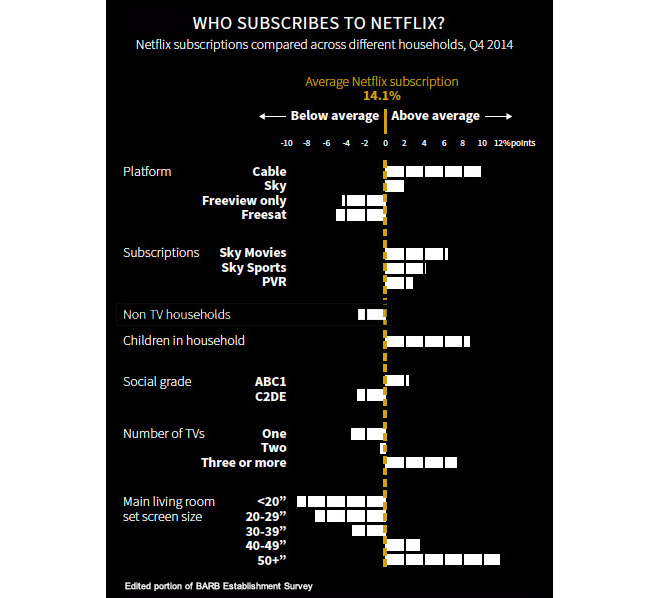 Story filed 08.06.15