The shift from physical discs to digital video - via subscription video on-demand (SVOD) services - is now clear from both time spent with the media and revenue generated by them. How far will this progress in 2015, asks Colin Dixon who analysed recent trends for nScreenMedia?

According to Nielsen there are still 139 million people that use a DVD or Blu-ray player in the US, and household penetration of the devices is still at a relatively high 81%. What's more, device owners still spend 5 hours and 16 minutes a month using it. Though this might sound impressive, the numbers represent a dramatic decline in usage over the last several years.

The number of disc player users fell 1.7% from Q3 2013 to Q3 2014. Time spent with the device fell even faster, down 2.4% to 5 hours and 16 minutes. That's a decline of 16% from Q3 2011. And the number of homes with a player is down from 83% in Q3 2013.

The Digital Entertainment Group (DEG) shows an even bigger decline in disc sales, which fell 8% in the period Q3 2013 to Q3 2014. Store rentals fell by nearly one third in the same period, and even kiosk rentals were down 11.5%.

A Blu-ray disc player purchased today includes access to streaming media services like Netflix and YouTube. This might explain the sharp difference between the decline in disc rentals and purchases and in the use and ownership of disc players. While disc player owners may be buying and renting far fewer discs, they continue to keep their player to allow them to watch streaming video.

The move to digital consumption on the other hand is growing strongly. Nielsen says that online video viewers (OVVs) are watching 60% more, 10 hours and 42 minutes a month, than one year ago. Oddly, the company says the number of OVVs has actually contracted 2.3% to 144 million between Q3 2013 and the quarter just ended. This seems at odds with other data the company provides. The household penetration of subscription VOD (Netflix, etc.) has increased from 35% to 40% and enabled smart TVs from 7% to 12%.

SVOD revenue, according to DEG, grew an impressive 26% between Q3 2013 and Q3 2014 crossing the billion dollar quarter threshold for the first time. Electronic media sales increased 27% to $350 million over the same period.

Where will this leave physical and digital consumption in Q3 2015? By then, disc player usage will have fallen to just over 5 hours and online video viewing will have grown to over 17 hours a month. Disc sales revenue will be eclipsed by SVOD revenue for the first time in Q3 2015. Disc rentals from stores and kiosks will have declined a further 20% to under $500 million in quarterly revenue.

Why this matters? Digital video consumption continues to expand fast while physical disc usage declines rapidly. This is expected to continue in 2015. By Q3 this year, SVOD streaming will be a bigger market than disc sales and consumers will spend at least 3 times longer watching streaming media than physical discs. (source: Advanced Television).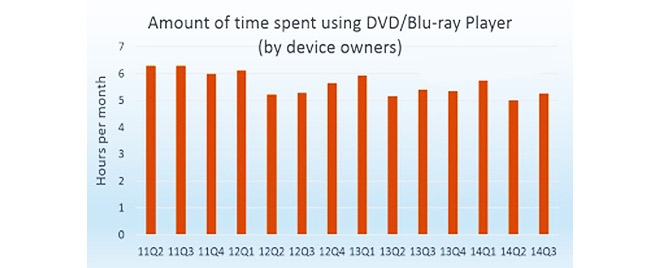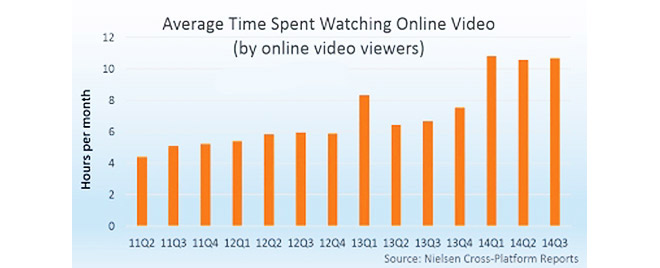 Story filed 02.01.14