With Blockbuster having pulled the plug on its DVD-by-mail business earlier this year and video streaming movie service Netflix registering a 16% loss of its DVD subscribers over the past year - from 8.2 million in 2012 to 7 million at the end of 2013 - subscription-based, mail-order videogame rental company GameFly said it is adding DVD and Blu-ray movies to its offerings.

GameFly CEO Dave Hodess told VentureBeat this new activity - with a beta phase starting 4 April - is a response to feedback received from their subscribers "who asked for it." Based on movie rentals data the company "will make adjustments as necessary."

The programme is available initially to users who subscribe to GameFly's two-game or higher plan and allow users paying $23/month to pick and choose amongst games and movies. At this writing, 69 movies titles were available in DVD and Blu-ray formats.

Talking Chris Tribbey, reported by MESA, Russ Crupnick, SVP of entertainment industry analysis for research firm The NPD Group, points out "two out of three Americans rent, and that doesn't include TV episodes - it's just movies." According to his firm's data, 70% of Americans 13 and older rent disc, and 75% watched a movie on disc in 2013. "About 20% of consumers rented at least one disc by mail in the past year," Crupnick said.

While kiosks are the destination of choice for videogame rentals - with Redbox dominating the sector - nearly 1 in 5 game renters used GameFly last year and more than half its subscribers said they rented movies from a mail-order service in the past year, according to NPD research cited by MESA.

Given these data Crupnick believes "GameFly can help to satisfy more of their [GameFly] users' thirst for entertainment."

Packaged media is resilient. Nielsen's latest research reported that 94.9 million US households owned a DVD or Blu-ray Disc player in Q4 2013, down 193,000 households from the same period in 2012. More than 145 million people used a disc player on a monthly basis in Q4, down from 152 million a year ago.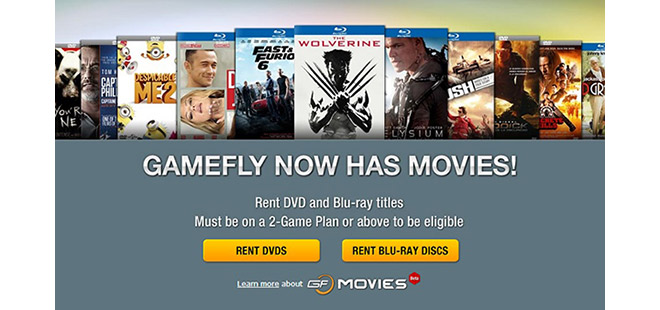 Story filed 22.04.13