Booming subscription sales by services like Netflix, Lovefilm, Spotify and Deezer mean so-called "access services" rather than sales of products like discs and downloads accounted for a quarter of the UK entertainment market in 2013, according to new figures revealed in the Entertainment Retailers Association (ERA) Yearbook just published.

But the physical store market remains vibrant with the numbers of outlets stocking music and video reaching an all-time high, and independent retailers in particular thriving.

"Access models" include streaming services for video (Netflix, Lovefilm) and music (Spotify, Deezer) and in-app purchases for games (Angry Birds, Moshi Monsters). In 2013, their share of entertainment revenues grew to 26% whilst 74% of revenues were still accounted for by ownership models.

Overall internet-derived sales - including home delivery, digital download and streaming and other access services - accounted for a clear majority of the £5.3bn entertainment market in 2013, according to ERA figures, with a 60% share of sales. The remaining 40% of revenue was generated by physical stores.

ERA Director General Kim Bayley said, "This is stark evidence of the revolution in entertainment consumption being driven by entertainment retailers. The fact that 60p in the entertainment pound is now spent online [of which] 26p in the pound is for access to content rather than ownership is a testament to the huge investment and technological ingenuity of retailers in providing consumers with new ways to enjoy the music, video and games they love."

"The transformation of the entertainment market is often misrepresented either as some kind of force of nature beyond human control or as a far-sighted initiative of record and video and games companies. It is neither," contends Bayley. "The entertainment revolution has been driven by new and existing retailers taking huge gambles and investing in technology and new delivery mechanisms. The striking thing, however, is that 10 years after the launch of iTunes and then the rise of mobile entertainment, physical formats still account for a clear majority of entertainment market sales."





In 2013, physical stores accounted for £2.12bn in sales, down 8% on 2012, while online sales - the combination of physical sales by internet-based home delivery services like Amazon and digital services - reached £3.18bn, up 13.9%.

Despite this, the number of physical outlets selling both music (8,580) and video (8,803) reached an all-time-high in 2013. Only in videogames did the total number of physical outlets decline - to 5,590.
The biggest factor in the increase in the number of music and video outlets has been the addition to the tally first, of smaller convenience format supermarkets selling a limited range and second of non-specialists such as BP, Disney and BHS.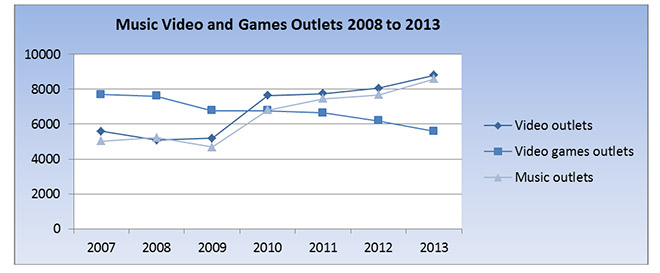 The ERA Yearbook confirms the continuing strong performance of independent record shops as they reap the rewards of their strong commitment to the vinyl format.

While the number of independent stores in the UK is still 12% down on 2008 at 296, independent stores have increased their share of the physical album market from 2.4% to 4.5%. Sales of vinyl albums through indie stores have increased from just 75,700 in 2008 to 368,300 in 2013.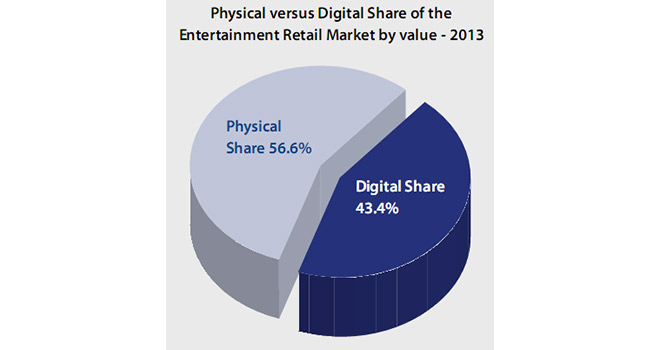 The fastest growing segment of the online entertainment market is accounted for by services which allow consumers to access content rather than purchasing it outright (ie, products like discs or downloads). These include video subscription services such as Netflix and Lovefilm, whose total revenues grew by 120% in 2013, music streaming services like Spotify and Deezer which were up 34% year on year and a variety of games services including in-game micro-transactions, subscriptions to PC multiplayer online games, on-demand games and in-app purchases. In total, access models grew 35.6% in 2013 to reach £1,377m, just over a quarter of the entire entertainment market.
Story filed 12.03.14