For the second straight year in 2013 total consumer spending on home entertainment rose nearly one percent to $18.2 billion, according to the latest figures released by trade body DEG: The Digital Entertainment Group in its year-end 2013 Report.

Electronic sell-through (EST) - now branded as DIGITAL HD - jumped 50% for the year, passing the $1-billion mark for the first time, while video-on-demand (VOD) spending rose 5% in 2013 from a year earlier.

New platforms such as Comcast's digital movie sellthrough service and Target Ticket, and media hub consoles like Microsoft's Xbox One and Sony's PlaysStation 4 contributed to growth by expanding consumer access to entertainment. Overall spending on digital content rose 17% in 2013.

Blu-ray Disc spending keeps rising, up 5% for the year. The number of Blu-ray homes continues to grow, with total household penetration of all Blu-ray-compatible devices (including BD set-tops, PS3s and HTiBs) now at more than 72 million US homes. There are now more than 15 million UltraViolet accounts and most major retailers support UltraViolet.

Last month, Blu-ray Disc recorded its best ever month of sales. According to data compiled by Home Media Research, Blu-ray Disc sales in December 2013 amounted to approximately $416 million, up from the $404 million of Blu-ray sales in December 2012. Average weekly Blu-ray sales in the 2013 holiday season amounted to $107 million, compared with $96 million in 2012. In terms of market share, Blu-ray grew in 2013 to account for $30.5% of packaged-media revenue and 20.3% of unit sales, up from 26.6% and 17.7%, respectively, in 2012, reports Home Media Magazine.

Among the best-selling titles of the year are: Despicable Me 2 (Universal Studios Home Entertainment), Twilight Saga: Breaking Dawn - Part 2 (Summit Entertainment), The Hobbit: An Unexpected Journey (Warner Bros. Home Entertainment), Wreck-It Ralph (Walt Disney Studios), Skyfall (MGM), Star Trek Into Darkness (Paramount Home Media Distribution), Monsters University (Walt Disney Studios), Iron Man 3 (Walt Disney Studios), Man of Steel (Warner Bros. Home Entertainment) and The Croods (Dreamworks Animation/Twentieth Century Fox Home Entertainment).

Consumers purchased more than 38 million HDTVs in 2013. HDTV penetration is now at more than 96 million US households.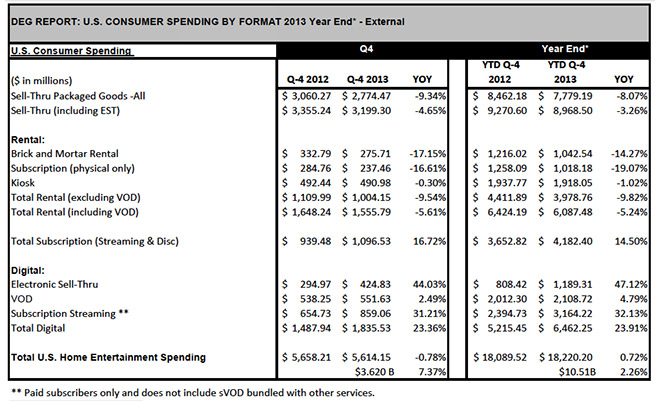 Story filed 09.01.14