Figures published by the British Video Association show that in 2013 consumer expenditure on video entertainment grew from £2,245 billion1 to £2,256 billion, driven by a 40.2% rise in spending on digital video entertainment to £621 million and a 10% rise in Blu-ray Disc spending. This year-on-year increase in the value of the video market of 0.5% effectively maintains the overall market value as consumers shift their viewing habits.

Video entertainment is still dominated by physical formats however, with more than 162.2 million unit sold last year, despite the reduced number of video retailers on the high street. Discs represented 73% of the total video retail and rental sectors by value last year.

Consumer research shows that shops account for 88% of impulse purchases, while people mainly use the internet for planned purchases such as gifts. Retail sales amounted to £1.438 billion, down 6.8% on 2012. DVD volume sales fell by 11.5% as video audiences changed their mix of format use, including a 12.4% increase in Blu-ray Disc unit sales, as well as growing digital ownership.

The physical store-based rental market has seen gradual decline over the last 10 years, as audiences have moved to buying, thanks to falling average prices over the last decade, and to more convenient rental by post.

The rise in revenue from digital video entertainment reflects the growing number of people who are using connected devices and the increasing ease of access to video services in and out of the home, driven by the strong demand for the smaller tablets and jumbo smart TVs. Current estimates suggest that over 10 million tablets have been sold last year alone, alongside 1.8 million smart TVs, as new models are launched and the prices of digital technology continue to fall.

"These results demonstrate that the millions of people who bought video titles as Christmas presents are joined by millions more who just love watching video all year round, in both physical and digital formats. The top three titles alone sold almost 8 million copies between them," says Lavinia Carey, Director General of the BVA. "The industry has no doubt that viewers' up-tapke of digital services will continue to grow over the coming year, but at the other end of the market there's also appeal in DVD and the crystal clear sound and picture of a Blu-ray Disc on a big high-definition TV sitting back with friends or family. More and more of us are doing both."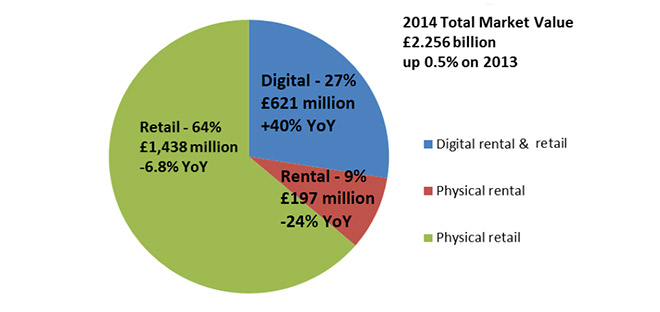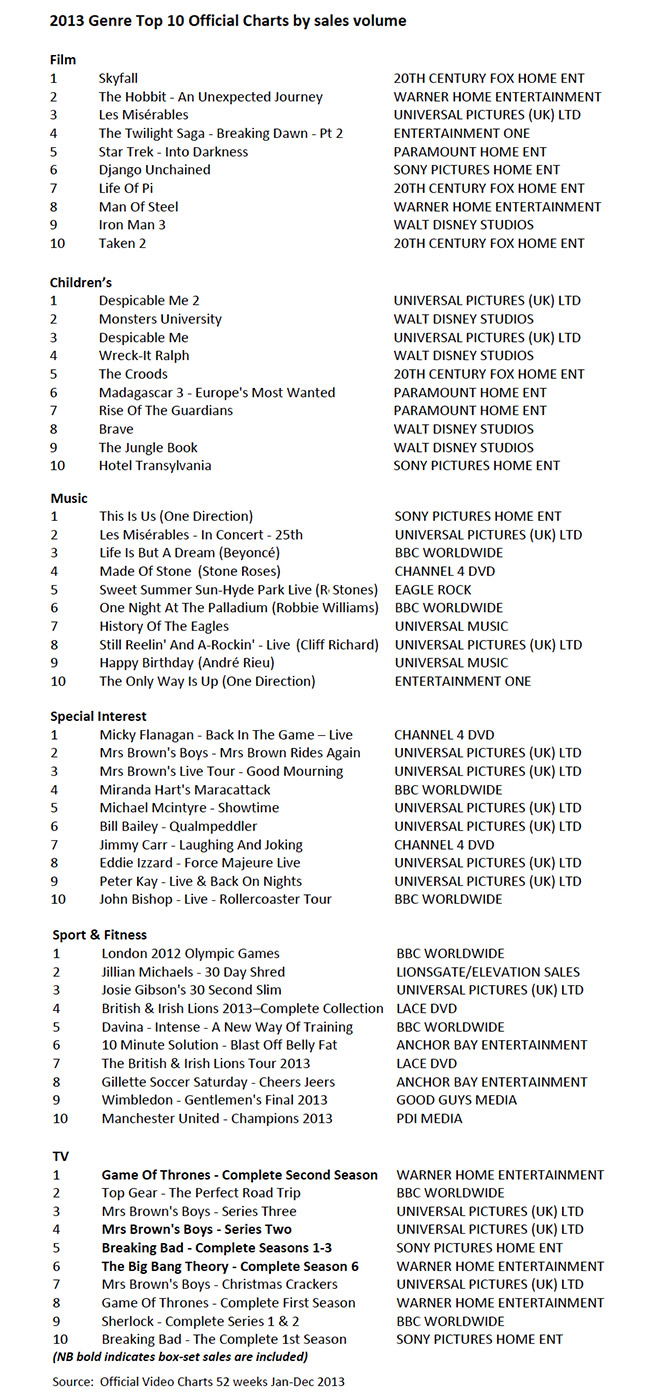 Story filed 02.01.14