The home entertainment sector saw continued stability in the third quarter of 2013, with total consumer spending flat compared to the same period last year, according to the latest figures published by the Digital Entertainment Group (DEG).

Industry sales were bolstered by a sharp jump in electronic sell-through (EST) revenue in the third quarter, underscoring "the extent with which consumers are now embracing the convenience and ease of viewing digital collections as well as the increased retail availability of digital content."

Among the trends in the third quarter of 2013:

Digital distribution gained additional momentum in the third quarter with a 46% jump in EST consumer spending compared to the same period last year. Total consumer spending on all digital products is now up 24% versus a year ago.

Blu-ray Disc sales were down in the third quarter, but remain up 7% year-to-date. The 2013 third quarter presented especially tough comparisons to the year-earlier quarter, which saw the release of two major Blu-ray Disc box sets - the best-selling Bond 50: The Complete 22 Film Collection and Indiana Jones: The Complete Adventures.

The number of Blu-ray homes continued to rise, with 1.6 million Blu-ray Disc players (inclusive of BD set-tops, PS3s and HTiBs,) sold in the third quarter, bringing the total household penetration of all Blu-ray compatible devices to more than 62.3 million U.S. homes.

The accessibility of UltraViolet movies and TV shows to consumers continues to expand. As of the third quarter, more than 11,000 UltraViolet-enabled movies and TV shows were available from 10 major content providers and 13 retailers, including four national retailers: Barnes & Noble (NOOK), Best Buy (CinemaNow), Target (Target Ticket) and Walmart (VUDU).

More than 7.2 million HDTVs were sold to U.S. consumers in the third quarter; HDTV penetration to date exceeds 102 million U.S. households.

The box office value of home entertainment titles in the third quarter was down 6.4%. The DEG expects a more robust fourth quarter as a number of theatrical blockbusters become available to consumers for the holiday selling season.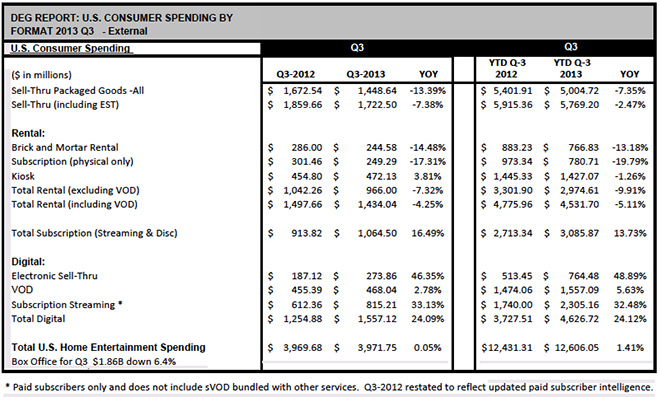 Story filed 04.11.13