According to The NPD Group, the cloud-based digital locker storage system UltraViolet is having a positive impact on early adopters and is meeting several of the initial objectives of the companies who partnered with the service.

In terms of satisfaction with UltraViolet, 82% of users reported they were very or somewhat satisfied with their experiences using the system, and more than 70% of users reported that they would continue to add UV titles to their libraries. The NPD Group noted that these satisfaction levels are comparable to established home video options from Netflix, Redbox, and iTunes.

Based on survey responses from NPD?s UltraViolet: Bridge to the Digital Future report, 78% of UV users indicated that the registration process was easy, particularly for those who have signed up in the past year, which suggests that the authentication process has improved.

UltraViolet remains in an early adopter phase, with only 15% of the population aware of it. Even among the majority of consumers who are not currently aware of UltraViolet, 6 in 10 home video buyers reported that they would be interested in a service like UltraViolet that allowed them to view purchased video content on all their devices.

As digital options for purchasing and renting home video take hold, one objective of UltraViolet was to extend the lifecycle of DVDs and Blu-ray discs. The study showed that 35% of UV users reported that using the system encouraged them to make more DVD, Blu-ray, and digital movie purchases.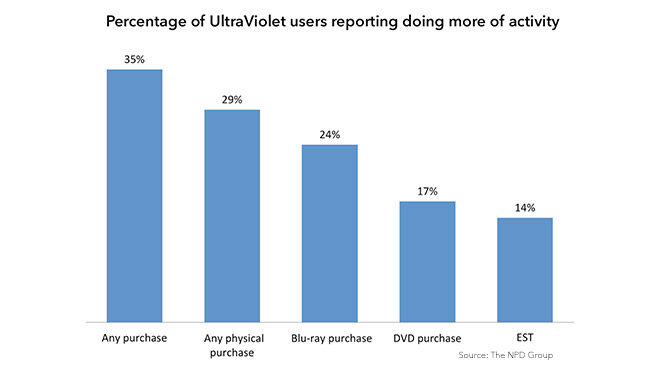 The report summarizes key findings from a 3,187 UltraViolet-respondent survey conducted in July 2013. Additionally, data was collected from 10,071 respondents from NPD's online survey panel, most of whom were not registered for UltraViolet. Data from this survey group was weighted to represent U.S. population of Internet users (age 13 and older).
Story filed 30.10.13