There are to date 12 million UltraViolet accounts registered, mostly in the US. Though when it comes to 'active' accounts - defined as storing multiple titles and regular access - they might represent 40% of the total in these early years of implementation. In a recent webinar on the future of UltraViolet, Michael Inouye, senior analyst at ABI Research, expects 'stickiness' to grow bringing the proportion of active account to 80% of registered UV accounts.

Based on the US experience, the overtly complicated and clunky procedures (multiple accounts, business rules) of the early days have largely been ironed out, but there are still lingering issues pertaining to the accounts, says Inouye. There are linking issues that open the door to a blame game between the content owners and service providers, and there are issues with multiple registrations related to the same account.

Forecasting the number of actives UV accounts is based on assumptions regarding whether UltraViolet will replace physical media, how fast, or if at all. Inouye formulates three scenarios to 2020:

High. Active UltraViolet accounts reach a penetration rate that largely secures its position as the replacement for physical media. Forecasting: 100 million accounts worldwide.

Mid. Active UltraViolet accounts reach a penetration rate that suggests it will be the replacement physical media. Forecasting: over 651 million accounts worldwide.

Low. Active UltraViolet accounts reach a penetration rate that will make it difficult for UV to establish itself as the replacement for physical media. Forecasting: over 37 million accounts worldwide.

The analyst points out that UV is still mostly tied to physical media. UV is bundled with Blu-ray discs and there is still no UV rentals.

Inouye believes that the time for digital libraries has not yet arrived. To replace physical libraries "consumers must rip content, store on a NAS, and publish using DLNA or iTunes." Fair-use laws or courts generally treat content as software licensing with device restrictions. The Common File Format (CFF) might help, although Inouye reckons business rules might undermine adoption. He also notes that Kaleidescape provides a closed turnkey system starting at $10,000.

Retailers prefer 'captive' consumers, notably iTunes and Amazon. The fact that Disney and Apple do not participate to its ecosystem will minimize the portability of UltraViolet.

The ABI Research analyst believes that UV implementation would be helped if studios were pushing catalogue titles into UV. It would be cheaper that publishing a Blu-ray disc version and could be turned on quickly when the motivation exists.

Ultimately, UltraViolet's success will depend on the value consumers place on the entire UV ecosystem. If competing retailers are perceived to offer a better value (e.g. more user-friendly ecosystem), consumers will migrate to cloud-based content delivery, but away from UltraViolet.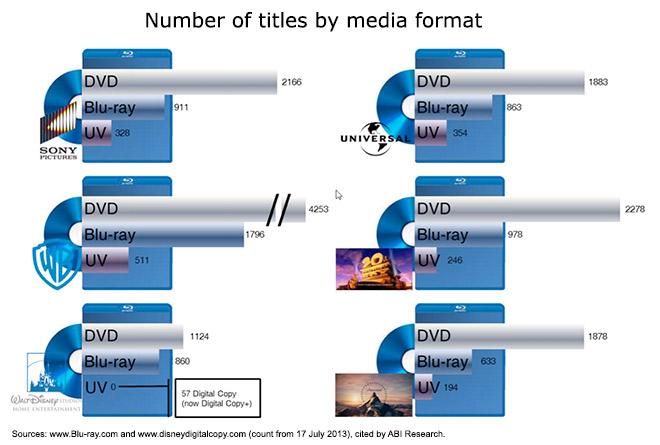 Story filed 05.08.13