After 13 years producing some of the best DVDs and Blu-ray discs, London, Soho-based The Pavement decided to call it a day. The exit of the highly-regarded creative outpost shocked many in the industry, and the timing surprised 'panicky' clients gearing up for pre-Christmas production, DVD and Beyond has learnt.

Founded in February 2000 by Andy Evans, Kristen O'Sullivan and Lloyd Shaer, The Pavement quickly gained a reputation for pushing the creative boundaries of DVD, then Blu-ray and other platforms. Continually raising the bar, the high-end boutique was acknowledged as the industry's standard setter, recognised with numerous awards.

The Pavement broke new grounds, including creating the first full-length multi-angle music DVD for Underworld's Everything Everything back in 2000. With the arrival of Blu-ray, the team produced the UK's first fully interactive BD-Live Blu-ray Disc for U2 - U2360 at the Rose Bowl. It then completed The Lover's Guide 3D the first UK-commissioned and produced 3D Blu-ray title.

The Pavement was active in mobile platforms as well. Their DVD & Blu-ray Bit Budget iPhone App went live on the Apps Store in July 2009. It was also the first company to make UMDs for Sony Computer Entertainment outside of Sony.

The company secured major investment from Goldcrest Group, one of the largest independent film production and post-production companies in the US and UK, and moved its operations to Goldcrest's Soho facilities in 2009. The alliance with Goldcrest was intended to strengthen and develop The Pavement's service offering, including Blu-ray, DVD, online, mobile and production. Plans to expand into Goldcrest's New York facility were also in the pipeline.

The Pavement's swansong is in keeping with the creative juice that flowed through their veins. Not for them a bland corporate statement. Instead, a cri du coeur, key excerpts we publish here.

We started The Pavement in Shoreditch in 2000 - before it became the trendy area that it is today - launching with a party on the newly opened London Eye. With only four people in a tiny windowless room with nothing but a bit of kit, a letter of commitment from a loyal client and a cardboard box for a meeting table we shared a passion for creativity and adding value to clients' home entertainment products, across all genres.

Our greatest pleasure came from working together with both clients and talent in a collaborative effort to push boundaries. We threw some memorable parties, worked many a long night and won more than our fair share of industry awards. It was all about innovation and fun and never about how many units we could churn out. Instead of plastic units, The Pavement churned out some amazing creative individuals, who when it came time to spread their wings have gone on to exciting ventures of their own - many leading the way in their respective fields.

Over the years, The Pavement maintained a unique position in a competitive market; managing to stay afloat while competitors were forced to close their doors. We moved from our Shoreditch roots into Soho to be closer to clients and better service their requirements with Goldcrest Post. With increasingly tighter budgets, fewer clients needed high-end projects and more and more became less involved in their projects. We lost much of the priceless personal communication, the creative brainstorming and catch-ups that made working with clients an enjoyable experience.

In short, it's not much fun anymore and it certainly isn't a profitable business to be in. Everyone deserves the right to earn a living and every company should be able to carve out a small profit at the end of a job. After years of grossly eroded rates, increased competition from larger factory players - and let's face it, a fair share of burn out - we've decided to cease trading in early September after key projects are finished.

Evans, who retained a 25% stake in the company he co-founded, left in April. "For me, the DVD/Blu-ray supply chain in the UK had indeed reached a point where the balance tipped just too much towards a market primarily focused on how cheap the product can be made, rather than the quality of the finished product to the consumer," he told DVD and Beyond in an exclusive interview.

"I understand publishers are not making the huge profits of yesteryear, and need to be more efficient and cost-conscious, and I have no problem with that. But that's the way some of them are going about dealing with this fact I found hard to accept. I just didn't see the point of changing my business into one that seeks to compete for high volumes and lower prices," Evans adds.

"There are now only a handful of authoring facilities in the UK that I would class capable of dealing with an artist, a director or a filmmaker who really want to stamp their creative juice onto a product. It's primarily now a widget-based market," laments Evans. "I definitely believe there is a future for small, creative facilities in the market, but they need to be very clear and define the services they want to offer and to whom. There are so many new channels and platforms for content to be delivered and I don't believe large facilities can do everything."

Evans is looking forward to new challenges (andy@aecreate.com).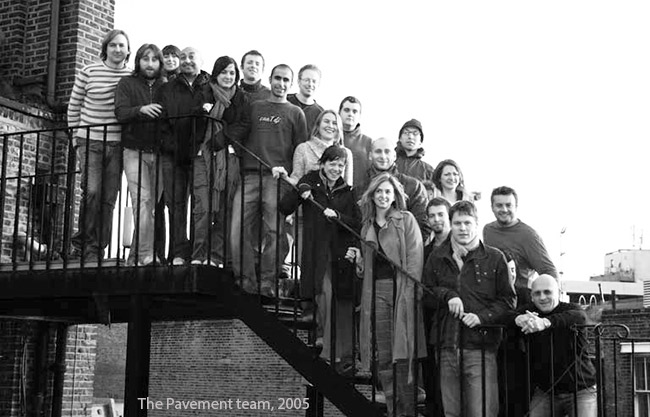 Story filed 29.07.13