A man from Lancashire, UK, has been jailed for three years and ten months for the sale of counterfeit DVDs, CDs and MP3s, which yielded almost half a million pounds.

Lester Hawkes, 58, pleaded guilty to two counts of the supply and sale of copyright and patented articles, two counts of money laundering and five counts of benefit fraud at an earlier hearing, .
His wife, Pauline Hawkes, 53, received a suspended prison sentence of 21 months after earlier pleading guilty to two counts of money laundering and five counts of benefit fraud.

The couple were involved with a website called Flying Warlocks, as well as sub-domains Witch and Misty, where counterfeit DVDs, CDs and MP3s were sold making around £460,000 in five years (between November 2004 and May 2011) through 22,200 separate transactions - whilst living in a four bedroom detached house where the rent was paid through state benefits and claiming over £74,000 in housing and council tax benefit and income support.

Upon investigation, it was established that the websites were offering its members access to a marketplace - for a £10 monthly fee - where pirated copies of tens of thousands of music tracks, films, games, audio books and software packages were sold.

Lester Hawkes has been ordered to pay back £3,190 under the Proceeds of Crime Act and, if he doesn't pay this money back within six months, he faces a further custodial sentence.

The result follows an investigation by North West Regional Asset Recovery Team (NWRART) - a regional unit, which plays a critical role in reducing crime through asset recovery. The NWRART together with Lancashire Constabulary executed a warrant at their house in December 2010 alongside investigators from the BPI (British Recorded Music Industry) and the Federation Against Copyright Theft (FACT) where they found CD and DVD recording equipment, master copies of music albums and films and blank discs for recording.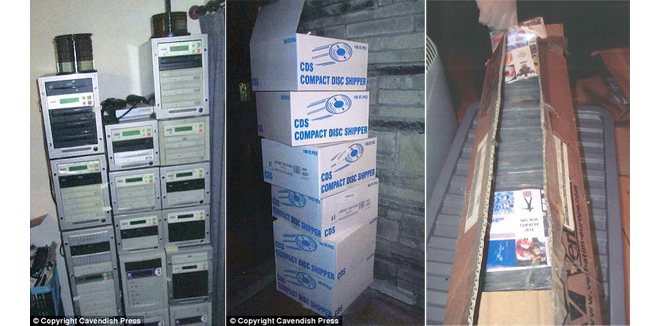 Story filed 17.07.13