On Tuesday, Walt Disney released Oz the Great and Powerful in a two-disc DVD/Blu-ray combo pack as well as a Blu-ray 3D disc in North America. Both versions also include a Digital Copy of the film that can be access via the Hollywood studio's new digital locker service called Digital Copy Plus.

Digital Copy Plus effectively replaces the Digital Copy format that has up until now been bundled with Disney new releases on DVD, BD and BD3D. The service allows consumers to purchase and stream Disney titles across multiple devices via online providers iTunes, Amazon Instant Video and Vudu.

Disney's new digital locker also includes titles released by Disney affiliate companies including Pixar, Marvel, Touchstone and DreamWorks Pictures.

Digital Copy Plus, just like Disney's previous digital locker service Keychest, remains incompatible with Ultraviolet, the digital locker initiative managed by the Digital Entertainment Content Ecosystem (DECE) and backed by all other major studios.

"The introduction of Digital Copy Plus signifies a move away from Disney's earlier digital locker initiative, Keychest, which was introduced in 2010," says Thomas Nash, an analyst with IHS Screen Digest. "While the latter has passed largely unnoticed by consumers, the emergence of Ultraviolet and the format's broad studio support have prompted Disney to re-address the issue of cloud storage."

Disney has been noted for leveraging its strong catalogue of family focused animation titles; adopting varying availability and windowing strategies to create second release windows long after a titles' initial release, unique amongst all the Hollywood studios.

This has been cited as one of the main reason why Disney has yet to join the list of DECE members and sign up for the Ultraviolet initiative. Nevertheless, the studio recognises the need to meet shifting consumption habits and the expectation of flexible viewing, adhering to its 'Movies Anywhere' initiative.

"Where playback of content via Keychest was limited by Disney's partnership with Apple, Digital Copy Plus will allow consumers to watch content through multiple cloud providers over a range of devices including Android tablets, gaming consoles and iOS devices, much like with Ultraviolet," adds Tony Gunnarsson, an analyst with the same research firm.

The transition to cloud-based Digital Copy Plus from disc-based Digital Copy is in line with the strategy adopted by other major studios. As of May 2013, Fox began to replace Digital Copy on its content with the UltraViolet-enabled Digital HD brand, as part of its early digital release strategy.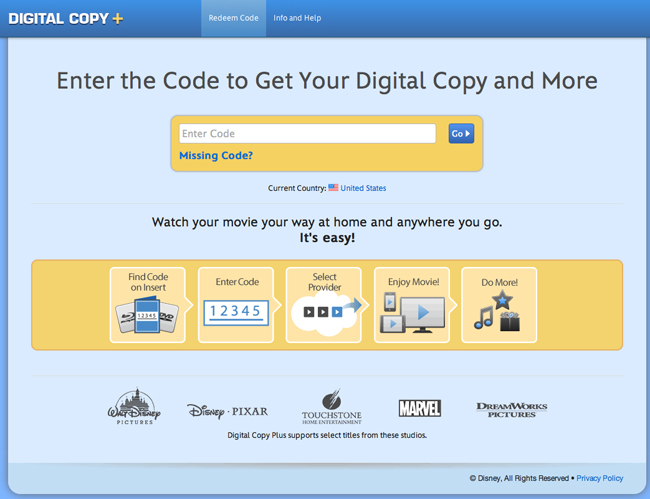 Story filed 14.06.13