Figures just released by the British Video Association show that the market for video entertainment grew by 10.1 % in value across physical and digital formats, as consumers spent £536.3 million between January and March 2013.

The value of physical sales for the first quarter was £362.1 million, up 7.2% on the first quarter of last year, driven by strong sales of Blu-ray Discs, which have grown 44% on the same period in 2012 to £65.3 million. January to March also saw sales of Blu-ray players break through the 5 million barrier, with 5,010,100 stand-alone players having been sold since launch.

The James Bond franchise from Metro-Goldwyn-Mayer Studios and EON Productions continued its contribution to UK plc, with 2.8 million copies of Skyfall being sold since its release in February 2013 (by distributors Twentieth Century Fox Home Entertainment). Likewise the rest of the top 5, The Twilight Saga-Breaking Dawn, Part 2 (Entertainment One), Taken 2 (also from Fox Home Entertainment), Game of Thrones, Series 2 (Warner Home Entertainment) and Madagascar 3 (Paramount Home Entertainment) all made a significant impact on the quarter's growth. Official Charts Company statistics indicate that new release volumes were up 24% year to date.

Digital video maintained the strong headway shown during 2012. Overall consumer expenditure on digital video in the first three months of 2013 was up 55.5% on 2012, rising to £116.3 million, according to IHS Screen Digest. "This is driven by viewers' appetite for downloading video titles, available at the same time as they are released on disc," says the BVA, "to keep for repeat viewing and a variety of TV- and web-based video-on-demand (VoD) offers, including the growing popularity of the new subscription services, all of which make available a wide selection of TV and film titles."

"Today's figures are most encouraging, particularly the increase in the value of physical sales and uplifting performance of Blu-ray Discs,' says Lavinia Carey, Director General of the BVA. "Strong releases and improving consumer confidence clearly had a big impact. Given we've also seen the rescue of both HMV and Blockbuster since they fell into administration in January, these figures will be a boost for the whole industry. It's an illustration of people's attachment to video discs, as well as the increasing use of digital services to supplement the constant demand for great entertainment in and out of the home."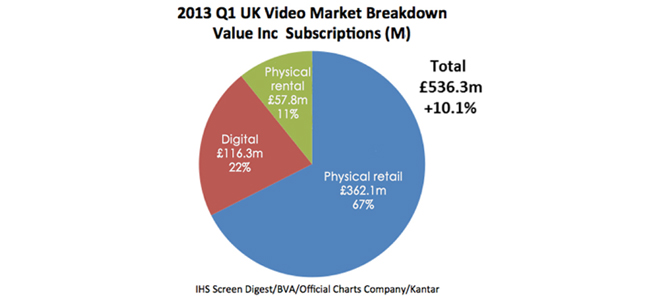 Story filed 06.05.13