The Danish video market has shrunk by a third in value since 2007, the result of declining DVD sales and lower Blu-ray Disc (BD) sales exaggerated by steep declines in video rental. TONY GUNNARSSON, video analyst with IHS Screen Digest, explains that a contributor to this decline was the Danish kiosk market selling mainstream DVDs with evening newspapers at lower price points.

In 2009, the kiosk channel accounted for 20% of the Danish DVD market by volume, but the channel was unsustainable. Through 2010, kiosk-based DVD sales declined dramatically with less than one million DVDs sold through the channel; by the end of that year kiosk sales had ceased altogether. Lower DVD price expectations had been established for Danish consumers and in the same year, Danish consumer spending on video retail went into to a double-digit decline (-11.5%). This trend was continued through 2011 with an annual rate of decline of -11.0%. Last year was the third consecutive year of decline, down -12.3% compared to 2011.

The Danish video retail market has always been dominated by generalist and consumer electronics retailers, along with supermarkets in more recent years. Together, in 2012 these retailers generated an estimated 71% of the Danish video retail market. Video specialist retailers only accounted for 12% of the market.

The persistent strong declines in the market have caused shifts in the retail landscape resulting in more radical changes through 2012, yet to be experienced by other Northern European markets. The first and second half retailer channel market shares, published by the Danish Video Association (FDV), suggest entirely different strategies at work.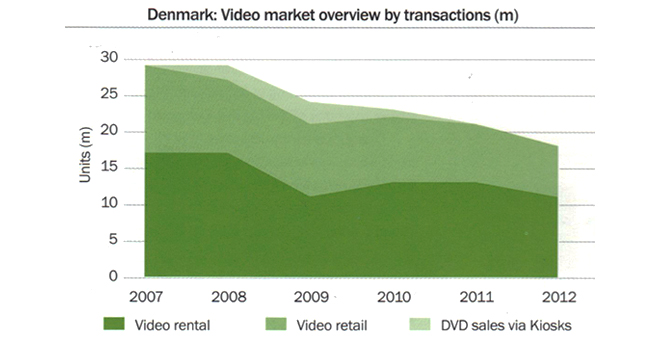 The seasonal expectation is that retailers focused on new release product, such as supermarkets, will increase market share in the fourth quarter, stimulated by sales of strong titles released for the Christmas shopping period. However, supermarkets in Denmark lost five per cent share of the dwindling DVD market in the second half 2012. In contrast, the traditional Danish video retailers, CE and generalists, grew their share of the market by 7% and 5% respectively.

The supermarket sector in Denmark more than doubled their BD market share in the second half of the year, increasing from seven per cent in the first half to 20%. In real terms, this represents a massive increase in consumer spending on BD at supermarkets, from DKr1.9m ($0.3m) in the first six months of the year to DKr11.7m ($2m) in the second half.

This is an indicator of a dramatic shift in supermarket strategy: allocating less space to the now less profitable, mass-market DVD and more to higher priced BD. Accompanying this change in shelf space allocation were far steeper price drops in BD on the part of the supermarkets and those retailers prepared to challenge them. As a result BD pricing declined by 10.4% in 2012.

However, these price drops failed to stimulate additional BD sales, restricted as they are largely to new release sales and then to a smaller installed base of households. Blu-ray Disc unit sales increased by just 3.9% over 2012 and therefore the direct result of the declines in average price was the early decline in the consumer spending on BD.

The consumer electronics sector, benefits from being the only one-stop shop for video players, TVs and video discs, still dominate the Danish BD market overall. However, in 2012 this sector, along with the specialist video retailers, saw a drop in market share. Falling video prices make the market more competitive, while good news for consumers, as physical video consumption slowly declines it makes video retail less attractive to retailers reliant on a focused product mix.

The supermarket sector, which relies on diverse product mix and footfall to drive revenue, is able to compete more aggressively on prices than other retailers. This is a strategy which fails to maintain the overall video market.

Contact: www.screendigest.com

Europe's video market and associated issues will be discussed at the forthcoming PEVE conference in London on 16-17 April 2013. For information, visit www.screendigest.com/events/peve.
Story filed 02.04.13