Revenue of the global consumer electronics device industry fell by 2% in 2012 to $729 billion, as the strength in smartphones and tablets were not able to offset broad-based softness in consumer demand for other device segments, according to the latest report from Strategy Analytics.

The Strategy Analytics research, Connected CE Devices Global Market Forecast, showed that among all regions, the Western European CE market witnessed the worst plunge in 2012, experiencing an 8% decline in revenue.

The dive in PC sales and lackluster demand for flat panel TVs have mainly caused the market slip, while revenue growth in smartphones, tablets and digital media adaptors was not able to bring the market back above the watermark.

Revenue in the Asia Pacific CE market also fell in 2012, particularly as the Japanese TV market suffered from a frightening 68% plummet in unit sales in the face of a struggling economic recovery.

The report projects that global CE device revenues will grow 6% in 2013, thanks to the continued strength in smartphones and tablets as well as a modest rebound from flat panel TVs and games consoles. New form factor convertible PCs may help boost the PC market, as these devices attempt to offer the best of both tablets and conventional PCs.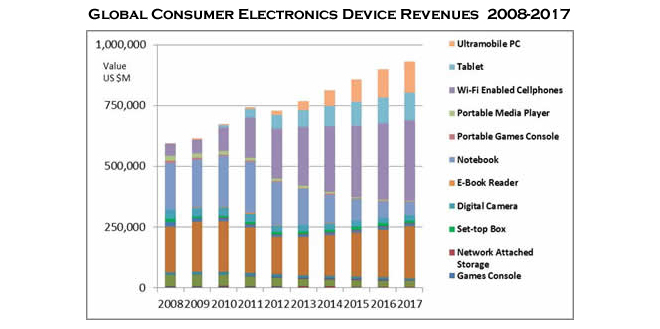 Story filed 01.04.13