US consumer rental home video spending will outpace sell-though spending in 2013 - the first time since 2000 - predicts BTIG Research. In his blog, Richard Greenfield, an analysts with the firm, believes the rise of Netflix and Amazon for subscription streaming, together with a range of rental options across an array of devices led by iTunes, Amazon and Vudu are shifting consumer psychology around owning home entertainment content.

BTIG 2013 forecast yields a mix of only 49% sell-through spending, down from over 60% in 2009. "While investors may be relieved that total consumer spending is essentially flat between 2011 and our 2013 forecast with high margin digital spending increasing, the continued shift to lower margin rental spending (even with the shift toward digital rental) is negative for industry profitability," says Greenfield.

While physical sell-through was only down 5% in 2012 bringing 'relief' to industry executives, the analyst suspects the decay rate will re-accelerate in 2013 and beyond - he forecasts 2013 physical sell-through to go down double digits.

Greenfiled reckons the movie industry has three main levers to pull to drive consumer spending on home entertainment in the face of a rapid shift to access versus ownership:

"Windows - While windows have shortened from 17 weeks to 14-15 weeks between theatrical and home video (click here), we continue to believe it needs to be 6-8 weeks, if not shorter if the studios really hope to sustain consumer interest in owning movies. With Comcast's ownership of Universal and Warner's Bros. recent management change, we would hope to see real progress in 2013 toward shortening windows, despite the continued tacit collusion of the movie exhibition industry.

Price - Fox has led the charge to reduce pricing to $15 for Digital HD, but their is no industry consensus and the reality is $15 still feels too high. Without a dramatically shorter window between home video and theatrical, we believe pricing for Digital files needs to be sub $10 or consumers will continue to shift toward rental spending.

Functionality - Ultraviolet has been the industry's attempt to add functionality to digital ownership. While millions of accounts have been registered, we do not sense consumer usage is robust. We believe windowing and price are far more important problems to solve than functionality."

The table below also shows that, whether owned or rented, discs still account for the lion's share of total US consumer spending on home entertainment - $11.53bn versus $6.41bn for all the online delivery options.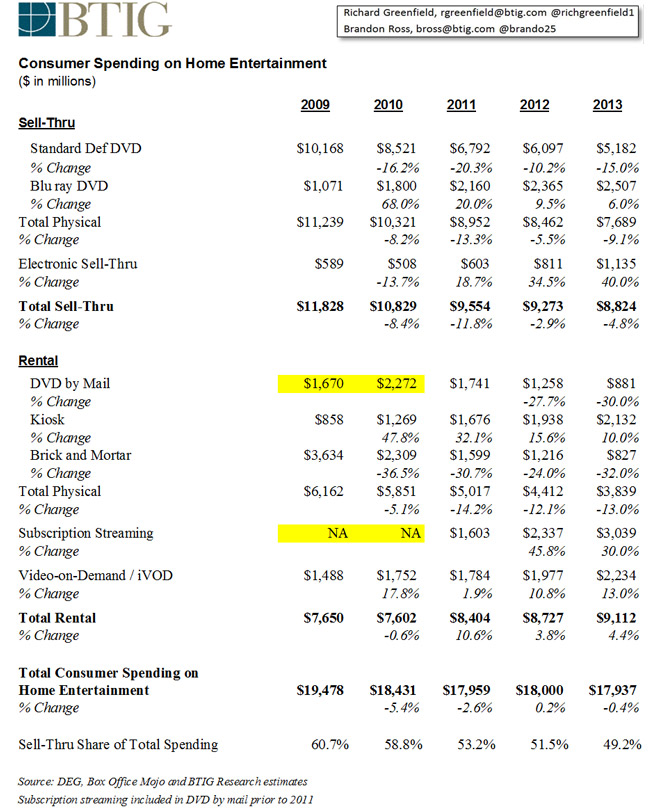 Story filed 18.02.13