Mobile video consumption is finally becoming a mainstream activity after many years of trials, launches and commercial failures. London's Olympic Games 2012 demonstrates the trend, says IAN FOGG, Head of HIS Screen Digest Mobile Team.

In effect, the event has become the first mobile Olympics: The BBC received 12 million requests for Olympics mobile video streams from the UK. NBC's coverage also saw strong growth in US mobile usage. Mobile devices served 45% of NBC's Olympics video streams. While the number of visitors to NBC's Olympics web site increased by just 8% in the first five days of London 2012 overall compared with Beijing four years earlier, the numbers visiting the mobile site doubled.

This difference between 2012 and 2008 seems extremely marked but it's not surprising as it reflects the rapid pace of change in the mobile market as a whole. The last four years have seen a transformation in the business models, devices and user experiences that mobile consumers enjoy. Back in 2008, the Apple App Store had been available for just one month.

The iPhone was a mere year old, hardly anyone owned one, and iPhone availability had only recently extended to 21 countries from its handful of initial launch countries. There were no Android smartphones. Android had been announced by the Google-dominated Open Handset Alliance, but the first Android smartphone was not to launch for another five months. RIM was still riding high on a wave of expansion as it sought to expand outside North America and into the consumer market. It was a different mobile era four years ago to 2012.

Now, on demand mobile video streaming and app-based mobile video playback is the dominant form of video consumption rather than live broadcast. There have been three major trends that have changed the video landscape in this direction:

- Mobile-specific broadcast networks have struggled and died. Qualcomm switched off its US Mediaflo network in March 2011. In Europe, DVB-H has failed to establish itself and now there are very few handsets available that support the standard.

- Mobile operators are no longer the main route to market for video and TV because App Stores have shifted the location for mobile content discovery away from operators and their "decks" to smartphone makers' stores.

- Mobile video has become multiscreen video. In other words, most mobile video offerings are now a part of a wider video content offering that straddles different types of connected digital devices rather than being exclusive-for-mobile offerings of years past.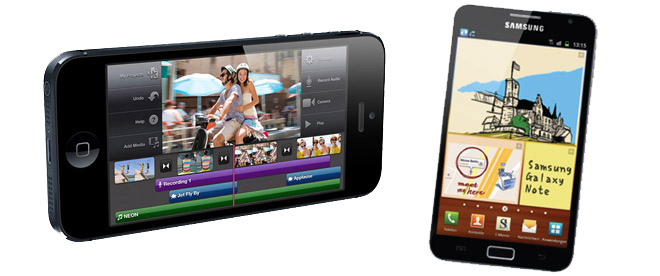 Mobile Phones have become viable for video

Mobile handsets are continuing to evolve dramatically in a direction that makes them much more capable video consumption devices. The arrival of the iPhone has caused every other smartphone company to raise their game. Apple's impact has been to transform the whole industry and the iPhone is more important for this effect than it is for its significant installed base alone. In short, all mobile handsets have become smarter, larger and more content friendly.

For example, handset screen sizes have grown tremendously: Back in 2008, the iPhone 3G's three and a half inch screen was above average in both size and quality. Now, the iPhone 4S's screen is dwarfed by four, four and a half and even five inch screens on competing smartphones from HTC, Samsung and Motorola. These large screens are much more suited to video viewing than those included in older models. Plus, the current smartphone screens have better colour reproduction and are easier to view in daylight than the models from just a few years ago.

Smartphone screens are also now truly high definition. Apple started the trend with the "retina" display iPhone 4 in 2010, but while that iPhone offered a high resolution screen where it's almost impossible to see the pixels - hence the marketing label of "retina" - it was not HD in a conventional TV sense because the phone had only a 640-line equivalent display and was a 3:2 aspect ratio, rather than the more conventional 16:9 used by current televisions.

But now, almost all mobile phone makers offer multiple models with a full 720p screen which has a resolution and an aspect ratio that matches the 'HD Ready' TV sets of the early 2000s, but packaged into a much more compact device. This trend towards 720p screens is a very new trend that began in late 2011 with the launch of Samsung's Galaxy Note and Galaxy Nexus and has continued throughout 2012. It's such a new market development that we've seen only the start of the impact on mobile video consumption levels.

Smartphone adoption is now mainstream. IHS Screen Digest forecasts that 44% of 2012 global mobile phone shipments will be smartphones and this will rise to over 50% in 2013. Developed countries will see even faster adoption. In the UK, smartphone penetration is already over half of all mobile phone-owning consumers. So, over time the benefits of the high-end smartphones for video consumption will trickle down to become a standard feature for almost all mobile phone owners, and because mobile ownership is almost universal for all consumers.

The mobile user experience is now fast and intuitive. 2012's smartphones no longer require a keypad or a stylus to control. This makes the devices quick and easy to use, so encouraging consumers to experiment with more novel uses. Simple activities such as pausing a video or rewinding no longer require handsets to include special media buttons because any touch screen phone can put those buttons onto the screen when they're needed during video playback. Plus, the absence of keypads has enabled screens to grow in size and take up almost the entire front face of handsets.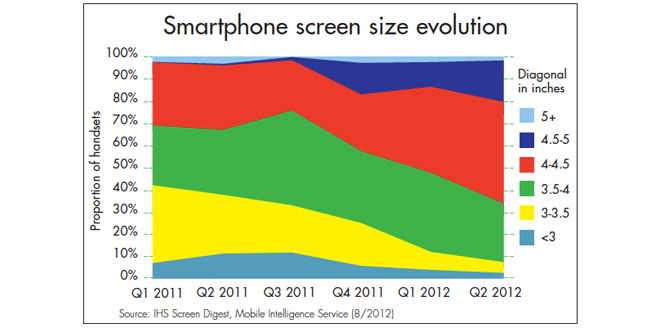 Touchscreens are now much more suited to mobile use. The widespread adoption of capacitive touch screens that respond to fingers, rather than resistive components that needed pressure have led to more robust screens that can stand knocks better. Capacitive designs routinely use ruggedised glass that is very hard to scratch. Older models' plastic screens scuffed easily which made video viewing much less pleasant. Yes, current phones' still have screens that break. But pre-iPhone all screens were plastic and acquired scratches easily so worsening the video experience.

Mobile data packages have become affordable, even for consumers that own phones on pre-pay tariffs. From 3G networks' launch back in 2003/4, mobile data was expensive and tended to be a feature of contract tariffs and not the pre-pay tariffs that comprise almost two thirds of UK consumers. Now, mobile data is affordable even on pre-pay with UK prices start at around £10 a month for a mix of texts, voice calls and unlimited Internet data.

On contract tariffs, the only mobile data plans that offered unlimited usage at an affordable price during the Beijing Olympics were for the iPhone. Now, unlimited data plans are available for multiple smartphone models and even those data capped plans include a big bundle of data of at least 500Mb that allows mobile video consumption. This amount may not be vast, but it's an order of magnitude better than the 10Mb a month or so pre-iPhone data tariffs.

These new smartphones also have App Stores that make it easy for consumers to discover new video services. This has transformed the quality of the mobile channel for mobile media providers looking to acquire viewers. Previously, media companies had to work through multiple mobile operators to gain visibility. Now, a single app for a major app store will reach all of the consumers using that kind of smartphone. Google and Amazon have followed Apple by expanding their digital stores to offer both media - music, TV and movies - as well as apps. This shift is behind the name change that Google made to its Android app store from Android Market to Google Play in late 2011.

Mobile networks will become even better for video

The pace of mobile evolution is going to accelerate. The large screens common on high-end smartphones will become standard on mid-market phones within two years. Already, there are a few handsets available on pre-pay with screens similar to those used on former flagship devices. For example, the Huawei G300 runs Android, has both a four-inch screen and a 1Ghz processor just like the Nexus S Google flagship that launched in December 2010. The G300 is available for only £100 on Vodafone UK pre-pay, with no contractual commitment.

Mobile networks will become much faster as LTE (Long Term Evolution - a wireless communication standard for high-speed moble data) arrives making them suited to HD video streaming. This 4G technology is already live in the US, Japan, Nordic markets and Germany. In the UK, the roll out is slower because the auction is yet to take place. When it does, likely later in 2012, the UK will also see LTE speeds of 20-40Mbps that are suitable for HD video streams. Everything Everywhere will be the first to launch LTE in the UK because market regulator Ofcom is allowing the Everything Everywhere to re-use some of its existing 1800Mhz 2G spectrum for LTE services.

LTE is important also for the increased capacity that it brings as well as for its higher headline speeds. This network capacity jump will enable more consumers to enjoy mobile video streaming more often. The new 800Mhz spectrum freed up from the analogue TV switch-off across Europe and the newly available 2.6Ghz increase the total amount of spectrum available for mobile media services such as video. Additionally, LTE is more efficient in the way it uses spectrum so that more video streams can be delivered on the same number of Mhz than on 2G or 3G networks.

This increase in the supply of network capacity owing to LTE and new spectrum will cause mobile operators to loosen the limits on data consumption they attach to many current mobile packages. This will make the mobile networks even more suited to delivering many high quality video streams. The extent that operators increase data capacity limits will depend on the degree of competition in the mobile market: With four main operator groups the UK is one of the most competitive mobile markets in the world and so will see a faster change than average.






Multiscreen video services will prosper on mobile

The innovators in mobile video are now those that integrate their mobile video content into a wider video strategy. We've identified three standard bearers for this trend.

Dominant UK pay TV operator Sky has extended its offerings onto both smartphones and tablets with Sky Go. Initially this offered video access for existing paying Sky TV customers on these devices. The app is available for both Apple and Android devices. It reaches 1.8 million unique users per month and has 5.1 million devices registered to the service. Sky Go delivers an average of 6.7 million monthly VOD views.

Sky offers a number of other mobile apps that support its multiscreen strategy. Most of these are complementary services that drive additional content such as sports scores or news. But some of these, such as Sky News, also include video content. Sky report that to date over 33 million Sky apps have been downloaded and its Sky Sports News app on Apple's iOS has 1.5 million unique visitors a month. These strong Sky mobile usage figures re-enforce just how mainstream mobile and mobile video is becoming.

As a public service broadcaster, the BBC aims to offer its content across all platforms. iPlayer's mobile growth reflects the rising importance of mobile devices and mobile video in this multiscreen strategy. In December 2009, mobile phones represented under 4% of requests for video streams. This grew to 8% of iPlayer requests in May 2012 against a backdrop of rising overall iPlayer usage. Mobile devices requested a total of 15 million streams. Tablet usage amounted to a further 13 million streams, although the iPlayer apps for tablets are developed alongside those for smartphones using the same technology and Apple App Store distribution.

Zeebox is the other side of mobile video, where viewers can use mobile as a complementary screen used in tandem with another. Zeebox allows social interaction with other viewers, broadcasters and other brands. Launched in late 2011, the app UK consumers have downloaded the app more than 1 million in its first six months. Zeebox has partnerships with traditional TV marker players in Australia, the US and the UK. In Australia, it signed Network 10 in July 2012 as both an investor and a partner, Sky invested in January on the back of zeebox's UK service, while zeebox's upcoming US launch will be linked to cable provider Comcast.

These services demonstrate just how much the mobile market has evolved to become fertile for video and TV services. Ever since the launch of the first 3G mobile networks, everyone has assumed that widespread mobile video adoption would be just around the corner. With the arrival of HD large screen smartphones, widespread fast mobile networks, and sufficient mobile data packages the mobile industry is finally delivering on the promise.




As head of the IHS Screen Digest mobile team, IAN FOGG directs research, consulting, analysis, and forecasting of the mobile market. Ian has delivered custom consultancy and presentations for global companies headquartered in Europe, North America and Asia covering ideation, roadmap validation, market sizing, disruptive strategy, and competitor analysis, among other areas. Before joining IHS Screen Digest, Ian was a principal analyst at Forrester and a research director at Jupiter Research.
Contact: wwwscreendigest.com.

This is one of many editorial features included in the annual DVD and Beyond 2012 magazine. Copies still available. Ask for your free copy.

Story filed 02.02.13