DVD-Video had a lot going for it. Sadly, all good things come to an end, and DVD is rapidly being discarded in favour of online distribution to web-connected and mobile devices. For content owners and their post-production content service providers, this raises two important questions: What do I do with my existing DVD content? How can the DVD value chain participate in the future world of online distribution? JOHN NEWMAN, from ACE GmbH, provides answers.

So, what made DVD such a success? Ubiquity and universal playback were very important. DVDs played on devices irrespective of manufacturer or product type (stand-alone, computer or games console). A wide range of titles offering consumer flexibility and choice, with titles available from multiple sales channels. Low costs, driven by standardised, streamlined and cost effective content authoring and production processes. A simple consumer experience focusing on ease of use.

The brave new world of online content distribution is not so strategically aligned. Different hardware ecosystems (Windows, Apps, Android) and their associated content formats restrict universal playback and consumer choice of both content and supplier. Costs are high, with content needing to be prepared on a per-format, per-language basis, and small content owners unable to maintain their online content delivery systems. Walled gardens like the iTunes Store create a barrier between content owners and the consumers. Watching purchased content across all of your devices seems difficult, and a long way from the simplicity of DVD. Streaming seems to offer cross platform playback, but with low bit-rates and the requirement for online connection, it falls short of the required playback experience for premium content.

Online distribution can be low-cost and fast, and has the potential to offer an infinite catalogue. For smaller content owners, the multitude of formats and essential DRM systems creates a barrier to entry for taking their content online, and they fear loss of control, being lost in the crowd, and loss of ownership of the end customer. Online distribution has the potential to create 1:1 relationships between content owners and their consumers, and powerful opportunities for direct marketing and customer relationship management (CRM), but many small content owners lose visibility of their end-customers when they subjugate themselves to the inflexible terms and conditions of the larger VOD stores and their requirement to work with aggregators.

Smaller content owners have until recently believed that the technological hurdles and start-up costs of building and managing their own VOD stores to be prohibitive, but a new breed of self-managed services are making technologies and systems used by international VOD businesses available to smaller, independent content owners and their service-providers. One example is flickrocket.com, a brandable VOD service built on the same DVD-on-Demand technology platform used by Deutsche Telekom Videoload and CinemaNow in the US for Universal, Sony and Paramount content.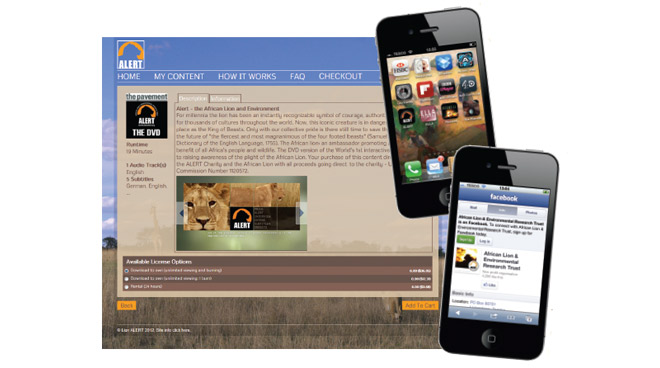 Solutions

FlickRocket.com uses DVD as the input format, and exploits a powerful codec called FluxDVD specifically designed for distributing DVD content online - keeping the original menus, subtitles and audio tracks. The advantages of the approach are clear. A single encode retains the full DVD experience for playback on PC, Mac and iPad and also the subtitles and audio tracks, meaning it can be used in all regions. The FlickRocket system wraps the content in a multi-platform DRM called mpDRM so that license management and copy protection is possible on the majority of devices including PC, Mac, iPhone, iPad, Android and Windows Mobile.

FlickRocket.com provides free software tools for encoding and uploading the content to brandable stores managed via a web console. This means content owners or their DVD service providers can build and manage fully functioning VOD stores for their own websites, and once the content is prepared for store delivery, other delivery mechanisms such as Digital Copy, Download Gift certificates using pre-generated licenses codes, and closed group ?screener? distribution to pre-licensed individuals are possible.

The business model is simple, based on low monthly management fees of between €99-299 per month and low per-unit transaction fees when content is sold and delivered. This opens up a whole new world of online distribution for DVD content owners and distributors, who can now manage direct CRM relationships with their consumers and offer different license models including download to own, rental, subscription, and download to burn.

Apps have been an increasingly popular method of distributing digital content, and many DVD supply chain companies have despaired at their inability to participate in this growing service market opportunity. The interactive FluxDVD format lends itself to packaging within an App framework. The new DVD2App FluxBuilder App allows DVD content to be repackaged as iOS and Android Apps, keeping the menus, extras, subtitles and audio tracks of the original DVD and optionally adding web links using an HTML overlay to direct customers to a variety of web destinations including Facebook, YouTube, web, Spotify, iTunes. With App development usually costing from €10k upwards, DVD2App changes the game by allowing service providers to build client Apps, generating appropriate margin, from as a little as €1,999 per DVD2App.

The corporate video market has been less sensitive to the decline of physical DVD, but with the increasing trend towards smartphone and tablets, and the removal of DVD drives from volume PCs, corporates users too are looking for ways of distributing their video content - for both public and internal consumption. The powerful licensing capabilities of DRMs now makes it possible to individually license content to specific corporate users, so that training and commercially-sensitive video and digital content can be copy-protected and delivered to a wide range of devices. The FlickRocket system allows groups of known users and associated content rights to be managed, so that secure content can be distributed across an organisation for playback on a wide range of devices.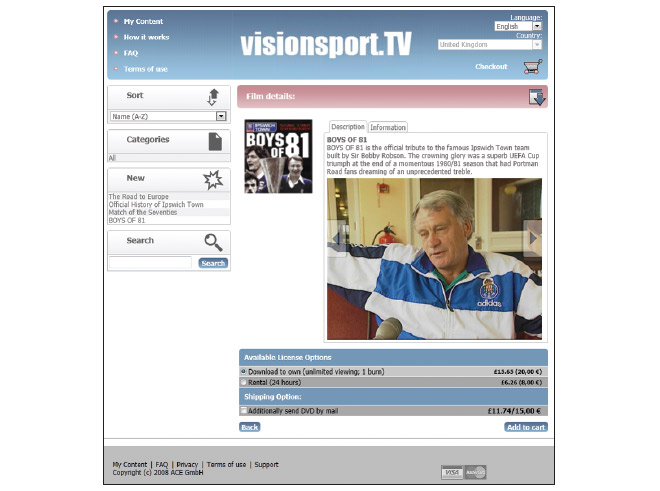 This is a market that many traditional DVD duplication service companies are now targeting, as they broaden their mission statements to include wider content distribution, including online, to their traditional disc-based core businesses. Also because systems like FlickRocket separate the distribution of encrypted content from the license certificate files (which can be bound to online accounts or physical media), many companies are using FlickRocket to deliver copy protection and content license management solutions on content distributed on disc and USB as well as online.

Lastly, online delivery is increasingly seen as a complementary service to DVD rather than a replacement. Many content owners are seeing increased demand, and are generating higher unit-selling prices by offering Digital Copy with the DVD packaged content. Recent Triple Play releases including The Inbetweeners Movie, Total Recall and The Untouchables have used FlickRocket's ability to deliver managed digital copies to PC, Mac, iOS, Android and Windows Mobile devices by bundling unique License Keys with the physical media allowing end customers to download digital copies of their content to the devices of their choice. For an additional cost of less than €0.30c per unit, many smaller content owners are able to extend their sales into new digital markets and maximise their revenues in existing disc sales.

DVD content owners need to find mechanisms to sell their content online, and their DVD content service providers need to extend their service offering beyond DVD to the wider world of content distribution. Branded VOD stores, Apps and Digital Copy may see them both continue to work together and prosper for a long time to come.





JOHN NEWMAN is Associate Sales Director for ACE GmbH, the software company behind DVD2App, FluxDVD, FlickRocket white label VOD stores, Live Digital Copy and Protect-Software copy protection solutions for video, DVD, software, data and interactive content. John was previously VP Europe for Sonic Solutions, responsible for their Advanced Technology and Desktop Software businesses. Contact: www.fluxdvd.com.

This is one of many editorial features included in the annual DVD and Beyond 2012 magazine. Copies still available. Ask for your free copy.

Story filed 21.01.13