Total worldwide consumer spending on movies in 2012 reached $62.4 billion, up from $61.1 billion in 2011 and $60.1 billion in 2010, according to an IHS Screen Digest Cross Platform Movie Market Monitor.

Last year's increase of $1.3 billion - a 2.1% growth rate, was demonstrably better than the 0.9% growth experienced in 2011. Most important, growth for consumer spending on movies worldwide is recovering after declines across 2008 and 2009, with spending forecast to continue to rise by 2 to 3% every year from 2013 to 2016.

"Consumers were tracked on their movie spending and consumption across 37 countries in five different global regions via four delivery platforms," said Tania Loeffler, analyst for video at IHS Screen Digest. "These platforms include theaters; the purchase and rental of physical discs on DVD and Blu-ray; pay-TV video-on-demand (VOD); and digital retail buys and rentals."

Growth in 2012 was generated by the Asia-Pacific region, which commanded a 25% share of worldwide movie spending, the third largest after North America and Western Europe, as shown in the attached figure. With new cinema construction in markets such as China driving increased movie transactions, coupled with the popularity of higher-priced premium content, the amount of money that Asia-Pacific consumers spend on going to the cinema is rising rapidly. That amount last year equated to $10 billion, up 12% from 2011.

Asia-Pacific is poised to overtake Western Europe as the second-largest region for consumer spending on movies by 2016. An important consideration is that a significantly higher proportion of locally produced movie content is consumed in Asia-Pacific, especially in countries such as India and China. Western Europe currently owns a 26% share.

North Americans remained by far the biggest spenders on movies at about $80 per capita per year, and accounting for 41% of worldwide movie spending in 2012. As in Western Europe, spending on physical media encompassing DVDs and Blu-ray Discs alike are pulling down the North America total for movie spending, even as consumers in the region increase their spending on movies consumed on digital platforms and in cinemas.

Consumer spending on movies increased significantly in other regions - by 17% in Central and Eastern Europe, and by 7% in Latin America. Ultimately, however, these markets still remain very small, with only an 8% combined share of worldwide spending in 2012.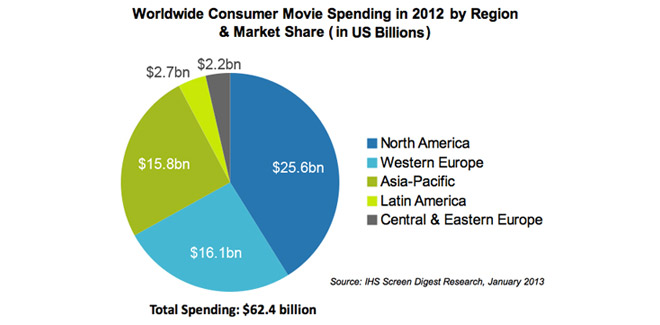 Theatrical is key driver of consumer spending growth worldwide

Worldwide consumer spending on theatrical grew 7% from 2011 to reach $33.4 billion in 2012, according to HIS Screen Digest figures. "Across all five territories, consumers overwhelmingly demonstrated that the cinema experience remains the most desirable way to consume movies, with theatrical accounting for 53% of all movie transactions."

In contrast to theatrical, consumption and consumer spending on movies - either purchased or rented on physical discs - declined again, from $24.4 billion in 2011 to $23.7 billion in 2012, down minus 3%. The worldwide decline is forecast to continue for both DVD and Blu-ray purchases and rentals, with rentals projected to overtake physical purchase as the second-largest generator of worldwide consumer spending on movies.

"Unlike theatrical, physical media is subject to competition on price, inherent to retail in all environments," Loeffler said. "Average pricing for physical purchase transactions has continuously fallen, declining by a further 2% between 2011 and 2012. This trend, along with the increased dominance of lower-value rental transactions, will result in physical media struggling to maintain its share of worldwide movie spending."

Physical media is forecast to lose a 10% share of total worldwide consumer spending, from 39% in 2012 to 29% by 2016. Even so, physical will still account for a combined 31% of total worldwide movie transactions by 2016.

The preference for physical rental among consumers is translating into the digital space. This is true even in regions like Western Europe, where physical purchases traditionally dominated physical video transactions. On the whole, TV-based Video-on-Demand (VOD) and digital rentals from over-the-top services such as Apple?s iTunes vastly outpaced the number of digital movies purchased in 2012. Pay-TV VOD transactions rose 16% in 2012 to reach 685 million in number, while digital rentals grew 61% to reach 174 million. In comparison, digital purchase transactions climbed to just 52 million.

Total consumer spending on buying and renting movies on digital platforms continued to see strong growth, climbing to $4.9 billion in 2012. However, total digital movie spending accounts for just 7% share of worldwide movie expenditures.

Story filed 21.01.13