Innovation within the TV displays business shows no sign of stopping, despite saturation in many of Europe's leading markets. DAVID WATKINS, Research Consultant at Futuresource Consulting, assesses the markets and provides insight into the future of television.

Manufacturers continue to increase the share of their models that incorporate the latest step-up features such as 3D and Smart TV capability, while 2012 will also see the introduction of large screen OLED and ultra-high definition 4K sets. Profits have been hard to come by for TV manufacturers in recent years, thanks to aggressive price erosion and a focus on maximising the number of units sold. However, the tide is turning and vendors are looking to value-add features in an attempt to inject additional margin into the industry, as well as provide compelling reasons for consumers to want to upgrade and replace their existing sets.

Moving forwards, the TV market will be largely driven by replacement demand and while manufacturers will hope that features like 3D and Smart TV will encourage consumers to replace, in reality screen size and image quality are likely to remain the most important factors, along with price. 3D and Smart TV will most likely climb up the criteria list, though the installed base of devices that include these features will most likely be driven by default as much as by consumers actively seeking the technology.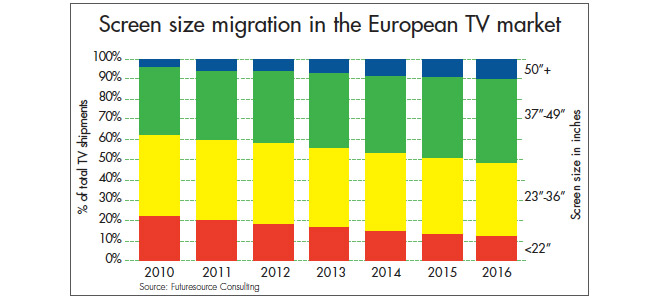 European shipments

TV shipments in Europe fell 1% in 2011 to just under 68 million units and are forecast to fall a further 3% in 2012 as growth in the Eastern European markets (where flat panel penetration is still growing rapidly) fails to offset declines in the west. Shipments across many Western European markets have now peaked following the completion of the Analogue switch-off process, with volume demand dropping 6% in 2011 and an expectation of a further fall of 6% in 2012.

Growth rates vary widely across the region depending on the level of flat panel penetration and economic conditions within individual markets. Germany is expected to witness slight growth in 2012 while France and Spain look set for double digit declines. The Eastern European market on the other hand is growing at around 5% in 2012 following a 12% increase in 2011. The Russian market is growing strongly at around 8% in 2012 and became the largest single market across Europe in 2011 reaching close to 10m units.

While the sustained period of economic uncertainty across Europe has undoubtedly not helped the TV industry it is also clear that the share of consumer spend on consumer electronics is shifting away from traditional AV products to new portable 'infotainment' devices such as smartphones and tablets. Tablets and smartphones in particular are fast becoming the must-have devices with growth expected to exceed 80% and 25% respectively in 2012.

Significantly, the capability of these devices to act as companion devices to the Smart TV is being increasingly showcased to consumers, which can only help to stimulate further interest and demand for Smart TVs moving forwards.

The European appetite for larger screen sizes is expected to continue as prices for extra-large sets begin to fall within range of the mass market consumer. This trend is also likely to have a knock-on effect on demand for wall mounting solutions as well as boosting interest in sound enhancement equipment such as standalone soundbars and home theatre systems. By 2016 large screen sets of over 37" are expected to account for more than 50% of total TV demand, up from 39% in 2011.

On the display technology front, LED based LCD is set to become the dominant technology in 2012 and is expected to account for 65% of total TV demand during the year. Futuresource predicts that LED's share will rise to 93% of the total market by 2016, by which time the older CCFL LCD technology will have been completely replaced.

Despite the technology's perceived superior picture quality, plasma TV shipments witnessed double digit decline in 2011. Plasma has historically owned the large screen TV space but steep price declines in large screen LCD LED sets fuelled by increased competition has led to rapid erosion of plasma's large screen market share as its price advantage is squeezed into the niche (albeit growing) extra-large screen market.

2012 will see the launch of large screen OLED displays, although sales are likely to be limited due to the very high price tag. However, OLED holds several advantages over existing LCD technology such as brighter colours, faster refresh times and significantly lower power consumption. As manufacturing costs decline over the coming years OLED will begin to displace LED and Futuresource predicts that OLED TV shipments will represent 4% of the total European TV market in 2016.

Ultra-high definition sets, also known as 4K displays, are making an entrance this year in various sizes. Toshiba launched a 55? auto-stereo 3D set earlier this year while LG plans to make its 84" LCD 3D set the focal point of its booth at IFA 2012. While mass market adoption of these sets is some way off - thanks to high prices and a lack of 4K content and standards - the signs are that 4K will ultimately replace existing HD technologies and it offers manufacturers another marketing tool to help drive sales of large screen sets.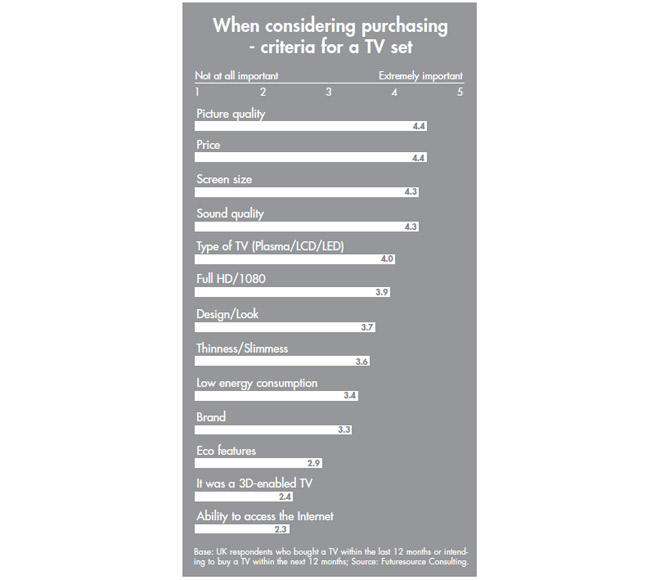 Growing interest in Smart TV apps

Connectivity comes as a value-added feature on many mid to high-end large screen TVs which have attracted flat panel buyers, particularly early adopters who are now replacing their first flat panel TV.

Despite a slow start in terms of consumer interest, Smart TV usage is on the rise thanks to the new generation of advanced internet TV sets, many of which include app stores, open web browsing, sophisticated user-interfaces that mesh neatly with broadcast and a whole host of compelling pre-installed content sources from popular video streaming services. Furthermore, the HbbTV service that combines broadcast and broadband TV continues to gain traction in mainland Europe as the range of HbbTV enabled models expands.

Faster domestic broadband speeds, wifi integration and improved retail support are also helping to push Smart TV into the mainstream and recent usage figures suggest that around 30-40% of Smart TV owners are hooking their sets up to the internet on a regular basis.

Moving forwards, the challenge for Smart TV manufacturers and content providers will be how to generate and maintain revenue streams and find new ways of sustaining consumer interest beyond the traditional entertainment arena. Already, content providers and app developers are looking at ways to bring educational, security and health-related services to TV sets.

Futuresource analysis shows that just over 20% of European TV shipments in 2011 were Smart/Connected TVs with household ownership reaching 7%. By 2016 over 90% of TV shipments will include Internet functionality by which time over 50% of households will own a Smart TV set.

3D gaining momentum after slow start

The consumer 3D TV market is still in its relative infancy, accounting for just 9% of total European TV sales in 2011 with penetration at just 2% of homes. The market has been held back by a lack of content, a low level of consumer interest in 3D and the fact that the feature has been restricted to expensive, high performance LED and Plasma models. Broadcasters are in a 'chicken and egg' situation, reluctant to invest in 3D production until the population of sets reaches a reasonable size, especially as they will not get any additional revenue.

Despite the soft start to the market, Futuresource believes that around 40% of European homes will own a 3DTV by the end of 2016, based on an assumption of lower priced 3D sets and increasing broadcaster involvement in 3D.

In terms of 3D TV display technology, the 'war of words' between TV manufacturers with regard to the merits of active and passive 3D displays has reached a highly charged phase, with the competitive positioning of Samsung and LG being a major issue underneath the public consumer debate over picture quality and the cost of glasses. Ironically, it is industry, not consumers, who are having the debate over quality.

LG Display's FPR (Film Pattern Retarder) polarizing technology, co-developed with German chemicals supplier Merck, is gaining ground in terms of industry support, primarily as it allows 3D to be offered on LCD sets with lower panel performance than that demanded by active shutter, as well using very cheap glasses, which can be bundled with sets.

However several other major brands look likely to retain active shutter for their premium ranges, although Panasonic has recently introduced one passive FPR LCD model and Sony has also deployed FPR on two models in China, where it outsources production and 3D is growing strongly.

Samsung has been working with Sony and Panasonic to strengthen the consumer profile of active shutter, including a Full HD 3D Glasses Initiative (with Xpand3D) to improve interoperability.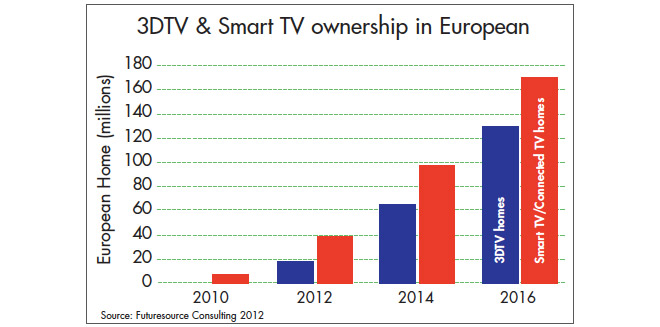 The Holy Grail for 3D TV technology is of course to remove the need for glasses altogether. The top four global TV brand leaders are known to be actively developing auto-stereo (no-glasses) technology and are likely to commercialize this in 2015/16, initially displacing active shutter technology, as the sets will be very expensive.

However, creating a practical and affordable auto-stereo 3D TV product for consumers is a severe technical challenge. There are several technical approaches, but the most likely is multi-view image creation using a lenticular lens (longer term solutions may use volumetric or holographic technologies post-2020).

Current products like Toshiba's model employ eight or nine 'sweet spots' and require viewers to be positioned accordingly, with on-screen indicators and facial sensors used to do this, which is far from satisfactory. An alternative, more attractive solution may be to dynamically 'steer' the viewing sweet spots to known viewer locations.

For the mass market, 25 or more views may be necessary, requiring tremendous processing power, with additional complications in terms of light output and native screen resolution, but already a Dutch company, Dimenco, has developed a 28-view model. However, the introduction of auto-stereo 3D will be linked to the phase-in of 4K display technologies, which could allow resolution to be regained on multi-view lenticular screens.

Moving forward, Futuresource believes that Smart TV and 3DTV will add value and further deepen consumer engagement with television. Whereas 3D is likely to perform well across a finite number of content types, such as sports, movies and games, the interactivity and search functionality afforded by Smart TV will allow it to pervade most television genres. However, the majority of consumers are already equipped with devices which provide interactive functionality (smartphones, netbooks and tablets) without interrupting linear programming. The key to success will lie in the capability of TV sets to deliver a seamless, immediate experience which can harmonise with and complement consumers? second screen usage.




DAVID WATKINS has more than six years' experience in research and consultancy, joining Futuresource Consulting in 2006. During this time he has been closely involved in the tracking and forecasting of the global consumer electronics market with a particular focus on developments within the flat panel TV space, Smart TV and 3DTV. David currently heads up Futuresource's TV research and analysis team, driving the company's continuous reporting in this area. Contact: www.futuresource-consulting.com.

This is one of many editorial features included in the annual DVD and Beyond 2012 magazine. Copies still available. Ask for your free copy.

Story filed 14.01.13