While the UK video entertainment market is still dominated by the purchase and rental of DVD and Blu-ray, figures published by the British Video Association show a massive rise of 49% in viewers' spend on digital video entertainment during 2012.

With over 40 digital services available offering a range of options for consumers to download and stream video entertainment on connected devices, the digital market is now estimated by IHS Screen Digest to be worth £500 million. Digital now accounts for almost 22% of the UK's £2.317 billion video entertainment market. Physical discs took over 78% of all consumer expenditure, accounting for more than £1.8 billion. The high definition Blu-ray format also showed growth; its value share of the 2012 Top 10 titles was 29% compared to 24% in 2011.

As regards digital formats, the figures reflect the changing ways in which people now access video entertainment and the growth of secondary screens. There are close to 7 million connectable devices in UK homes, with the growth in expenditure on tablets up 128% as 18% of British households now own at least one, according to GfK's data. Figures published by the BVA in 2012 found that 64% of tablet owners had downloaded an entertainment app and 60% chose to watch video entertainment on their tablet rather than their PC. The research also found that 62% of smartphone owners had downloaded an app enabling them to watch entertainment.

"More people now have the knowhow, technology and services to get their video entertainment digitally; the significant rise in value reflects its increasing popularity," commented Lavinia Carey, Director General of the BVA. "However, this doesn't mean all users have stopped buying DVD or Blu-ray in favour of digital; many are buying both for different needs. In fact, the Blu-ray format [...] saw an 8.9% rise in volume sales and increasingly Blu-ray players are connected to jumbo-size wall-mounted TVs."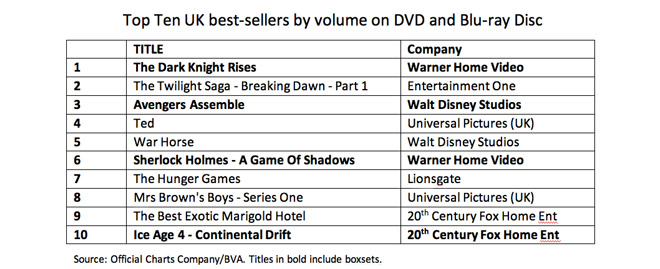 Story filed 08.01.13