Blu-ray Discs, electronic sell-through (EST), and video-on-demand (VOD) - three of the industry's highest growth margin areas - all saw material increases in the third quarter in the US, according to Digital Entertainment Group's Third Quarter 2012 Home Entertainment Report.

"The third quarter 2012 results mark another quarter characterised by industry steadiness as well as the continuing shift to selling films and TV shows via the digital marketplace and on the superior quality Blu-ray Disc format," says DEG. With the exception of kiosks - nearly 10% increase - overall disc sales was down by 4% and disc rental by a whooping 50%.

UltraViolet registrations have surpassed six million. EST rose 37.7% in the third quarter compared to the same period last year. Likewise, VOD spending climbed more than 8.4%.

Blu-ray Disc continued its steady gains with spending up close to 13% in the quarter compared to Q3 2011. Sales of catalogue titles on Blu-ray grew 22% in Q3 from a year earlier.

The number of Blu-ray homes continues to climb, with 2.8 million BD players (including BD set-tops, PS3s and HTiBs) sold in the third quarter, up 5% from a year earlier. Total household penetration of all Blu-ray-compatible devices now stands at close to 50 million US homes.

The display upgrade of homes keep apace. In the third quarter, 7.8 million HDTVs were sold to US consumers. HDTV penetration to date is now at more than 101 million households - 76% of total homes.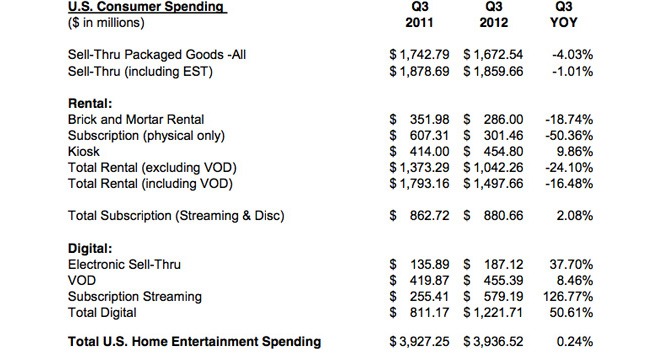 Story filed 01.11.12