In 2011, the migration of European video consumption from DVD to Blu-ray and digital platforms continued apace, carrying on in 2012. It echoes trends observed in the US and other world markets. Nonetheless, for consumers on both sides of the Atlantic, buying and renting DVDs remained overwhelmingly the preferred channel through which to watch home entertainment, says TONY GUNNARSSON, Analyst at IHS Screen Digest.

In 2011, European consumers spent €9.4bn buying and renting video software on DVD and Blu-ray Disc and via digital and online platforms and services. Spending on filmed entertainment through digital/online platforms - defined as TV-based video-on-demand (TV VOD) and digital retail, rental and subscription services accessed via computers and internet connected televisions - rose by 20.1%t in 2011, to a total of €1.2bn.

Digital retail (also known as EST or DTO) is still the fastest growing sector of digital video, up 46.6% to €208m, closely followed by digital rental (internet VOD or iVOD), up 41.7% to €117m. Digital video consumption by subscription in Europe is now worth €40m, up 26.5% in 2011. Finally, the largest generator of digital video spending is still TV VOD, worth €848m in 2011 (up 12.5% compared to the previous year).

By contrast, European spending on physical video (DVD and BD) fell for the seventh consecutive year in 2011, ending the year at €8.3bn, down 7.7% on 2010. This was in part due to continued pressure on consumer prices - the average DVD price across Europe fell by 2% to €10 in 2011 and the average price for BD dropped 5.6% to €17.51. The decline in spending also reflected a fall in consumer demand for physical video in real terms.

The combined number of DVD and BD transactions (retail and rental) fell 7.1% to 1bn. Buying (rather than renting) filmed entertainment content is the largest generator of European video spending, accounting for 87.5% of the DVD/BD market, or €7.2bn (down 7.4%) while physical video rental generated ?1.0bn at the consumer level in 2011, down 9.7%.

Euro crisis shakes European video

December 2011 avoided the harsh weather conditions that had wrought havoc through the all-important Christmas shopping period in much of Europe in 2010. Indeed, in the first quarter of Q1 2011 some markets recorded year-on-year increases in sales as consumers shifted their 'Christmas' spending into the New Year. However, the biggest factor influencing European video spending in 2011 was the persistently unstable economical climate, which caused consumers across Europe to become more cautious in their outlay, even on affordable luxuries such as home video.





However, Germany - now firmly established as the second largest video market in Europe having overtaken France in 2007 - proved the exception to this rule. Consumer spending on DVD and BD was stable year-on-year at €1.6bn (at +0.03%). DVD retail spending declined by 5% to €1.1bn, but spending on BD compensated for this; retail consumer spending on the hi-def format rose to €267.2m (up 38.6% year-on-year).

The overall economic outlook for Germany is among the strongest in Europe, which has a stabilising effect on the baseline expendable income of German consumers. In contrast with other European markets, demand for video software has traditionally tended to be relatively limited in Germany - particularly in the case of Hollywood titles. In the past this meant that the German market consistently failed to achieve its perceived potential, but in the current economic climate it has resulted in an arguably more dependable and consistent customer base than in those territories where video had become a true mass market product.

In addition, the regulatory structure of the German pay-TV market has not fostered the growth in TV VOD consumption observed in countries such as France. As a result such channels provide a less compelling home entertainment alternative to DVD/BD.

German consumer electronics retailers MediaMarkt and Saturn have also been instrumental in promoting BD hardware and software. These retailers, which account for around one third of German video sales, have been keen to compete directly with online retailers who have themselves expanded their share to around a third of the market in recent years. Although retail competition has pushed down average prices, the promotional environment created has enabled BD to compensate for the declines in both DVD volumes and value. Last year BDs generated an impressive 19.1% of retail spending and 14.4% of unit sales in Germany.

The situation was less positive in the United Kingdom, the largest of Europe?s video markets, where economic stagnation, government cuts and rising unemployment (to 8.4%) combined with lower overall consumer confidence. While UK video sales in December 2011 were much more positive than they had been in the same month in 2010, overall the market failed to match that year's performance. At year-end, the physical video retail market was down 7.2% in volume terms and 4.9% in value.

The year benefitted from an undoubtedly BD-centric release slate, yet UK BD software sales in 2011 failed to grow as rapidly as had been hoped. The slow rate of adoption of BD hardware, again the result of general low consumer confidence, was a contributing factor despite the arrival of ever more affordable BD players in the country. Even so, the number of UK households with a dedicated BD player rose to 1.3m by yearend.

However, the purchase of a BD player does not automatically ensure growth in BD software sales. Backwards compatibility with DVDs means that even those consumers who have upgraded to a high definition TV and BD player may continue to buy the bulk of their software on the cheaper DVD format. The situation was exacerbated by the relatively poorly representation of BD at retail. While online outlets and the UK's last surviving high street video specialist, HMV, do offer a compelling range of catalogue and promotional titles, the all-important supermarkets tend to stock only a limited selection.

In 2011, BD accounted for 12.7% of spending on video retail in the UK and just 7.4% of unit sales. Barring an explosion in retail availability - of the scale that previously helped DVD to oust VHS as the default video format - BD is likely to remain a significant, high-end niche within the UK video market.

Meanwhile, the DVD has proven resilient in the face of the many newer and competing video content delivery platforms, a testament to consumers' continued love affair with the format. Due to its relative ease of use, familiarity, as well as the format's ubiquity in terms of both hardware and retail penetration, the DVD is by far the preferred way of accessing video content in the UK.

In France, 2011 was the year when the market tipped back into steep decline after two years of relative stability. France has suffered similar economic problems to the UK, with rising unemployment (10.2%) and general economic uncertainty, a result of the Euro currency crisis.

As elsewhere, consumer demand for physical discs is falling, with combined DVD/BD unit sales dropping 9.5% (to 85.9m). DVD spending fell 13.5% to €1.04bn and although spending on BD retail was up 20.6% to €209.1m, French video overall ended the year down at €1.25bn (-9.2%). While still a relatively small market, BD generated 16.6% of retail spending and 11.5% of unit sales.

In contrast to Germany, the TV VOD infrastructure in France is arguably the most advanced in Europe making the platform a strong competitor to home video. In 2011, French consumers spent €215m on TV VOD, compared with €187.0m in the UK and just €42.3m in Germany. Adding online video, total digital video spending in France came to €330.2m, up from €265.1m last year (24.5%).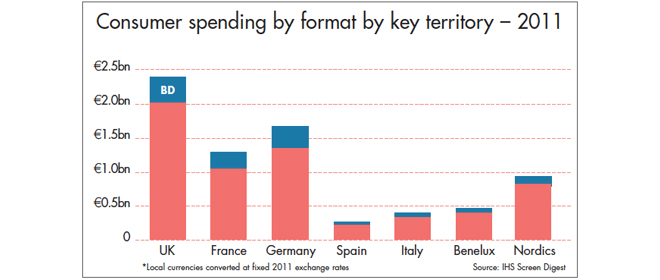 Beyond the Big Three

Outside the big three European markets, 2011 was again characterised by steep declines for the DVD/BD sector. In Benelux, which generated 6.3% of European spending on video in 2011, there were signs that the market was starting to recover from the impact of retail store closures in 2010. The rate of decline in DVD retail unit sales slowed - down 7.1% compared to 14.2% the year before - but the decline in consumer spending on DVD retail was in line with 2010 (down 12.4% versus decline of 13% in 2010).

Meanwhile, a collapse in the value of the DVD/BD rental market (down 36.4% year-on-year) compounded the overall market decline causing total video value to drop by 11.2% to €501.1m. However, BD continues to grow strongly in the region - BD unit sales were up 53% to 3.6m - although its overall share remains relatively small (12.3% of value, 8.4% of volume).

The combined Nordic markets - Sweden, Norway, Denmark and Finland - generated 10.9% of total European video spending in 2011, in line with 2010. The region's DVD/BD business continues to contract, however, down 11.8% year-on-year in value, and causing DVD/BD spending in the region to drop below €1m (€906m) for the first time since 2002.

The situation was even worse in Italy and Spain. Italian consumer spending on DVD retail fell by 21.4% (to €232.1m) while spending on BD purchase rose by a similar percentage to €48.8m. The decision by Blockbuster?s new parent company, DISH Networks, to close all its Italian rental stores in June, sent the Italian video rental sector into freefall and resulted in a decline of 17.6% in rental spending in 2011 (from €90m to €74m). When combined with retail, this meant that Italian DVD/BD spending was down by 16.5% year-on-year to €355m.

Meanwhile economic conditions in Spain continue to spiral downwards. Retail spending on DVD/BD dropped by 22%, to €184.8m while rental spending fell by 25.8% to €74.4m. Overall, Spanish DVD/BD spending fell by 23.1% to €259.2m.

Rental downturn exacerbates physical video decline

Outside the UK and Germany - where strong online rental sectors combined with the existing store-based rental infrastructures to give the rental markets some resilience - steep declines in DVD/BD rental have compounded the decline in spending on DVD/BD across Europe.

In 2011, overall consumer spending on DVD/BD rental in Europe dropped by 9.7% to ?1bn. However, BD is now starting to come into its own as a rental product. At the total European level the format accounted for 11.6% of rental transactions compared with 9.3% of retail sales. However, since most rental operators are operating price parity between DVD and BD, the format does not generate the same sort of uplift on consumer rental spending as it does at retail (BD generated 15.3% of retail spending in 2011, but only 11.3% of rental spending).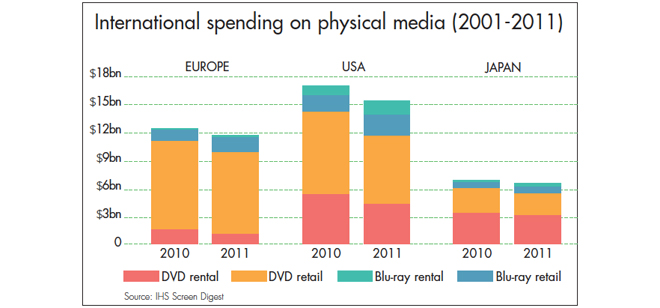 Based on the latest data available, UK consumers spent €316.1m on renting physical video in 2011. This was down just 1.2% year-on-year, thanks to aggressive marketing by the two strong players Blockbuster and Lovefilm. Germany is the second largest DVD/BD rental market in Europe, generating €229m in spending in 2011 (down 5.8%), followed by the combined Nordic markets at €169.2m (down 6.2%).

Europe on the world stage

Europeans spent €8.3bn ($11.5bn) buying and renting DVD and BD in 2011. Europe thus generated 29.8% of worldwide physical video spending, according to IHS Screen Digest analysis.

As in Europe, the figures show a downturn in demand for physical carriers. US domestic DVD/BD spending fell 9.9% (to $15.2bn) in 2011. This reflects declines in both retail (down 11.5% to $9.2bn) and rental (down 7.3% to $5.9bn). US consumers spent $2.1bn buying BDs in 2011 (up 21.2%), while spending on DVD retail was $7.1bn (down 18% year-on-year). US BD adoption continues to outpace that of Europe. BD generated 19.9% of total US DVD/BD spending in 2011, while the US accounted for 39.5% of total video spending worldwide (compared to 40.3% in 2010).

In Japan, DVD/BD spending held up better in 2011 than in most other world markets, declining by just 1.9% (to $6.5bn). Unlike Europe, where rental represents only a small portion of the market, DVD/BD rental remains the key driver for video spending in Japan, accounting for 55% of total spending on physical software in 2011. Last year, Japanese DVD/BD retail declined by 3.3%, while rental spending was stable, dropping less than 1%. Overall, Japan generated 17% of global DVD/BD spending in 2011.

Outlook for 2012

Half year data for the big three European markets suggest that 2012 will be characterised by the continuation of key trends identified in 2011: further declines in DVD and a slowing of the growth in BD. In IHS Screen Digest's analysis of year-to-date data for Germany, by the end of 2012 total physical retail volumes in Germany will have shifted from marginal growth to marginal decline.

Total German physical video market is expected to decline by 1.9% in volume and 4.9% in value by the end of 2012. German DVD purchases are expected to decline by 5% to 95.8m in 2012, while the number of BDs purchased is expected to increase by 18.3% year-on-year to 20.1m. Though the Germany market will have tipped into decline by the end of 2012, in the long run we think that the Germany physical market will show less severe decline than the rest of Western Europe.

According to UK Official Charts Company first half data, released by the BVA, physical video sales fell 11.3% compared to the same period in 2011. Total consumer spending had also declined by 10.4% to €618.6m at the half year point. Accordingly, IHS Screen Digest forecast that by the end of 2012, UK DVD unit sales to consumers will have fallen 13.3% compared to 2011, to 166m.

The impact of the Olympics will be to reduce the year-on-year third quarter performance, though the market is expected to benefit from the strength of the second half release slate, thus improving the year-on-year 2012 comparisons that will have worsened through the third quarter. Consumer spending on DVD will fall marginally faster than unit sales, at 13.9%, to €1,314m.

At the same time, BD will continue to grow in the UK to reach 16.8m units sales by the end of the year, up 9.6% compared to 2011. Declines in average BD price mean that that consumer spending on the format will increase just 3.4% to €230m in 2012.

Preliminary first half numbers released by the le Syndicat de l'Edition Vidéo Numérique (SEVN) suggest that total physical video retail market in France declined 8% in the first half of 2012. Consumer spending on DVD and BD combined fell to €500m, from €540m in the first half 2011. Total sales volumes also declined 10%, to just under 40m units.

Much of this first half of the year decline was the result of declines in DVD, which when compared to the first half of 2011 lost 13% year-on-year (both volume and value). BD experienced further growth with consumer spending on the format growing 20% to reach ?100m in this period. As a result by the end of 2012 the number of DVDs sold to French consumers will fall to 67.5m, a decline of 11.2%.

Consumer spending on the format will also decline, by 13.3% year-on-year to €909m, the result of a marginal 2.4% drop in average price. BD is forecast to grow by 17.6% in 2012 with 11.6m units sold to consumers by yearend. However, an average price decline of 9% for the format is expected in 2012 - resulting in a lower year-on-year growth rate of 7% for consumer spending - reaching €223.5m.

Beyond 2012

For the foreseeable future, we expect the European video sector to be characterised by continuing growth in digital/online forms of delivery, but also further declines in spending on physical formats as consumers increasingly experiment with new methods of watching audiovisual content. Nonetheless, for the vast majority of mainstream consumers, the DVD continues to be the principal video format, even in many homes which have upgraded to high definition TVs and BD players.

The challenge now facing Europe's video industry is to find a way to manage the transition to digital delivery whilst also maximising revenues from the physical formats which remain many European consumers? preferred means of accessing audiovisual content.




TONY GUNNARSSON is an Analyst in IHS Screen Digest's Video team, where he oversees territory-by-territory Blu-ray and DVD forecasts for the Video Intelligence service. Prior to joining Screen Digest in 2008, Tony was an editor at media services firm Precise Media and a journalist with publisher IT Europa. Contact: www.screendigest.com

This is one of many editorial features included in the annual DVD and Beyond 2012 magazine. Ask for your free copy.
Story filed 24.09.12