Demonstrated in a London pub during the Olympic Games, Stream TV Networks' Ultra-D glasses-free 3D television should make a splash at Berlin's IFA where the Philadelphia-based company is unveiling a 60-inch, 2160-line autostereoscopic 3D LED TV, dubbed the Ultra-D 2160p.

The technology developed by Stream TV improves on other A3D systems by smoothing very considerably the transition over the vertical 'seams' between angles of vision, inherent in autostereoscopic 3D, when people moves (even slightly) in front of the screen. It makes for more comfortable viewing by several people simultaneously.

Ultra-D uses the disparity between images to produce a higher resolution output than the source. Current 4K TVs [such as those launched by Sony and LG] are not able to utilise the full benefit of the 3840x2160-pixel resolution display as there is no native 4K content available for consumer use, the company points out.

"Most companies try to use upscalers which only give incremental resolution improvement. Ultra-D has developed a ground-breaking algorithm where it adds resolution data to existing content to deliver more than 1080p all the way up to 2160p," says Stream TV. "All existing content regardless of resolution can now be viewed in a resolution greater than 1080p and in some cases even 2160p. The Ultra-D 2160 3D without glasses Television allows the viewer to the full resolution of this content with greater clarity and resolution that otherwise not possible."

The source content could be any of the ones that consumers use - cable, satellite, Blu-ray, Xbox, iTunes, Apple TV, Google TV, YouTube, Netflix, etc. Ultra-D 2160p transforms nearly any source content into 2160p glasses-free 3D in real-time.

Stream TV also proposed a new standard for 2160p content to address the lack of 4K content. It will have available the SeeCube Mass Server which will allow broadcasters, movie studios and game producers to "mass produce and rapidly deploy" 4K content.

The first products being rolled out are Ultra-D?s 42-inch and 46-inch 1080p LED glasses-free 3D TVs bundled with the auto converter SeeCube. These will be followed by the Ultra-D 2160p 60 inch TVs bundled with the Super SeeCube. The Ultra-D tablets, smartphones, PCs and Laptops will follow.

The TV displays are manufactured by Hisense, China?s leading CE maker with whom Stream TV Networks signed a partnership a few months ago. At last year's IFA, Hisense demonstrated a 21x7 3DTV, that translates into a 27x9 screen!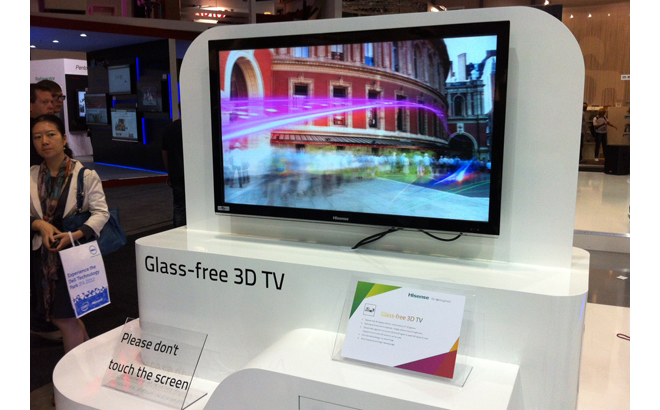 Story filed 31.08.12