South Korean researchers from Seoul National University have developed a new technology that could enable 3D cinema to be viewed without glasses. In an academic paper published in 'Optics Express,' they propose a "frontal projection-type auto-stereoscopic display by using a polarizer and a quarterwave retarding film."

Since the proposed method uses a projection solution and passive polarizing components, the team says it has the advantage of saving space and be cost effective, eliminating the need for wearing polarising glasses.

In cinema, two methods are used in stereoscopic displays - one uses two projectors with polarizing glasses, the other uses a high-speed projector with shutter glasses.

The key advantage of the projection-type auto-stereoscopic display is
that only one projector is used. However, because additional optical components, such as a parallax barrier, a lenticular lens, and a lenslet array are needed in front of the screen to deliver different perspectives to viewers, rear projection is required which limits space efficiency.

To make auto-stereoscopic 3D cinema an attractive proposition, the system must use a frontal projection technology. Lead researcher Byoungho Lee said that if they are validated, his team's findings could constitute a "simple, compact, and cost-effective approach to producing widely available 3D cinema.? Unlike what have been reported in some news coverage of the research, this technique is not applicable to glasses-free 3D TVs.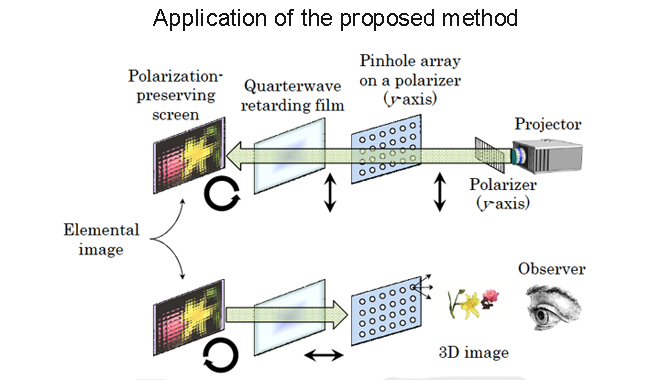 Story filed 26.08.12