Only 11% of US customers who purchase a high definition television do so because of its 3D capabilities, according to the J.D. Power and Associates 2012 latest report. The 'HDTV Satisfaction Report' examines the level of satisfaction with HDTVs amongst customers who purchased one such display in the past 12 months.

The research measures HDTV satisfaction across six factors (listed in order of importance): performance and reliability; ease of operating; competitiveness of the price paid; styling and appearance; variety of features; and warranty.

Results reveal that 75% of customers indicate price was a reason they purchased their HDTV, followed by brand reputation (60%); positive reviews (37%); past experience with the brand (36%); quality of construction (33%); availability (31%); styling of the TV (29%); ease of use (21%); and 3D capability (11%).

"While still finding its niche, 3D HDTV capability is not a leading force in purchasing a television," said Sara Wong Hilton, a director at J.D. Power and Associates. "One reason is that 3D HDTVs are typically more expensive than non-3D-capable HDTVs. Additionally, in order to view 3D media, special media players, and 3D glasses in some cases, are required. The extra cost could play a role in dissuading customers from adopting the technology at this point."

Among survey respondents in this particular study, more customers purchased an LCD HDTV (41%), compared with an LED (33%) or plasma (19%) HDTV, and half (50%) purchased a 41- to 50-inch television, more than any other size available.

Vizio ranks highest in customer satisfaction, followed by Sharp and LG Electronics. Vizio ranks highest in five of six categories: performance and reliability; ease of operating; competitiveness of the price paid; styling and appearance; and warranty. Sharp ranks highest in the variety of features factor.

J.D. Power and Associates offers the following tips to consumers shopping for an HDTV:

- Remember the accessories. Be sure to include in your TV budget accessories such as HDMI and component cables, mounting hardware, adapters, universal remote control, and a TV stand or cabinet. These items often can add hundreds of dollars to the bottom line, and in some cases all together may match the price of the TV itself.

- Take careful measurements. TVs are available in almost any size, from a screen that fits in the smallest corner of your house to one that covers a large wall. Before you buy, think about and measure where you will display the TV and the screen size you will need based on the average viewing distance in the room.

- Consider colors and resolution. Different people prefer varying levels of brightness, contrast and resolution of the TV screen. Some HDTVs produce unnaturally bright colors, and some viewers may not prefer them. One test of a TV's picture or color quality is its 'black-level performance,' as measured by the contrast ratio (the higher the number, the better). Generally, those that show the blackest blacks are best.

- Consider glossy versus matte screen finishes. If you are using the television in a room that often has excessive ambient light, then a matte screen may be a better choice, as it tends to reduce reflections in the viewing area that can be distracting. Yet, many matte screens can also mute colors to some degree, when compared to glossy screens. Glossy screens are best used in darker rooms where ambient light can be controlled, as they tend to produce more vivid colors.

- Don't pay for unnecessary features. Don't pay extra for 'bells and whistles' that you think you may never use. If you're satisfied with a basic TV, spend your money on size and picture quality, rather than extra features. Even plain TVs sometimes have great features.

The '2012 HDTV Satisfaction Report' is based on responses of more than 1,000 customers who purchased an HDTV in the past 12 months. Invitations to participate in the online survey were sent via e-mail to online panelists in August 2012.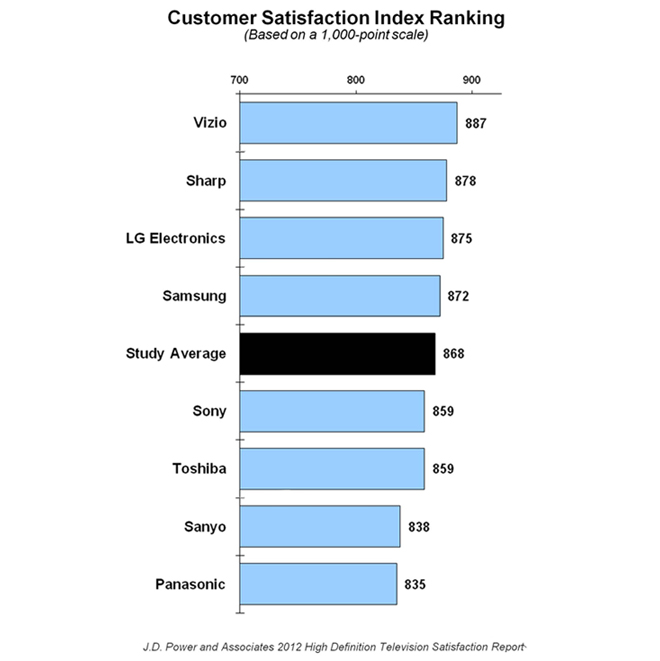 Story filed 23.08.12