The National Intellectual Property Rights Coordination Center (IPR Center), led by US Immigration and Customs Enforcement's Homeland Security Investigations (HSI), has joined together with the FBI and six major American movie studios - Disney, Paramount, Sony, Fox, Universal and Warner Brothers - to launch an updated anti-piracy warning to be displayed on new DVD and Blu-ray releases beginning this week.

The joint FBI/HSI anti-piracy warning displays, for the first time, the HSI badge alongside the FBI anti-piracy warning seal and states that, The unauthorized reproduction or distribution of this copyrighted work is illegal. Criminal copyright infringement is investigated by federal law enforcement agencies and is punishable by up to 5 years in prison and a fine of $250,000.

A second screen, also unskippable, displays the IPR Center logo with the message, Piracy is not a victimless crime. For more information on how digital theft harms the economy, please visit www.iprcenter.gov.

Observers note that such warnings are rarely included in versions uploaded and downloaded via P2P networks.

The original logo has been included since 2004 on the Motion Picture Association of America members' movies, with the now-famous FBI "anti-piracy warning label" which cautions customers about the criminal penalties for copyright infringement.

The added Homeland Security Investigations "special agent" badge reflects the agency's new power, handed down in 2008, to seize web domains engaged in infringing activity under the same forfeiture laws used to seize property like houses, cars and boats allegedly tied to illegal activity such as drug running or gambling.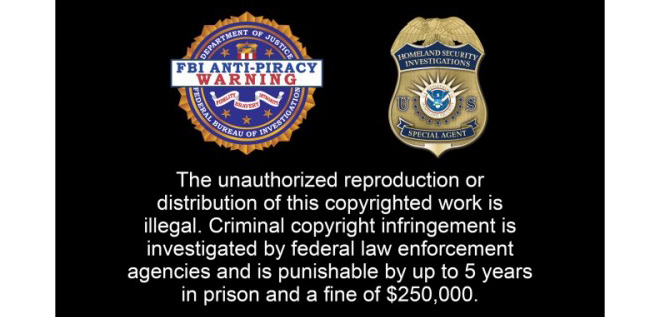 Story filed 18.05.12