A week after Tesco/Blinkbox launched their disc-cum-online service, the UK debut of the not-so-dissimilar UltraViolet initiative was announced, with Warner Bros' Final Destination 5 going on sale on 26 December. UltraViolet was deployed in the US on 11 October with Warner's Horrible Bosses.

UltraViolet is a digital rights authentication and cloud-based licensing system that allows consumers of digital home entertainment content to stream and download purchased content to multiple platforms and devices. It is the brainchild of the 75-member Digital Entertainment Content Ecosystem (DECE) consortium which includes five of the six Hollywood studios, LoveFilm, Lionsgate Entertainment and BBC Worldwide – but, critically, not Disney, Apple and Amazon.

To date, 21 companies – including Comcast/ NBCUniversal, Cyberlink, Intel, MediaNavi, Rovi, Samsung Electronics, Sony, Twentieth Century Fox and Warner Bros.– have signed on as early UltraViolet licensees for the UK, enabling them to implement technical specs; market content, services and products with the UltraViolet name; and make use of the open UltraViolet account management and digital rights library system.

Tesco – a DECE member – suggested that the service it just launched with Brinkbox was somehow "complementary" to UltraViolet. "We are introducing people to the concept to get them used to it before UltraViolet arrives," said Michael Comish, chief executive of Blinkbox, to The Guardian. It could be a fertile ground for consumer confusion in the UK.

While Comish expressed confidence that UltraViolet will eventually be successful, at the PEVE conference in March, Rob Slater, Category Director - Entertainment at Tesco, was dubitative about the merits of the system (read article). Indeed, early reports from the US, where UltraViolet is up and running, are less than complimentary about the system's consumer-unfriendly procedures (read article).

UltraViolet backers will have a challenging time in clarifying the difference between a Blu-ray title that offers "Blu-ray 3D+Blu-ray+DVD+UltraViolet Digital Copy" and one – the same – offering "Blu-ray 3D+Blu-ray+DVD+Digital Copy" on the cover.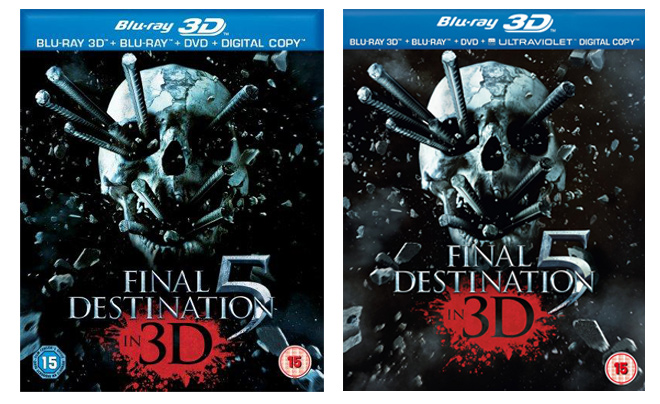 Chris Law, Managing Director, International TV and Digital Distribution, UK and Eire at Warner Bros Entertainment UK, said that by making Final Destination 5 and all future WB theatrical new release titles UV-enabled, the company was offering consumers "a simple and more compelling way to purchase, manage, access and share their movie collections digitally […]. This is just the first step, I'm confident we'll be seeing more and more compatible content and services launching in the coming months."

Twentieth Century Fox contacted DVD Intelligence: "Today's announcement of the first UK licensees for UltraViolet is great news as it means we will soon be able to browse digital versions of movies from multiple studios just as easily as we currently browse our Blu-ray and DVD libraries on our shelves at home. "Only UltraViolet can make that possible and 20th Century Fox Home Entertainment is committed to supporting it."

Following the UK launch, DECE plans to begin rolling-out UltraViolet in Canada, with details on timing to be announced soon, as well as a number of other territories in 2012 and 2013.

For a brief video explanation of how UltraViolet works, click here

Story filed 08.12.11