If 2010 was about the growth of digital retailing of movies, known as electronic sell-thru or EST, it also produced ample indication that the long-term future of online movie transactions lies in digital rental, or internet video-on-demand, aka iVOD, according to IHS Screen Digest's latest report.

2010 was indeed a watershed for the expansion on online movie transactions, the result of the pent-up demand for online movies by early adopters outside of the US – Apple alone launched online movies in six markets. Perhaps more important, notes the London-based media analyst, 2010 was also the first year of operation for device-driven services in key regions. In Germany for example, iTunes posted 2.7m estimated transactions for online movies in the year.

Screen Digest estimates that total online movie revenues for international territories (outside of the US) increased to $242.6m in 2010, a 92.9% rise over total revenues in 2009. The top five international countries in terms of market size – UK, South Korea, Germany, France and Canada – accounted for 78% of total revenues.

Electronic sell-thru constituted 57.8% of all international online movies consumer revenues in 2010, reaching $140.3m. Internet video-on-demand brought in $102.3m – 42.2% of total revenue. In Western Europe, iVOD transactions increased from 3.2m in 2009 to 8.0m in 2010, accounting for 71.1% of all online movie transactions, and 47.8% of revenues in the region.

The key observation of the report's lead author, Dan Cryan, is that, while global transactional online movie revenues will grow sharply, EST will lose grounds to iVOD. By 2015, IHS Screen Digest predicts the business of online movies will generate $785.8m. Of this, 54.3% will be EST, and 45.7% will be iVOD.

Cryan attributes the slowdown in EST in favour of low price, high-convenience iVOD – which he reckons is already beginning to be felt in the more established international markets – to pressures from both consumers and service providers.

"Online services often give customers the ability to buy or rent the same movie from the same outlet at the same time; in other words EST loses the premium of convenience, the ability to 'watch-it-at-will' that owning a DVD afforded over bricks 'n' mortar rental stores," notes Cryan.

"Without some other core area of revenue (e.g. the video games business for Xbox and Sony) many service providers simply cannot afford to offer EST movies because the margins it gives them are too low," Cryan observes. "Service providers are disincentivised from offering and promoting the product because of the difficulty in generating decent revenues. In some cases providers have shelved EST altogether for the time being."

In terms of transactions, the international EST business for movies posted solid growth owing to major service providers, chiefly Apple, that pursued an aggressive market expansion strategy, says IHS Screen Digest. In Europe, EST revenue increased from $39m in 2009 to $78.7m in 2010 – a 90% growth.

"However, iTunes deployments follow a characteristic pattern that echoes what we have already seen in the US," says Cryan. "After the initial surge that immediately followed the launch in 2008-2009, growth in the UK EST movies market started to slow as the market matured. On its own this would be nothing to worry about, […] but what is telling here is the speed of the slowdown: triple-digit growth in 2008 has become single-digit growth as we have moved into 2011. This is the pattern that all subsequent territory launches have – to a greater or lesser extent – been following."

The analyst notes the issue is not unique to iTunes. Other hardware-based services have similar experiences, and in many cases more severe, slow downs in EST.

While the future of iVOD is bright, it is not a universal growth story, reminds Cryan. "The same soft demand for EST transactions on Microsoft's Zune and the Sony PlayStation Network has carried over to iVOD transactions in a number of countries."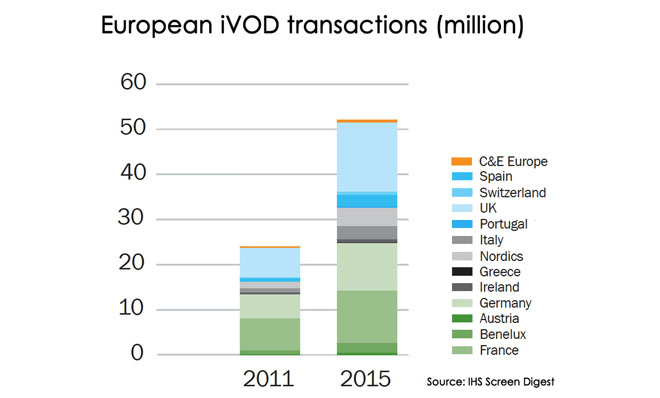 For information on this IHS Screen Digest report, click here.
Story filed 12.07.11