Some 140 professionals from 20 countries gathered at Hamburg for the 2nd Blu-ray Disc Academy, this year entirely devoted to most aspects of 3D. True to its mission, the event was an opportunity to take stock of the latest developments in stereoscopic - as well as glasses-free 3D - but also to bask in 3D demonstrations. JEAN-LUC RENAUD, Editor of DVD Intelligence, reports.

Michael Zink, VP Entertainment Technology Strategy at Technicolor reminded delegates in his keynote speech that standardisation of a 3D format by the Blu-ray Disc Association has been a remarkably speedy affair and has firmed up the BD disc as the media of choice for the home entertainment sourcing of the highest quality 3D content.

The BDA set up the 3D Task Force in May 2009. In December of that year, it released the 3D Blu-ray specifications. By that time, Technicolor has launched development tools such as JIVE 3D for BD-J authoring and the TIGER 3D MVC encoder. 3D production tools were so new there was no verification tool for QC.





"What are we, five years into this thing? We're the equivalent of the auto industry in 1903," Zink quotes James Cameron of Avatar fame. "[In about 5 years] everything is in 3D and people demand 3D the way people used to demand colour, and if you're not broadcasting in 3D you're not playing the game, and you're not getting any revenue."

Technicolor announced a strategic alliance with DreamWorks Animation and Samsung to bring the first 3D BD title to the market. Monsters vs Aliens 3D was just ready in time for a demo at CES in January 2010. Two months later it hit the market, bundled with Samsung products.

"The company produced 15 of the 30 3D BD titles released in 2010. But most of these titles were bundled with hardware, which made it difficult for consumers to go buy them in store. Fortunately, that is changing now. All our titles this year are international releases for the retail markets,"? says Zink.

The 100 titles to date are not enough to move the market. Independents' titles, across genres are necessary. It is therefore important that independents embrace the 3D format.

With the view to giving customers control over how much 3D they want, Technicolor has developed the concept of user-adjustable depth, controlled with an extra button on the remote. Beside brightness control and volume control, there would be depth control.

On the issue of 3D glasses, Zink believes it is critical for the eyewear to be comfortable, irrespective of the technology.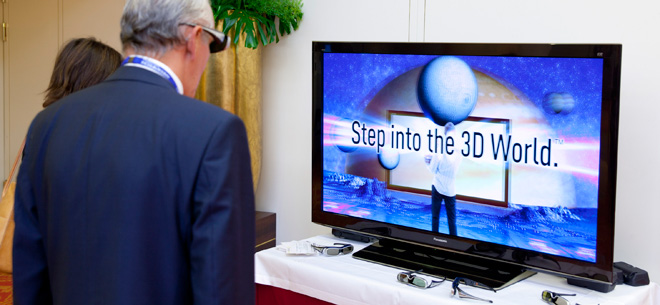 Indeed, Blu-ray Disc owners are three times more likely to buy a 3DTV than non-BD owners, says David Mercer, Principal Analyst at Strategy Analytics, who forecasts that a third of Western European homes will own at least one BD player by 2014.

More people are getting to experience 3D in the cinema. Currently, there are more than 25,000 3D cinema screens worldwide of which 9,000 are in Europe - 15% of all screens. However, the overall business model impact remains uncertain, says Mercer.

The production community is setting out on a long path towards 3D content creation. Few TV producers have bought 3D equipment so far. Although, last year, 22% of producers rent 3D equipment, according to a Futuresource survey. Less than one third of producers plan to purchase 3D production or post equipment within the next 10 years. Nearly a quarter say they definitely will not. 2011 will see up to 13% of production companies making their first 3D equipment acquisitions.




How do consumers value the 3D experience? In both UK and US, nearly half of respondents indicated they would not expect to pay any premium for a 3DTV subscription. A similar, though marginally lower, percentage said they would not expect to pay any premium for PPV/VOD 3DTV content. However, experimentation on business models should be expected.

3D gaming will play a role in growing the 3D market, but it is not the 'killer app,' Mercer believes. Games publishers do not display the same level of belief in 3D as a 'game changer'? as movie studios. Their priority is to develop compelling titles. And platform owners, especially Xbox, are not pushing 3D especially hard.

The major brand BD players will feature 3D capability by late 2011. Consumers will get it, whether they use it or not. 3D-ready digital TV set-top boxes are already in 15% of European homes. 3D-ready displays will reach 40% penetration by 2014. So, if 3D capability is inevitable, 3D usage is not. Unique-to-3D programmes are needed to tip the scale. It remains that "3D gives content owners and tech vendors the opportunity to sustain or raise value," says Mercer.

Major communication efforts are required by the industry, as the lack of understanding is a major 3D challenge. Only 32% to 54% of the population has a correct understanding of the technology, reports Mercer. For example, passive v. active systems could prove a source of customer confusion. Half the people are still uncertain whether glasses are needed. And there is a high level of ambivalence surrounding health risks.

Potential health and safety issues of 3D were tackled by Bob Auger, President of UK consultancy Newmérique. Not only is a substantial proportion of the population apparently not able to enjoy an optimised stereoscopic vision, but sections of the medical community have raised health concerns, especially regarding children's 3D viewing. Some CE manufacturers even issued warnings.





Whether the concerns are overblown or the issues real, Samsung elected to play it safe with a warning that make headlines when the company released its first 3DTVs last year: If you experience any of the following symptoms, immediately stop watching 3D pictures and consult a medical specialist: (1) altered vision; (2) light-headedness; (3) dizziness; (4) involuntary movements such as eye or muscle twitching; (5) confusion; (6) nausea; (7) loss of awareness; (8) convulsions; (9) cramps; and/or (10) disorientation. Parents should monitor and ask their children about the above symptoms as children and teenagers may be more likely to experience these symptoms than adults.

Auger is no stranger to 3D. Back in 1979, at Manchester film company Greendow, he worked on stereoscopic 16mm film using polarised and anaglyph glasses. In 1997, his own company Electric Switch produced the first S3D DVD with anaglyph content, a clip of which was screened at the conference.

The arrival of television triggered similar concerns. In 1935, a Daily Express headline read 'Will television sterilize the population?' For its part the Daily Telegraph noted: "The television receiver is not in the least dangerous' once the elementary fact is grasped that it must not be tampered with internally."Seventy-six years later, bodies are yet to be discovered. Samsung's probable groundless warning may have hurt rather than helped its business.





Auger emphasizes that 3D rendering is an artificial construct that involves the manipulation of eight depth cues: focus, occlusion, perspective, light and shade, saturation and contrast, relative motion, vergence and stereopsis. To handle all these in a complex matrix to produce an immersive comfort is a challenging proposition that still few stereographers get right.

"There has always been a technology problem. A technology problem with 3D is one that has been around a long while. It is a long-term experiment. We are playing with our own and our children's eyesight. So, I cannot stand here saying there is no problem with stereoscopy 3D, we just need to keep an eye on the situation," concludes Auger.

3D cinema production was barely off the ground when professionals expressed concerns that inexpensive 2D-to-3D conversion kits already available could kill the golden goose by bringing to the audience 3D-converted films in less-than-satisfactory quality and, thus, sabotage 3D market take-up.

To alleviate these fears, broadcasters that have launched 3D channels, like Sky in the UK, have announced that most of their production output will be 'native 3D.' But catalogue blockbusters will be subjected sooner or later to the 3D treatment. Dr Sebastian Knorr, Co-founder and head of R&D at imcube labs, explained what it takes to produce high-quality 2D-to-3D conversion. While the company has invented the process of automatic 3D conversion with advanced computer vision algorithms, the process is still expensive, time-consuming and labour-intensive.

Costs can fetch tens of thousands of dollars per converted minute. Alice in Wonderland, Harry Potter and the Deathly Hallows, G-Force, Clash of the Titans are cases in point. The 3D conversion of G-Force and Alice in Wonderland cost about $10m each while Clash of the Titans, much criticised for its conversion quality, has cost $5m.





The company's solution integrates many fundamental features that are needed for an optimal workflow with flexible user-interactivity and creativity: depth assignment and compositing, layer management, pre-visualization and screen-size adjustment.

"Up until now, it took five to eight days to convert one second of a 2D film into 3D. Our software can do the same job with very complex computer vision algorithms fully automatically for film sequences using specific camera shots - i.e. scenes with static images and a moving camera - in 5 to 15 minutes in best theatrical quality," says Knorr.

The company's 'imcube cinema' software has been designed for the 2D-to-3D conversion of feature films and commercials for theatrical exhibition. 'imcube home' for Blu-ray applications and 'imcube tv' for the special requirements of 2D-to-3D conversion of broadcast content are to be released soon.

So far, 3D theatrical successes have been the lot of expensive blockbusters. But is the 3D the Hollywood preserve or is it within the reach of independents? Could documentary makers conceivably embrace stereoscopy, and at what cost? In short, can one expect 3D to permeate all content genres, the way HDTV did? These questions were put to Peter van Hooke in a fireside chat with DVD Intelligence's Jean-Luc Renaud.





A career started as a session drummer who worked with the British band Mike and the Mechanics, Van Morrison, Ezio, Lloyd Webber, Mark Isham, Dr John, Scott Walker and others, van Hooke established his own music label MMC, later sold to EMI, before moving into filmmaking and music TV production. He created and co-produced the celebrated television series Live from Abbey Road, aired on the UK's Channel 4 and in over 100 countries between 2006 and 2008. He is currently shooting in 3D five music programmes and 12 live shows while at the same time working on a 3D documentary, Dragon Keeper, about a breeder of dragons in the Canary Islands who travels the world!

"When we shot our first 3D production, it became obvious to me that I had to understand the inner workings. At the time I was associated with a company that offered a complicated 3D solution - side-by-side rigs, convergences, and big setup time. It involved stereographers, other experts, a huge production team, and a lot of time. I immediately understood that, to make 3D a success, my programmes had to be done cost-effectively. So, I had to find a different solution because I make my money from the back end of the programme."

"A lot of production companies like the fact that 3D is complicated because they are not involved in the back end of the product. In other words, if it costs a million pounds, they are very happy because they are taking their 15%!" van Hooke continues. "I am primarily interested in selling programmes, so I have to find a cost-effective solution to deliver them. I challenged all these production assumptions because I am interested in the end content."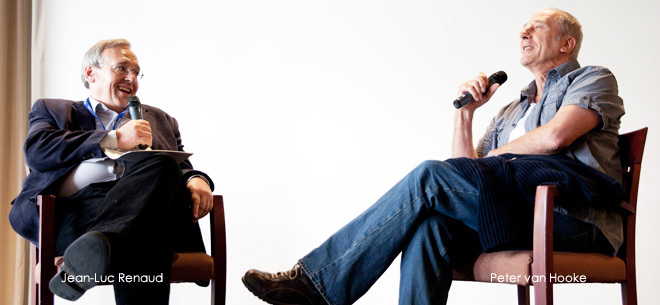 "Also, the 3D industry should not go crazy with huge 4K technology because you cannot manage the post-production without time and money. Get the codecs to work even better, make them more manageable. If you want to make money at the back end, make this whole process more manageable. It does not need to cost a fortune."

More than in the US where Hollywood majors dominate distribution, independents producers and distributors have an important market share in Europe. Therefore, getting them to embrace 3D is key to the success of the format. Stewart Dickison, Head of Authoring & Post-production at Sony DADC, explained how the company is geared toward servicing this market sector.





Independent distributors have specific requirements reflecting their constraints. They are small to medium sized organizations, cash poor and time poor, therefore requiring a quick return on investment. They have limited influencing power in rights negotiations. Strategically, they tend to be risk-averse. They require deeper explanation and handholding. They do not operate along the lines of loss-leader business models so ROI is critical. Lastly, they have very tight budgeting procedures; so, seeking to maximise 3D's 'wow factor' on strict production budgets is a pre-occupation.

"Perhaps the greatest challenge to overcome is the fear of the unknown,"? says Dickison. "How do we address independent distributors' 3D knowledge gaps? One gap at a time!" What is the new terminology? What is parallax? Which platforms and devices? Blu-ray vs. Broadcast? What is anaglyph, active and passive? What is auto-stereoscopic? What do I need at home? Is there a market? Is it secure? Is anyone buying 3DTVs? What is happening theatrically? Is there enough content?

It was left to his colleague William Prince, Sony DADC's technical lead for 3D Blu-ray authoring services in Europe, to talk technical (asset preparation, bit budgets, PS3 considerations, HDMV menu, 3D BD-J Discs, Compatibility, Blu-print authoring systems, Quality control, logos & licensing, project management.

Chris Neely, VP Product Management in the Professional Products division of Rovi, was keen to point out that 3D content is not the preserve of Hollywood. Interest in the new format is widespread amongst independents, especially in Europe. "We see a lot less independents in the US as we see in Europe, that was the biggest - and most pleasing - surprise for us."





Rovi (ex-Sonic) customer base for authoring tools is fairly spread: Americas (25%, EMEA (35%) and APAC (40%). Music and concerts are popular genre for 3D treatment.

Neely finds it important to help explain and demystify the level of investment in 3D tools. 3D camera shooting is the biggest difference in terms of financial commitment compared to standard 2D, but authoring and post-production need not be scary as cost requirements here are not that different from 2D production. He emphasizes that, when it comes to 3D, QC is especially important.

High-end authoring and post-production house The Pavement was one of the first UK facilities to produce 3D Blu-ray titles. For some, the screening of a short clip of Lovers' Guide 3D will have been the highlight of the event! Managing Director Andy Evans talked about the issues he is facing in his dealings with clients.

"While awareness is growing fast, in the last four months I had more conversations with production companies shooting 3D on how to deliver the material," says Evans. "Less than half were aware they had to deliver it in a very specific frame rate, for example."





While there was no issue with the authoring tools, that delivered what was asked of them, it still takes five to seven hours to encode one hour of 3D footage. Therefore, testing is crucial as it takes a lot of time and money to redo it in case of hiccup.

"No one ask or care about Z-depth for subtitles,"? notes Evans. "It's too expensive and take too long to make. So, clients want us to use the same titles they have put on the 2D Blu-ray disc, set on fixed depth for the whole duration."

It is not widely understood that a 3D BD player also extracts and plays a 2D version of the title. Some distributors do not want to use the 3D logo on the 3D disc, fearing that consumers will not want to buy it if they don't have a 3D TV at home.

While most clients realise doing a 3D title is more expensive and take more time, they will not commit a larger budget. The little money they have goes toward the making of the film. This does not come as a surprise to authoring studios whose prices have been decimated. "In truth, producing a 3D disc is not that much more expensive than a 2D version and may take around one and a half time longer to complete," says Evans.

At the first Blu-ray Disc Academy conference last year, Adam Lesh, US Chief Technology of Testronic Labs, presented a wide-ranging and detailed explanation of why 3D production is a very challenging exercise to get it right. With the benefit of more than 75 3D Blu-ray titles (and 5,500 BDs) subjected to Q&A, this year Lesh drew lessons.

"With 3D, content issues are much more difficult to determine because sometime what might appear to be a player issue might actually be in the original content," says Lesh.





3D authoring and hardware compatibility were brought to the forth. When new players or chip sets come onto the market, incompatibility have been often observed with specific authoring approaches. Manufacturers' proprietary protocols sometimes fail through 3rd party receiver. Each new fix to plug software hiccups is plagued with problems. Each new fix breaks something else

Almost all 3D discs have problems playing back in most 2D BD players, says Lesh. Video stuttering, audio stuttering, or even complete stop after a few minutes playing have been observed. When it comes to subtitles, switching back and forth from 2D to 3D subtitles, from one subtitle to next, is problematic. On the interoperability front, some Samsung players would not connect to Panasonic monitors without a firmware update.

Testing itself presents its own challenges. There was an inability for the personnel to see 3D continuously; eyestrain and fatigue is also a byproduct of 3D imaging.

Conference delegates were introduced to the bleeding edge of glasses-free auto-stereoscopic 3D with the help of Dr Ulrich Leiner, Head of Interactive Media & Human Factor at the Fraunhofer Heinrich-Hertz Institute.

Berlin-based institute developed a 3D glasses-free system that goes a long way to addressing, if not resolving, the inherent problem associated with auto-stereoscopic methods, namely, that optimization of the 3D experience depends on the position of the viewers facing the 3D screen.





Auto-stereoscopic viewing technology developed by Fraunhofer HHI uses special software and a strip grid glass plate mounted at a 70-degree angle in front of the screen to ensure that both images or image streams reach the viewer's eyes.

To ensure viewers can enjoy 3D from any position in front of the 3D television without being troubled by double outlines, scientists there have coupled a 3D display with a technology called 'head tracking.' This involves a camera that registers the exact position of the eyes and uses this information to modify the direction of the image stream and thus continually refresh the picture content.

In this 'Singleview mode' one single person can experience 3D without auxiliary eyewear while being able to move to the left and right in front of the screen. In the 'Multiview mode' several viewers can simultaneously watch three-dimensional TV from a variety of positions in front of the display.

Furthermore, in the 'Wide Lobe' mode one person can view 3D while two people standing one on the right and one on the left can watch in 2D. Lastly, with the 'Multi Content mode,' two people can watch different types of content in 3D on the same screen. Leiner reckons this last mode of viewing will be critical for the future of the computer game industry.

Delivery of 3D material already permeates other channels beyond theaters, Blu-ray disc and broadcasters. Video-on-demand and online delivery are also now utilised. Therefore, preparing stereoscopic material for an ever-expanding variety of platforms is essential, says Daniel Hromadko, in charge of digital services at Brickbox. "Content owners and distributors have to follow how consumers are changing the way they watch video content. It means fast technology adoption, cost effective solution, handling all input and outputs format, re-purposing existing assets, and education."?





Brickbox released the first localized 3D BD title. Piranha 3D (Weinstein company) has been localised for distribution in four territories - the Czech Republic (Bontonfilm), Hungary (Budapest Film), Romania (Pro Media) and Bulgaria (A+Plus Film). Moreover, the 3D BD title has Czech, English and Hungarian audio versions in DTS-HD Master Audio 5.1 format. In addition to the feature, Brickbox also produced the theatrical 3D trailer with 3D subtitling and localisation for the Czech, Hungarian, Romanian, Bulgarian, Polish and Croatian markets. An anaglyph version for DVD was also delivered.

"Traditionally separated production model is not reflecting the major shift in the industry. Bringing all requirements for cinema, DVD, BD, VOD, EST, TV, IPTV in one integrated content-centric service is key for an effective distribution management of film content in the future,"? Hromadko concludes.

True to its mission, the Blu-ray Disc Academy devoted as much space to 3D screening and demonstrations as to presentations. Vicki Betihavas, a 3D pioneer, co-founder of London-based Nineteen Fifteen production company, treated delegates to a variety of groundbreaking materials. From Michael Flatley's Lord of the Dance 3D and Keane – Live from Abbey Road to a Kylie Minogue concert and the Princes Trust Rock Gala 2010: Live from the Royal Albert Hall, not to mention the London Fashion Show.





A 3D journey started in 2008 as an independent producer, Betihavas worked with most of the technology solutions available on the market. She insists that doing quality work is critical. "It's too easy to make cheap 3D. Your production needs to be of a quality you can ask people to pay a premium for."?

Live events make her tick. With filming done in digital high definition, it becomes possible for the first time for 3D to go live. It also means that the consumer can now experience 3D in various settings. A case in point is Betihavas' production of the Burberry show at London Fashion Week. It was transmitted live on big screens at bespoke venues in London, Paris, Tokyo, Dubai and Los Angeles.

She notes that many technicians still think in 2D when they ought to be thinking outside the box, afresh, when they tackle 3D.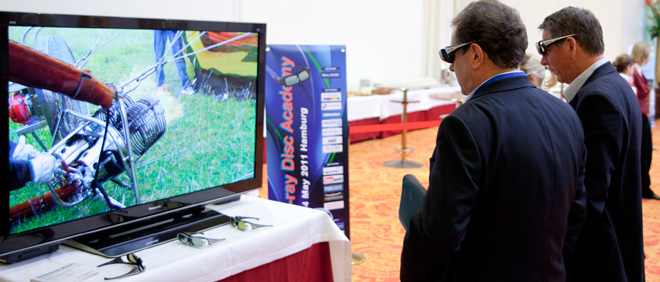 Why was the royal wedding not shot in 3D? Vicki, who wrote a 3-page memo on such project, suggested that the national broadcaster initially approached the Palace with a wrong concept. They wanted to beam the 3D coverage in cinemas. "It was clear the Palace was not going to embrace the idea because it was a wedding, a church service, a community event. Suggestions should have been to transmit the 3D coverage to community centres around the world, for example,"? Betihavas said.

In truth, the lack of space at Westminster Abbey did not lend itself to 3D filming with multi-camera rigs

Betihavas impressed many. "She is a pioneer full of curiosity, intiative, know-how, good ideas, eagerness to experiment, speed and professionalism,"? noted a delegate.

If delegates thought 3D subtitling is an arcane subject better left to a few translators, they will have to think again following a presentation by Alexey Kozoulyaev, CEO of leading Russian subtitling and localization facility, RuFilms. They will have learned that 3D subtitling is considerably more than a - already challenging - technical question. It touches on cultural conventions as well.




"3D movies in their best forms are immersive. There is a strong sensory bond between a viewer and the action. If executed with little regard to the specific action on the screen, subtitles can disrupt the entire immersive impression, break the sensory bond, and not least, waste enormous budgets of 3D movies and TV programmes by making the audiences avoid 3D presentations," says Kozoulyaev. "One has to concentrate on redefining the entire set of working conventions related to subtitling and in fact make 3D subtitling a branch of research in audiovisual translation studies that is set apart from 2D subtitling, dubbing or voiceover."

3D subtitles requires additional time on screen to help viewers 're-focus' on the action as a 3D image is more complex to apprehend. Some Russian TV and film directors already experiment with subtitles becoming parts of the movie imagery and in the near future of the 3D scene. A case in point is the vampire movie Nightwatch by Timour Bekmambetov where subtitles and credits were put on roadside billboards, thus becoming indispensable parts of the scenes. Some start resembling bubbles from comic strips.

"While planning a 3D project it seems logical now to include the localisers (subtitlers) into the planning process from the very beginning - especially in gaming,"? says Kozoulyaev.

Will the 3D market avert format wars? It was left to independent-minded Bill Foster, Senior Technology Consultant with Futuresource, to tackle the issues, starting from the basic question: When is a 3D TV not a 3D TV, as manufacturers are selling several flavours of '3DTV'?

The active shutter glasses are a jungle as well. Not all active shutter glasses are the same. There are three main variants of liquid crystal: Optically Compensated Bend (cinema system used by XpanD); Twisted Nematic (most common for home 3D) and Super TN (used by Nvidia); Electrically Controlled Birefringence. Each have their respective merits, pricing is similar.





"Most active glasses are manufacturer-specific. To make matters worse, in at least one instance, glasses supplied with 2011 TVs won't work with earlier models of the same brand!" notes Foster.

It is no surprise that retailers like cross-technology 'universal' glasses, but consumers may not like the extra cost burden. And then there are the batteries! Dry cells have longer life, but conflict with the 'green' image CE manufacturers want to project today. Rechargeable models are more eco-friendly, and potentially cheaper in the long-term, but can 'die' at inconvenient moments.

3D broadcasting is a key vector for the format success. While a 3D BD disc has plenty of bandwidth to play with, broadcasters do not have it. MPEG-MVC provides Full HD left and right eye, though it uses 30-50% more bandwidth, which 3D broadcasters cannot match. But can consumer tell the difference in resolution? asks Foster. At the end of the day, compelling content is the key to success.

Whether the future of 3D includes glasses pitted '3D glasses' Bernard Mendiburu, Vice President Innovation at Volfoni, against 'glasses-free' Maarten Tobias, CEO of Dimenco.

"I am concerned with the messages on the blogosphere suggesting glasses-free 3D is around the corner,' says Mendiburu. "Given the state of the technology, we will have to wait another ten years or so for auto-stereoscopy (AST) to enter the home. The big challenge is that an AST image has to be beamed at your eyes, so the system needs to know where your eyes are."





To do that, the system needs to divide the resolution of the 2D display into the number of viewpoints it needs to generate. It means that AST displays - HD or 4K - can only offer a visual resolution of 480p or 720p at the very best. "The brain is efficient at reconstructing the lost resolution. It's a very efficient system, but in very specific settings."

Content creation for AST display requires producing content for all these viewpoints - 4, 9 up to 64 viewpoints. "To use a 2-camera rig is already complex. And post-production is no less complex. Furthermore, there is no distribution channel for AST at this stage,"? argues Mendiburu.

The only consumer market for auto-stereoscopy is concentrated on small screens designed for a single viewer, such smart phone, hand-held games console, camera viewfinder, etc.

"All this means is that for the next 10, 15 years the mass 3D home entertainment has to rely on 3D glasses if the 3D theater experience is to be brought into the living room,"? claims Manicure.

Mendiburu explains that the key to consumer acceptance of glasses is content combined with design. "I wear glasses to drive and read book. It's the same approach to 3D glasses. Quality of content and fashion statement of my glasses."?





Volfoni, a leader in 3D eyewear, that launched earlier this year the world's first hybrid (passive/active) universal glasses, is developing products that puts an increasing level of intelligence into the glasses themselves. They include a powerful battery, radio receiver, infrared sensor, programmable processor, downloadable upgrades that enable the glasses to automatically search and sync to any brand of displays. Volfoni also uses a novel electronically controlled birefringence technology that is faster, lighter, thinner and colour neutral. Furthermore, the eyewear offers a wider peripheral vision than current 3D glasses.

Any chance to see 3D prescription glasses? Mendiburu says passive prescription glasses will arrive on the market shortly. Active prescription glasses are a bit more complicated.

Sales of 3D TVs are said to pick up fast, but is it really the case? asks Dimenco's Maarten Tobias. There are more 3D-ready TVs on offer, but what matters, as an indicator of 3D home entertainment popularity is whether consumers are buying 3D glasses? On this account, the data are not encouraging, he says.

Selected consumer research and statistics are used by parties opposite the glasses divide to argue their points. Tobias quotes Deloitte whose latest research suggests 30% of respondents do not want to wear 3D glasses. In the younger demographics, 55% would not buy a 3D TV if glasses were required. Also 3D glasses are a barrier to the multitasking that consumers now engage in while watching TV.





For Tobias the final nail in the coffin comes from Avatar director James Cameron who believes that for 3D to appeal to the television viewing audience, the glasses have to go. "That is the point where the curve (of buyers) is going to go ballistic."

Two auto-stereoscopic technologies vie for position: Parallax barrier and lenticular.

A parallax barrier is a device placed in front of an image source, such as a liquid crystal display, to allow it to show a stereoscopic image without the need for the viewer to wear 3D glasses. Placed in front of the normal LCD, it consists of a layer of material with a series of precision slits, allowing each eye to see a different set of pixels, so creating a sense of depth through parallax.

Advantages consist in low production cost, large 'pop-ou'? effect, relatively easy to design and implement, easy 2-view system, proven switchable principle. Disadvantages include colour distortion, weak contrast, less brightness, questionable 2D image quality.

Lenticular-based auto-stereoscopic technology (adopted by Dimenco) is based on lens technology which zooms in on different groups of pixels when looking from different viewpoints. Thus each eye sees a different group of pixels. By rendering different images for different viewpoints depth perception is realised without the need of glasses. Keeping the amount of viewpoints limited and repeating the sets of viewpoints ensures that resolution loss is limited together with a convincing and sharp 3D perception. Systems generating between 3 and 28 views have been developed.

Here the advantages include full contrast, no brightness loss, quality of 2D image, image sharpness, no color distortion. The downside is the price, the implementation and manufacturing and there is no 2D/3D switchable technology.





The technological challenges such as comfort zone, crosstalk, interference effects and, importantly, resolution, are manageable, according to Tobias. Given that the resulting resolution depends on the number of viewpoints, one approach is to start with ultra high resolution panels, thus very expensive. The other, less costly, approach reverts around 2D/3D switchable lenses. The issue of resolution looks like the Achilles heel of the glasses-free 3D route.

"Leading manufacturers are working hard on auto-stereoscopic display and we can expect huge quality steps at IFA later this year and CES next year, the technology for home entertainment will be available in two to three years," Tobias predicts confidently.

3D holoscopic imaging is the next-generation 3D TV technology, according to Dr Amar Aggoun, reader in Communication Technologies at Brunel University and principal coordinator of the EU-funded 3D Live Immersive Video-Audio Interactive Multimedia (3D VIVANT).

Creating 3D content has been the goal of many researchers in academia and industry as well as artists for many years. "Today's digital era is characterised by a user-led digital media renaissance that expands from taking photos and video to producing 3D content,"? says Aggoun. This is especially true, as people nowadays are exploring ways to generate 2D and 3D video content.





3D holoscopic content is captured using an array of microlenses (like a fly's eye) in a single aperture camera setup and hence conventional live capture and display procedures can be adopted. The 3D holoscopic content can be captured both in real-time and be computer generated. It is expressive and immersive as 3D objects can exist in space in front or behind the display screen hence making 3D holoscopic content a more realistic representation of real physical objects, explains Aggoun.

3D VIVANT endeavours to provide a new form of 3D content, that is accessible to the public and which can be seen as an evolutionary step to current 2D forms of content. It is essential thus, to provide the user with similar software and hardware facilities that are enjoyed by video users currently on Internet services such as YouTube.

In a tangent to the conference topic, Andrew Elia, formerly CTO of Crossplatform, brought a novel angle on Augmented Reality technology to the audience, venturing how it could be commercialised within the context of the Home Entertainment industry.





While it is still a very new and as yet untapped commercial area, it was argued that there is still a chance that the medium could be killed before it's had a chance to gain industry acceptance. "By using Augmented Reality merely as a gimmick to fill space on a Blu-ray disc, its credibility would be severely dented," Elia reckons. "A medium such as this needs to be driven by quality content, as opposed to unwanted content that's been recycled." He likened this undesirable approach to "collecting deleted footage from the post-production facility's metaphorical hoover bag".

Elia pointed out that BD-Live was not necessarily the right platform for this medium. There are several technical reasons why this is the case, but the most obvious is the lack of a camera in the BD-Live specifications.

Instead, Augmented Reality is a parallel technology for enabling owners of packaged physical media to unlock access to exclusive content simply by using the packaging to activate an experience online. It can also be used for on pack promotions and a variety of other applications where the logistics of doing it in print would otherwise be too complex or expensive.

"As with 3D, only time will tell how ready the public, and indeed the industry, are to embrace this exciting medium," Elia concludes.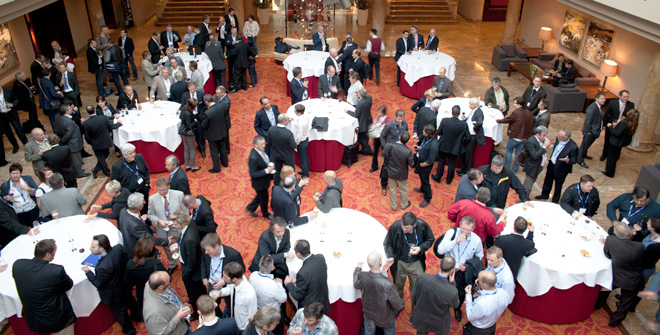 Story filed 25.05.11