With competition intensifying among pay-TV operators and newer content platforms, IHS Screen Digest Senior Analyst RICHARD BROUGHTON asks if this is truly the year when Video-On-Demand takes off.

By the end of 2010, cable and IPTV operators had rolled out Video-On-Demand (VOD) services to around 120 million households globally but broadcasters, pay-TV channels and independent content providers are still struggling to make headway (and money) in the VOD space.

Consumer revenues are typically less than 5% of pay-TV revenues and the majority of these are derived from a relatively small selection of content — largely the blockbuster movies from the Hollywood majors.

As far as VOD "taking off" is concerned, it is fair to say that direct consumer level revenues will never be huge from pay-TV VOD — at least not within the next 5-10 years. The current business models and consumer mindsets are too heavily ingrained to allow rapid changes in the way in which the industry functions.

For many operators, however, VOD provides significant, if less tangible, benefits — competition enhancement and churn reduction amongst others — with indirect revenue and cost implications.
So, with on-demand reach forecast to hit 140 million by year end, the issue is no longer the availability of pay-TV VOD services but the business models employed by operators, the expectations of rights holders and the attitudes of consumers towards paying for on-demand.

These are the problems facing the evolution of pay-TV VOD services, and those which will determine its place in the future TV landscape.

The present

Ultimately, Video-On-Demand content has to be paid for — either by a consumer directly through Pay Per View or subscription, or by an operator wanting to bring down churn and enhance net additions, or by an advertiser placing adverts next to the VOD assets.

Each business model is theoretically possible and each model exists in various markets around the world. But what is appropriate for one country, or one company, however, may not be for the next. Any content owner or rights holder approaching a Pay-TV operator with the expectation of a potential VOD distribution partner should consider the following points:

Which business models work in the market? In certain Asia-Pacific markets, subscription-VOD packages are common and consumers understand them, but in most of Europe and North America, stand-alone subscription on-demand services have struggled to gain traction.

Which business model is appropriate for the content being offered? PPV works well for high value movie and sports content, but lower-value TV content often fails to excite consumer interest, resulting in low PPV buy-rates and revenues for TV series. Selling the content bundled with linear TV for a higher affiliate/carriage fee might be more appropriate in many markets.

What is the operator's Average Revenue Per User (ARPU)? Low ARPU pay-TV services operating in price-sensitive markets with minimal (or negative) margins will often find higher carriage fees in return for VOD content difficult to justify and may prefer to provide VOD in a stand-alone SVOD or PPV offer where costs are more easily recouped, even if uptake remains low. In contrast, higher ARPU services may be able to justify small price-hikes through the inclusion of on-demand content, or even justify content costs purely through churn reduction among their high-spend customers.

Is there an expectation of being able to fund VOD through advertising? Very few operators have rolled out ad-insertion technology, preventing the easy monetization of VOD assets. Also, few audience measurement boards take into account catch-up viewing, meaning on-demand views are not captured in the metrics relevant to advertisers.

If measured by the number of content deals maintained, the most successful international channel groups in the European pay-TV VOD space have been those most sensitive to operator situations and those most willing to accommodate the local business models these entail.

Save Disney, which is largely constrained by its audience demographic to non-PPV distribution of VOD content, the large international channel groups with the greatest numbers of VOD deals show no clear trends in business models. Fox International Channels, for instance, makes a wide range of PPV, SVOD and free-to-view deals with operators across Europe. Likewise, Discovery maintains a variety of relationships with operators, providing content via all three business models.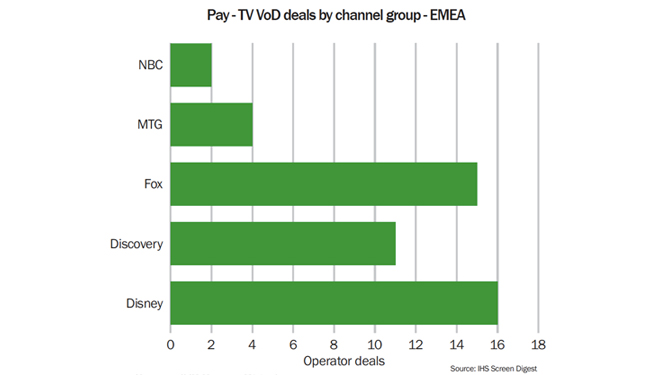 With the exception of Disney, which is largely constrained by its channel's audience demographic to non-PPV distribution of VoD content, the large international channel groups with the greatest numbers of VoD deals show no clear trends in business models. Fox International Channels, for instance, makes a wide range of PPV, SVoD and free-to-view deals with operators across Europe. Likewise, Discovery maintains a variety of relationships with operators, providing content via all three business models.

The future

Longer term, whether this business model fragmentation will crystallise into a clearer trend depends very heavily on competition, from Over-The-Top (OTT) services but also from inside the pay-TV space.

Markets with greater VOD availability, either through the internet or via pay-TV operators have seen arms races, with key operators rapidly building their on-demand catalogues and increasing the amount of content that consumers are able to view free.

The US is a market currently in the throes of an on-demand battle. Pay-TV operators such as Comcast are committed to widening their already significant Video On Demand libraries to deal both with competition from the likes of telco Verizon and also from newer rivals for consumer dollars, such as Netflix. Comcast's long-term target for its VOD library is 100,000 titles. It is currently about 20% of the way there.

With near-saturation of pay-TV channels, VOD is becoming the key differentiator for pay-TV operators, and an important defensive mechanism against the growing threat of cord-cutting.

To be an effective defensive mechanism, however, requires pay-TV operators to bundle VOD content in such a way that the consumer is not aware they are paying extra for the privilege (and consequently consider another source for their TV).

This is common in the US — the majority of on-demand content on pay-TV is available for no extra charge to consumers (beyond their standard monthly pay-TV subscription fee), and is also common in the more advanced Asia-Pac markets, such as South Korea and Hong Kong. Europe, however, as discussed above, has yet to see business models converge on this bundled offering.

Many of the Asia-Pacific markets, while not necessarily seeing new OTT providers entering the market to challenge incumbent pay-TV, have seen heavy piracy, which has forced operators to provide bundled VOD content to prevent churn to illegal distribution.

By contrast, European pay-TV has had less developed OTT and piracy issues, meaning that many operators have been able to continue providing TV via their traditional mechanisms. In Eastern Europe, where broadband penetration is still relatively poor, there has been even less incentive for operators to provide more on-demand content than the basic film slate, and this is reflected both in the size of the on-demand catalogue, and by way of the business models exhibited.

Ultimately, however, for pay-TV operators aiming to keep ahead of OTT rivals and retain customers, the issue becomes not if they can afford the content, but how long can they afford not to place the content on their service.

Bundling video in with their linear tiers may erode the per-subscriber margins, but if it saves the subscriber additions, it may be a price worth paying.




RICHARD BROUGHTON is a Senior Analyst in Screen Digest's Television team and also heads Screen Digest's research into advanced TV and cross platform services, covering such areas as IPTV, pay-TV video-on-demand and TV-based interactive applications. Richard has developed a number of highly detailed financial models describing many of these sectors, both for Screen Digest's flagship Intelligence services and for bespoke consultancy projects.

It is one of the topics addressed at the forthcoming PEVE conference in London, 10-11 March 2011. Click here for details.
Story filed 26.01.11