One-Blue LLC, an independent licensing company, announced it will launch a one-stop shop product license for patents essential to Blu-ray Disc products on 1 April 2011, subject to necessary governmental clearance.

Since issuing its call for Blu-ray Disc product patents in October 2009, One-Blue has been working with potential licensors to ensure widespread adoption of the license programme that One-Blue will administer.

As part of this activity, new royalty rates under the licenses were recently announced (see table).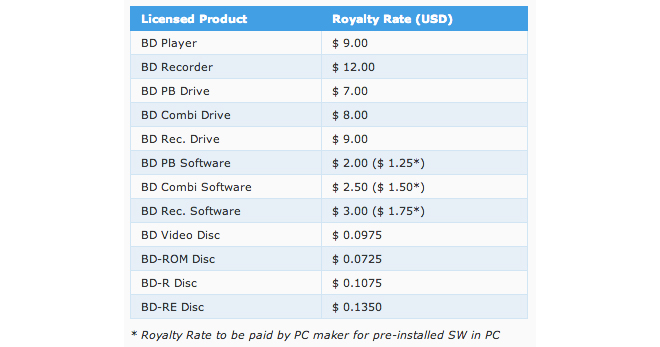 One-Blue's name might be a misnomer, however. Delegates at a recent Media-Tech Replicator Committee meeting in Germany, which DVD Intelligence attended, expressed concern that there were already a number of Blu-ray licensing pools with which they have to deal: BD4C (Mitsubishi, Thomson, Toshiba, Warner, Disney); Philips, Panasonic and Sony; MPEG LA and AACS. And it appears the door is still open for additional parties, who could claim patent protection, to set up shop.

One-Blue says it is still possible to submit patents for evaluation. Any holder of patents essential to optical formats used in Blu-ray Disc products is invited to join the programme as a licensor. Participating companies include Cyberlink, Hitachi, Panasonic, Philips, Samsung and Sony.



Roel Kramer has been appointed as CEO of One-Blue. Kramer, who has been the President of the Blu-ray Disc Association since 2007, succeeds Jerry Rosenthal, who had served as CEO since One-Blue was established in 2009.

Story filed 18.01.11