According to research firm IHS Screen Digest, more titles on 3D Blu-ray are now offered at retail rather than bundled with TV sets or players, so the key issue will be shelf space. RICHARD BAXTER reports on that and other key issues surrounding 3D BD.

Based initially around lucrative bundling deals with hardware manufacturers, Hollywood's launch strategy for 3D Blu-ray discs (3D BD) has changed to a broader retail approach, according to recent research by IHS Screen Digest.

Our research showed that, as recently as September, two out of every three titles confirmed for 3D BD release in the US were tied to exclusive bundling arrangements – just seven were available to buy on their own in store.

This was not surprising; given the low number of 3D BD enabled households, bundling deals with hardware manufacturers are the only way currently to generate real revenue from the 3D software.

It now appears, however, that the Hollywood studios' 3D BD strategies have shifted away from the exclusive bundling deals that characterised the early launches. By early November, less than 40% of the 36 3D BD titles now scheduled for release in the US by the end of 2010 were exclusively bundled with hardware, meaning that 23 titles are slated for retail release.

In addition, some titles initially only available in 3D hardware bundles, such as Warner's slate of three Imax titles, are now available in retail stores while some of the early exclusive deals with hardware manufacturers – notably Disney's Alice In Wonderland – will expire before the end of the year.

The latest wave of 3D BD titles to be confirmed are either not bundled at all or are bundled on a non-exclusive basis, meaning they are also available at retail. Recent additions to the retail slate include Sony's Resident Evil: Afterlife and Warner's Clash of the Titans.

One reason for the shift is that exclusive bundling deals are becoming harder to secure since so many are already in place. Samsung has tied down the most 3D BD titles – seven at the time of writing – including six from DreamWorks Animations (Monsters vs Aliens, How To Train Your Dragon and the entire Shrek franchise) and an Imax title.

Sony Consumer Electronics has four exclusive titles, at the time of writing, including Disney's Alice and Bolt but not, interestingly, anything from Sony Pictures. Panasonic has secured three studio feature films, Fox's Avatar and Ice Age: Dawn of the Dinosaurs, and Universal's Coraline.

Another reason for the change in tactic is that studios are increasingly aware of the importance of creating a wide choice of high quality 3D BD content at retail in encouraging home 3D adoption.

Varied approaches

Here, Sony has been among the most pro-active in releasing its 3D BDs in retail stores from the beginning. Although Cloudy with a Chance of Meatballs has been bundled with 3D hardware from the group's Consumer Electronics division since June, it was released to retail stores at the same time.

Cloudy remains Sony Pictures' only globally bundled title; the studio's next four 3D BD titles were all being made available in retail stores, although both Monster House and The Official 2010 FIFA World Cup Film in 3D were involved in limited, non-exclusive bundling activity.

It is, of course, not surprising that Sony has been a strong supporter of 3D BD at retail. It is the only Hollywood studio owned by a consumer electronics company and one which is investing hugely in 3D to drive the next generation of CE products.

Warner might not have direct ties to a hardware company but it has always been keenly aware of the need to drive hardware sales when promoting a new format. As early as July 2010 the studio made three Imax titles from its library available for bundling with LG and Sony 3D hardware.

Although Screen Digest understands these were non-exclusive deals, the titles were not scheduled for release in retail stores until mid-November 2010. Warner has also released three of its own feature films on 3D BD, Clash, Cats and Dogs: The Revenge of Kitty Galore and Polar Express.

And, following confirmation that Legend of the Guardians: The Owls of Ga'Hoole will be released on 17 December, Warner is now expected to have the largest 3D BD catalogue – seven titles – available at retail of any studio by the end of the year.

DreamWorks Animation will have released six 3D BD titles by the end of 2010 but it appears that only one, Monsters vs Aliens, will reach retail stores before the second half of 2011. This is because of a year-long exclusive bundling deal with Samsung that was agreed in March and which may have been signed to help the studio recoup some of the high cost of converting the first three Shrek titles to 3D.

Twentieth Century Fox is another studio that has chosen exclusive bundling over retail release so far. Ice Age: Dawn of the Dinosaurs was available as a Panasonic exclusive as early as June 2010 and the hardware manufacturer has exclusive distribution rights to Avatar internationally starting from 1 November 2010 with a similar deal expected in the US from Dec. 1 2010.

This arrangement was expected in view of the long-standing relationship between Panasonic and Avatar, and indeed follows a previous co-marketing deal featuring the 'vanilla' 2D BD and DVD versions of the movie launched in April 2010.

Although the initial promotion, at least in Europe, ties Avatar to Panasonic for three months to the end of January 2011, it has been widely reported that the film will be exclusive for at least six months.

This seems reasonable given that the film is the crown jewel for 3D, generating $750 million at the US box office alone, and it is likely that Panasonic would have tried to retain exclusivity for as long as possible.

Hypothetically, a year-long exclusive, in line with that of the Shrek titles, would also benefit both parties. Panasonic would continue to associate itself with Cameron's 3D production values for a year, while Fox would be able to release Avatar in retail stores in the approach to the fourth quarter of 2011, more or less guaranteeing record-breaking 3D BD sales for Fox at a time when the number of 3D BD enabled homes is starting to increase.

Alternatively, Fox might opt to release Avatar to retail on 3D BD earlier in the year – for example, on 22 April, which is now styled Earth Day and is the anniversary of the title's initial release – while continuing to promote the title through bundling deals and co-operative marketing campaigns with Panasonic.

Disney, which boasts by far the largest library of digital 3D movies, has so far announced an equal number of titles in exclusive bundles and at retail, but this is set to change by the end of the year. Both A Christmas Carol and live action dance title Step Up 3 were slated to appear in retail stores immediately on their release in November.

Meanwhile, Alice and Bolt were exclusively bundled with Sony 3D hardware from September but Alice will be available in US retail stores in December and IHS Screen Digest understands that the exclusivity on Bolt expires in the same month (both titles were already available on 3D BD at retail or for pre-order in the UK and France by late November). This means all four Disney titles could be at retail in the US by the end of the year. It is worth noting, however, the studio has released 15 3D titles theatrically to date including, Toy Story 3, which was released on 2D BD and DVD (but not 3D BD) in November.

Universal's first foray into 3D movies was with stop-motion animation Coraline and, as one of the first 3D BDs to be released, the title has been exclusively bundled with Panasonic 3D hardware since June 2010. The studio confirmed recently that its latest 3D movie, Despicable Me, will be released to retail in December, however, IHS Screen Digest understands that Universal continues to seek bundling deals of all types on future titles, with the aim of boosting home 3D adoption.

Lionsgate and Paramount have opted for a different type of exclusivity. At the time of writing they had each confirmed just one 3D BD title – Lionsgate's My Bloody Valentine and Paramount's The Last Airbender – with both available on 3D BD only in Best Buy stores in the US.

Paramount's Airbender became the first major studio 3D BD title to be released day-and-date with the 2D BD and DVD versions in November. This strategy, which we expect to be used increasingly frequently in the future, will help boost home 3D by providing consumers with more options on the day of release.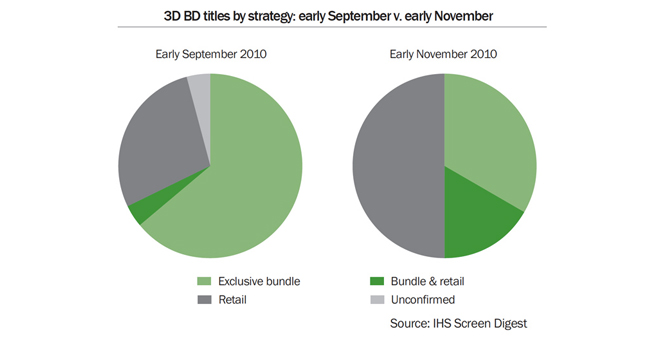 3D range ramps up

When all titles scheduled for 3D BD release by other companies are taken into account, we expect to see a total of 24 titles available in US retail stores by the end of the year. This is a significant increase on the seven recorded just two months ago, and is very close to the minimum number of titles that Screen Digest believes is needed to occupy a standard 35-unit retail bay – allowing for some duplication on top titles.

Prior to the retail release of Disney's Alice, however, Universal's Despicable Me was the only confirmed retail title to have generated over $200 million at the US box office. Alice will be by far the highest grossing 3D BD title available for purchase when its exclusivity period expires in December, generating $334m at the US box office.

Clash of the Titans is the third highest earner, taking $163 million in US box office receipts, although the widespread reports of poor quality 2D-to-3D conversion on Clash means its presence at retail may be less compelling for consumers than might have been hoped.

No fewer than six $200 million-plus titles (excluding Alice) are exclusively bundled with 3D hardware, including all of DreamWorks' Shrek franchise and, of course, Fox's Avatar.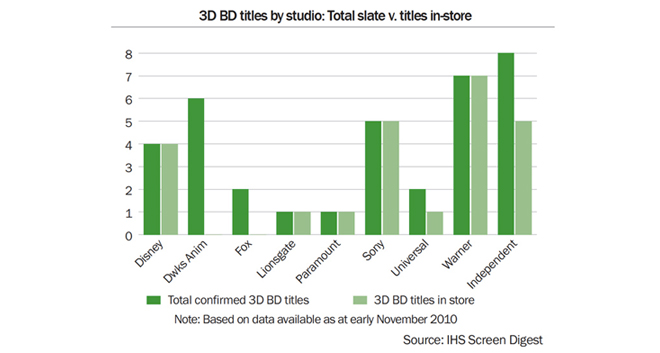 Pricing and SKU strategy

In an attempt to replicate the premium ticket pricing of 3D films in theatres, virtually all the US studios have so far opted to release separate 2D and 3D BD stock-keeping units SKUs).

All but one charge a premium for the 3D version, an approach reflecting the higher cost of 3D production and which studios hope will counter the downward price pressure on both 2D BDs and DVDs as well as boost the average consumer price of BD. This is important given the current difficulties faced by the video industry and the anticipated decline in total video spending over the next few years.

There are, however, variances in the approach adopted by the studios. According to Screen Digest analysis, Disney and Universal have the highest price strategy, with the suggested retail price (SRP) of their 3D BDs coming in at almost $50.

This price, which is at least 20% higher than average price of their new release 2D BDs, reflects the fact that both studios release their 3D BDs in 'Superset SKUs' – containing different combinations of 3D BD, 2D BD, DVD and digital copy, depending on the territory.

Since the Blu-ray Disc Association's 3D Blu-ray specification allows for 3D BDs to play in 2D in legacy BD players, the inclusion of the 2D BD is a marketing decision reflecting the fact that consumers tend to equate the value of a SKU with the number of discs included. Adding an extra 2D BD to the Superset SKU increases its perceived value without significantly increasing costs.

Warner and Sony have adopted a mid-price strategy – Warner's 3D BDs are listed at just under $45 and Sony's at almost $40 (28% and 13% higher respectively than the average list price of a new release 2D BD).

Both studios apply the same 3D premium to all 3D content, regardless of genre. Warner's animated feature films Cats and Dogs 2 and Polar Express and its Imax natural history documentaries Under the Sea 3D and Deep Sea 3D are listed at the same SRP of $44.95.

Sony's Cloudy and Monster House also carry the same SRP ($39.95) as its 3D World Cup Highlights title. Its 3D BD titles all contain only one disc, as do Warner's Imax titles and Polar Express, although in keeping with the BDA's specifications this will play in 2D on 2D BD players.

Warner has adopted the Superset approach (3D BD, 2D BD, DVD and digital copy) for its recent feature releases, Clash, Cats and Dogs and Legend, although there is no difference in its pricing strategy.

At a slightly lower price are Lionsgate's My Bloody Valentine and Paramount's The Last Airbender, both of which are currently exclusive to Best Buy with an SRP of $34.99. Lionsgate charges a $10 premium on the 3D version of its title, but our research shows that the single 2D BD SKU of The Last Airbender has the same list price as the 3D BD SKU ($34.99). Paramount apparently offers a 2D super SKU (2D BD + DVD + digital copy) for $39.99. Both studios currently offer some titles at higher prices than they are charging for their 3D BDs.

The lowest priced 3D BDs currently on the market are three independently distributed Imax titles – Grand Canyon Adventure, Dinosaurs Alive! and Wild Ocean – with an SRP of just $25.

Bucking the trend established by most of the major studios, this is the same price point as the 2D BD versions. Screen Digest has learnt this is a deliberate move by the distributors, Image Entertainment and Big Productions.

Rather than charge a premium on the 3D BD version, the distributors plan to phase out the 2D SKU; consumers that are only 2D BD enabled will simply buy the 3D BD since this will play in 2D in their 2D BD players. This strategy could not only encourage adoption by building up a library of 3D titles in 2D homes, but will also reduce costs by eliminating the need for separate packaging and distribution for the 2D and 3D versions.

So far, the 3D BD release of theatrical 3D movies have followed the initial 2D BD/DVD launches, making the dual SKU approach the only option. As day-and-date releasing becomes a viable option, however, studios will have to decide whether to pursue this approach or whether a single SKU strategy (ie, making 3D a feature on the top-end BD SKU, along with additional bonus material, etc.), similar to that being planned by Image and Big, could be more beneficial in the long term.

The former approach allows for a specific 3D premium, which will help maintain the average price of a Blu-ray Disc in the face of declining DVD and 2D BD prices. However, the single SKU approach could arguably also help sustain BD pricing by adding more value to high-end BD SKUs and so help raise the perceived value of the format.

A key challenge over the next few months will be to persuade mass merchants to give shelf space to display a separate 3D BD SKU that will initially generate only limited sales due to the small installed base of 3D BD enabled hardware.

With just one high-end Blu-ray Disc version of each title on offer, studios would ensure that the 3D version was available wherever BD is sold and so increase dramatically its visibility and raise consumer awareness of the growing 3D BD catalogue.

Finally, the single SKU approach also has the potential to function as a 'Trojan Horse' and so build a library of '3D-ready' content in 2D BD homes and increasing the incentive to upgrade to 3D hardware.




Richard Baxter joined Screen Digest in November 2008 as a research analyst for the video team, where he is responsible for tracking developments in 3D home entertainment. He is also involved in the day-to-day analysis of European data collated via Screen Digest's long-term partnership with the International Video Federation as well as in tracking trends in the emerging markets of China and India.

It is one of the topics addressed at the forthcoming PEVE conference in London, 10-11 March 2011. Click here for details.

Story filed 12.12.10