3DTV is now readily available in retail, but the uptake among consumers has been limited by high prices and lack of content. However, with falling prices, increased content availability, and improvements in technology all expected, there will be sharp growth in 3DTV shipments over the next few years, says DisplaySearch in its latest Quarterly TV Design and Features Report.

The market analysts forecast that 3.2 million 3DTVs will be shipped in 2010 worldwide, with growth to over 90 million in 2014. Based on this forecast, 3D will grow from 2% of all flat panel TVs shipped in 2010, to 41% in 2014.

"North American consumers in particular appear to be playing a waiting game," noted Paul Gagnon, Director of North America TV Research. "Set makers have trained consumers to expect rapid price falls for new technology, and consumers seem happy to wait a little." As a result, DisplaySearch forecasts that 3DTV shipments in North America will be just under 1.6 million this year.

DisplaySearch results also found that sales of 3D glasses in Western Europe remain low, with most countries failing to achieve 1:1 sales of glasses to sets. "This is particularly disappointing," noted Paul Gray, Director of TV Electronics Research. "A healthy level would be closer to two pairs of 3D glasses per TV, so it's clear that these sets at best are being chosen for future-proofing, and at worst it's an indication that consumers cannot buy a premium set without 3D."

Nevertheless, 3D is a feature that set makers are determined to develop. 3D product choice is expanding fast with increased product launch plans and more set makers adding 3D. Rapidly expanding product offerings and 3DTV set prices have led DisplaySearch to increase its forecast for 3D in later years, with an anticipated 90 million sets being shipped in 2014.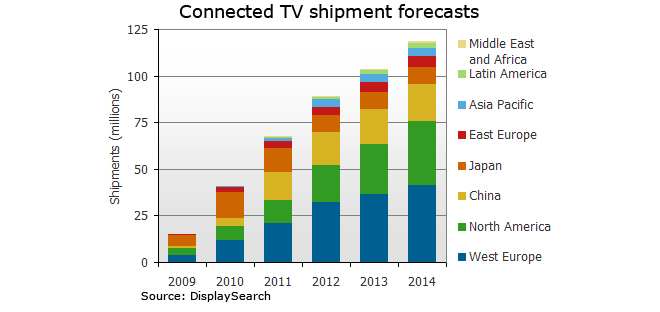 Story filed 22.10.10