At IBC in Amsterdam, South Korea's Electronics and Telecommunications Research Institute (ETRI) showcased its 'Real-Sense 4D Experience System.' The system – which DVD Intelligence tested – provides an immersive experience which combines 3D TV with synchronised sensory effects such as scent, temperature, wind, flash, lighting, vibration, motion, etc.

The real-sense effects are reproduced by devices called actuator (fan, heater, dimmer, motion chair, etc).

This Real-Sense 4D Experience is engineered by ETRI's Media Service System Technology (SMMD) authoring tools, a sort of map builder, which forms the basis for the so-called 'ne-Media' concept, linking together servers and actuators. It fuses video with real-sense effects metadata.

Also, ETRI is developing the so-called 'multiverse' platform – short for multiple virtual space – aimed to support next-generation game engines for even more realistic entertainment services. There, avatars can move through the portal between one metaverse to others. Users can live as the same avatar or as another one in each metaverse environment.

In the future, ETRI expects real-sense information could be obtained by using mobile devices like 'real-sense' camera. Real-sense effects can, then, be extracted automatically by SMMD technology.

Further down the road, the South Korean researchers are contemplating an even more realistic 5D 'five-sense' service by incorporating Augmented Reality to the ne-Media actuator.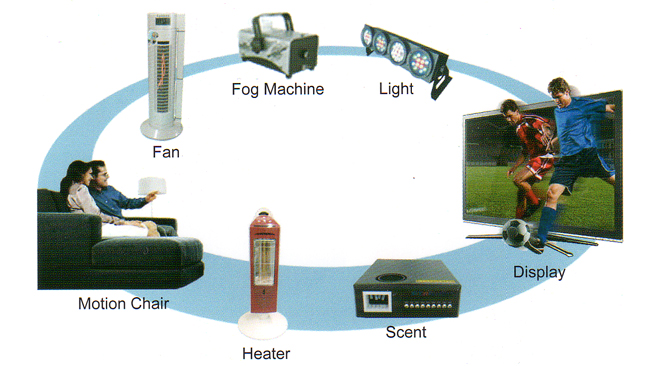 Story filed 15.09.10