If one goes by this year's hottest products on display at IFA – Berlin's annual consumer electronics extravaganza – the CE industry expects you to put expensive 3D hardware under the Christmas tree comes December, says JEAN-LUC RENAUD.

3D demonstrations were everywhere and manufacturers were outmaneuvering each others to capture the heart and mind and hard-earned cash of consumers (IFA is open to the public).

Given that top quality 3D content will be sourced in the home primarily via Blu-ray discs, and that the speedy conclusion of the 3D BD format is no mean feat in standardisation annals, the promotion of Blu-ray, surprisingly, took a backstage. True, 3D Blu-ray players were there, but where was the Blu-ray Disc Association to drum up support, some wondered?

I will spare you an exhaustive list of 3D screens or "simple" HDTV displays. Suffice to say that improvements across the range of image processing technologies are producing stunning results.

It was fitting that, on exhibition floors crowded with ever-sharper screens, visitors should be given a glimpse of the next frontier in HD – Super High Definition. Panasonic was boasting the world's largest display – 152in 4K2K (4,096 x 2,160 pixels) based on its NeoPDP (plasma display panel) technology which reduces crosstalk thanks to high-speed response, without compromising the contrast ratio, now reaching 5,000,000:1.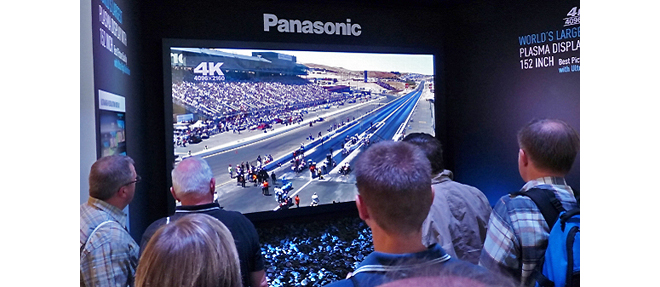 As for South Korea's LG, who claims to have the "world's largest screen" of all, its 180in display actually appeared to be made up of nine panels.

Sharp presented its new range of Aquos Quattron 3D LCD TVs featuring a fourth primary colour – yellow – to the traditional red, green, blue.

Philips showed its Cinema 21:9 Platinium series, the 3D upgrade of its 56in "cinema proportion" (21x9 aspect ratio) LED TV screen.

This year sees the thinning of TV screens as well. Samsung's 65in LED displays barely 20mm thick (or thin) move home appliances into a new comfort zone.

LG brought in its stunning 31in OLED display, barely 10mm thick. This is to date the largest display using organic light emitting diode. For recollection OLED is a light-emitting diode in which the emissive electroluminescent layer is a film of organic compounds which emits light in response to an electric current. An OLED display functions without a backlight. Thus, it can display deep black levels and can be thinner and lighter than established liquid crystal displays (LCD).





Barely arrived on the doorstep, 3D is already permeating many corners of the CE industry.

Panasonic has already a 3D camcorder out for the consumer market– the HDC-SDT750. The company just opened a 3D innovation center in Europe that will be "working on projects such as 3D via IPTV, all manner of B2B solutions and 3D-based e-commerce," announced Laurent Abadie, Chairman and CEO of Panasonic Europe.

Toshiba chose to show new features with its 3D TVs. There was a demonstration of its user interface with 3D motion gesture control. An upgrade from the simple implementation of 2008, the new 3D interface rotates and zooms photos and videos with a flick of the arm. Toshiba also demoed 3D games with wireless interface, full HD upscaling of 3D broadcast, live 3D broadcast, and extra bright 3D display.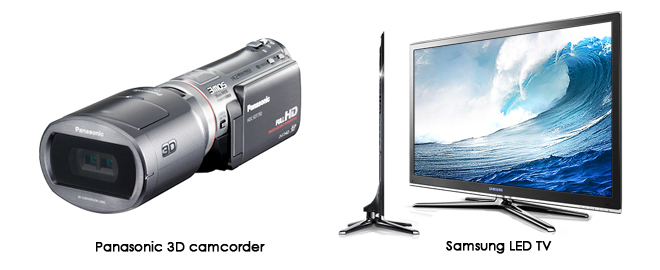 It is paradoxical – not to say outright incomprehensible – that, as the industry offers consumers a compelling, immersive 3D experience, it should sabotage it with unspeakably uncomfortable 3D glasses. Virtually all active shutter glasses on offer hardly fitted anyone well, let alone prescription-glasses wearer like myself. When will the first enterprising optical retailer offer prescription 3D glasses, even 3D contact lenses?

Of particular concern is the absence of narrower parallax models for children, especially as animated films constitute the majority of 3D titles so far. The medical community is already raising alarm bells regarding potential health hazard. But things are moving in the right direction: Panasonic is now supplying 3D glasses in three sizes – Small, Medium, Large.

The lack of comfortable, adjustable, let alone reasonably-priced glasses, will undo all efforts to turn consumers into 3D addicts. They will be waiting for 3D glasses-free solutions. If so, they may well be waiting for 3D autostereoscopic Godot!

Sony showed a 360-degree autostereoscopic display. Using Ray Modeler, a technology developed at the company's Tokyo R&D centre, the prototype just 27cm tall allows to see a realistic 3D image from all angles akin to a hologram. Thanks to an embedded gesture sensor, the images react and move when the viewer waves their hand. Sony says this technology could provide 3D experiences for virtual museums, in-store digital display, "even 3D telecommunication and 360-degree movies and video games."


Sharp was showing a prototype autostereoscopic 3D smartphone (see separate story).

A few more 3D glasses-free demos were on offer at the International Broadcasting Convention (IBC) – the European NAB – currently taking place in Amsterdam, as the 3D bug is also biting the broadcasting and digital delivery communities. It only confirms that the 3D autostereoscopic technology is not about to enter the consumer market – even less replace the 3D glasses technology – anytime soon.

The wide variety of 3D video clips on offer across all the booths was testimony to the difficulty and complexity of producing top quality, immersive material. Too much of what was available will likely fall short of consumer expectation. It is critical that the industry sees to it that content publishers do not cut corners.

And when it comes to 2D-to-3D conversion, there is much to be worried about. The "converted" material on display at IFA, but also IBC, should keep the CE industry on the edge, if not concerned. Most of the videos seen range from satisfactory to truly awful. Software suppliers are already bringing to the market low-priced 2D-to-3D conversion and encoding kit which will likely find buyers amongst large sections of the lesser-endowed content publishers, broadcasters and other network delivery operators. If unchecked, this will be the quickest way to kill the burgeoning 3D market.

It is heartening, though, that the UK's Sky TV broadcaster, who will launch the world's first 3D channel in October, has committed to procuring and producing only 3D-native material.

No review of Berlin's IFA would be complete without the now annual instalment of German customs officers, alerted by rights owners, royalties collection agencies or tax authorities, descending on a Chinese exhibitor's booth. I saw a dozen custom officers in full gear confiscate boxes of products. If imitation is the best form of flattery, Apple lawyers would have a field day going after the many exhibitors peddling iPad-look(very much)alikes!

Story filed 14.09.10