DVD and Beyond 2015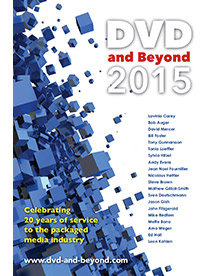 Welcome to the new edition of our annual magazine, the informative, inquisitive, and at times irreverent companion to www.dvd-and-beyond.com, our industry website.

Time flies. With this issue, we celebrate 20 years of service to the packaged media industry. With correspondents and collaborators in faraway places and closer to home, we have endeavoured to provide you with as comprehensive a coverage of activities in the disc-based video market as we could. We did it, and continue doing it, in total independence, on which our reputation is built.

A film buff from my young age, I was naturally interested with the creative ways of bringing full motion video into the home in a good quality and in a convenient manner. Adding interactivity to the whole enterprise hightened my curiosity of technologies pointing on the horizon.

So, our journey into the coverage of packaged media, as the sector came to be known, began with a newsletter - CD-info - devoted to the new Compact Disc Interactive. (I discovered, penning this foreword, that the first issue of the monthly letter actually came out in January 1993 - some 22 years ago!). The front page announcing the ground-breaking Video CD format is reproduced on page 42.

If the Philips-developed CDi format failed to find favour with consumers and eventually disappeared, the corporate sector gave it a honest try as a training tool. The likes of Burger King and Hard Rock Cafe used the disc to train their worlwide staff in the dozens of languages the format enabled. We kept track of this activity with our re-titled CDi Professional Applications newsletter in January 1997.

Then, DVD broke into the market and the rest is history DVD Intelligence was born in February 1998 and quickly established itself as the newsletter of record on all things DVD, principally focusing on Europe.

To be of even greater assistance to the burgeoning community of authoring houses, packaging companies, replicators, indeed everyone in the supply chain, in 1999 we launched the DVD Primer an annual European directory of all those above-mentioned.

By 2003, the exponential growth of the number of actors with a stake in DVD became unmanageable for a printed publication, so we launched our industry website www.dvd-intelligence.com. It has been thriving ever since, attracting 15,000 professionals a month from all over the globe (check the visitors' log on the homepage!).

The magazine has become a platform for high-quality strategic analyses by frontline professionals, independent industry observers and consultants to help packaged media executives elbow their way into an ever more crowded market. For several years now, discs are no longer the only way of distributing content to the home. Of necessity, we have been taking stock of the array of delivery channels with a view to helping packaged media professionals understand the challenges and seize opportunities. To reflect this editorial focus, both our website and magazine have been renamed www.dvd-and-beyond.com and DVD and beyond two years ago.

Our 20 years of service to the industry also coincide with Lavinia Carey's 20-year tenure as the powerful Director General of the British Video Association. In exclusivity for DVD and beyond, she reflects on the changing market and the BVA's achievements in fortifying Europe's biggest homevideo market.

Another long-time friend, packaged media pioneer Bob Auger, began his journey into videoland five decades ago! Needless to say his contribution has a unique flavour.

A publication, launched at the dawn of DVD, that still offers today food for thought on the present and future of discs, surely is a reminder that, notwithstanding the decline in total consumer spending on packaged media, DVD and Blu-ray Discs continue to be the cash cows of the home video industry. Discs are still the largest generator of spending in the European video market - last year accounting for a 77% share of total consumer outlay on video across all platforms. Tony Gunnarsson, from IHS, tells the story.

And Blu-ray may get a shot of adrenalin with the emerging 4K format in which the CE industry pins its hopes. To bring a 3840 x 2160 pixel image to the home requires a lot of storage. A BD disc is potentially a prime candidate for the job. Revamping the specs, the Blu-ray Disc Association announces a 3-layer 100GB disc (?) for the end of this year. Bill Foster warns, however, that consumers who think they are future-proofing by buying a '4K' TV today could be in for a nasty shock.

We summarise a seminal article by three academics who revisit the article of faith that moving away from discs towards digital online delivery will be environmentally-friendlier by reducing CO2 production.

The pièce de rédistance is the must-read 14-page section that collates the view of 14 industry movers and shakers who answered our detailed questionnaire on the present and future of packaged media.

Last, but not least. The support we have received from the industry, especially in these times of economic uncertainty, has been once again most gratifying. It helps maintain this publication as the annual review that market-leading companies prefer to use in their efforts to reach customers in Europe.

Thank you for being part of this 20-year journey!

Jean-Luc Renaud, Publisher


Contents

- Foreword-contents, Jean-Luc Renaud Download PDF (2.4Mb)

- A room with a view, Lavinia Carey Download PDF (3.5Mb)

- European video market - declining physical media consumption, Tony Gunnarsson Download PDF (2.6Mb)

- Evolve or die - my journey through videoland, Bob Auger Download PDF (1.5Mb)

- UHD TV - not yet ready for prime-time, Bill Foster Download PDF (832Kb)

- How people watch television, David Mercer Download PDF (1.9Mb)

- Transactional TV-based VOD, Tania Loeffler Download PDF (1.1Mb)

- Which content delivery method is greener?, Jean-Luc Renaud Download PDF (984Kb)

- From ownership to access, Carl Hibbert Download PDF (3.0Mb)

- Executive interviews, DVD and Beyond Download PDF (4.2Mb)

- Magazine covers Download PDF (1.4Mb)


Ask for your free copy of DVD and Beyond 2015....