An industry executive speaks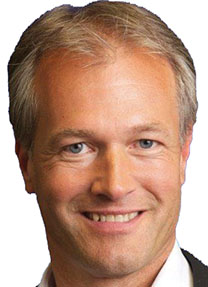 In a series of Q&As, frontline practitioners in all facets of the packaged media and digital delivery industry share their views of things past, present and yet to come. It's the turn of SVEN DEUTSCHMANN, CEO of arvato Entertainment GmbH, in G?tersloh, Germany.

Where do you see your company's comparative advantage in this highly competitive market?

For us, arvato Entertainment, it was always key to be in a driver's seat when it comes to new formats and innovative developments. The current discussion about the new formats, essentially the new games console format Xbox One as well as the newly-introduced Ultra HD formats in 4K, are the focus of our attention. In this respect, a 3-layer 100GB Blu-ray Disc is also a new topic drawing our attention.

Amongst the range of services you offers, which one did grow in importance over the past 2 years, which one diminished, and which new service(s) will you be offering in the coming 2 years?

We will continue with the existing formats of optical discs in accordance with the requirements and the demands of our customers. This means that CD, DVD and BD will remain a significant part of our offerings for many years to come. The decline of the CD and DVD segments are expected to go on, although the CD market is apparently more resilient in the recent months than predicted. Also, as we have stepped into the archiving business a few years ago, we will expand this field with further services. For example, we have recently added the digitization of analogue film-rolls and provide HD-based scanning and restoration services.

Are you considering a strategic move, or have you already implemented one, into a completely different product or service market?

As mentioned, we are exploiting the digital asset management services constantly. Once we have digitized the media - and this can be audio, music as well as video material plus books and documents - we are offering access and search optimization functions. Accessibility of the digital content can be provided via cloud-based services and neutral platforms. In addition, we can offer financial solutions for these services as well.

Besides the archiving business we are also taking care of direct-to-consumer shipments and the related e-commerce platform. For media customers we are running their merchandising logistics and the D2C business. This will be also of more interest in an environment when games and media are mainly consumed online. The opportunity related to figurines, for example, should not be forgotten, and we are about to extend our service scope in this area.

There's a lot of alarmist talk about the rapid demise of packaged media in the face of online delivery. What is your view as to how long discs will be around? And what could become the main target market of packaged media?

I would disagree somewhat. For some products we see for a deeper involvement in innovative packaging designs. There are lots of special editions, something the digitally distributed content cannot offer on its own. A look at the 'niche' market Vinyl Records may support this observation: Even albums, which have been published 20 years ago are produced actually for re-orders. The key word is 'packaged', because the design of a brilliant artwork will provide value for a long time. I would not be surprised if discs - especially CDs - are around as long as vinyl records and even beyond. An optical disc is also an archiving media. It can be kept and stored for many years - much longer than the standard hard drives in a home computer. Although it will not stop the growth of the online consumption, there will be a place for optical discs for a long time.

Cloud-based UltraViolet digital locker makes inroads in Europe very slowly. What needs to happen for consumers to embrace this digital service? Could UltraViolet be superseded by large retailers' own digital locker system or by Netflix or Amazon Instant Video?

The question is always whether the consumer sees the added value. I have my doubts that the marketing and brand effort have been sufficient to make UltraViolet more popular.

Do you think UltraViolet has the potential to increase sales of BD discs (as the studios intended) or be the death knell of the packaged media?

I'm skeptical that UltraViolet will support sales of BDs, why should it? From the standpoint of the consumer, the question is how often do I watch a movie, once, twice? But certainly not ten times. However, that is what I do with music titles. So, for a video title which will be seen once or twice (and the first time might be in a cinema), why should I go to all the hazzle of getting the movie onto my tablet, using gigabytes of storage?

How much of a revolution does smart TV represent, given that consumers are already comfortable using other screens (laptops, tablets and smartphones) to access Internet-delivered content?

Connected TV has to be seen, it's too early for any guess. Second screen is user-friendly, people can move with their smartphone across rooms and still follow the movie on the device. A TV screen is fixed on the wall. My guess will be that both formats and devices will converge.

Ultra high definition 4K TVs are coming to the market. Is this a response to consumers demanding a better quality picture or a push by CE manufacturers who need to introduce higher-margin products?

The latter one. I haven't heard of a consumer-driven demand in this context - no blogs or documents based upon the interest of consumers to ask the CE industry to develop these new devices. Was it?

Do you think 4K could be the shot of adrenalin Blu-ray needs given that a BD disc is best suited to bring ultra HD content to the home?

Although I would hope that this is the case, I'm skeptical. If this is true, why then are there still DVDs around? From my point of view, there are definitively consumers who do care for the best available quality, but there are others who are just interested in the content and take the current resolution as a given. After all many people are watching video content nowadays on their tiny smartphone screen?

How to you see Hollywood squaring the circle between the inexorable fall of high-revenue producing packaged media and the unstoppable rise of low-revenue generating online digital delivery?

An optimal combination of all available distribution channels will lead to more incremental business. Finding the right balance is for sure one of the biggest challenges.

What is the next technology or service leap you are anticipating?

There will be a demand for Ultra High Definition content. Xbox One is offering gamers a really advanced entertainment experience in playing a video game. In this context, we will prepare and build up the services for the 4K segment.

If you let your imagination run wild, what system, format, application aimed at delivering content to the home would you like to see implemented in 10 years time?

In the long runmedia consumption and social interaction will be merging and converging. In respect of devices, I can imagine more integrated functions. Like Google Glasses or Oculus Rift, it might be that there won't be classical screens as we are used to them today. Sitting in a car, it might be that media content will be presented in certain areas in the windows itself - embedded in the glass. We will see flexible screens being embedded in various materials - maybe even in cloths.

Content will mainly be streamed from the clouds and will be accessible almost everywhere. Your peers will know where you are on this planet and will know what you're going to do, consume or even think. Occasionally, some people may want to disconnect, not being always a part of a connected world of this new type. Shut off the phone and enjoy a good old fashion Blu-ray disc on a winter's day. Who knows.
Will this be in 10 years? No, certainly not, but some day it will be and smaller steps will go continuously in this direction....