An industry executive speaks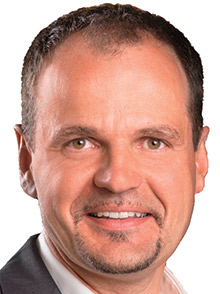 In a series of Q&As, frontline practitioners in all facets of the packaged media and digital delivery industry share their views of things past, present and yet to come. It's the turn of MICHAEL HOSP, CEO of kdg Mediatech, a replication, authoring and fulfilment company based in Austria.

Where do you see your company's comparative advantage in this highly competitive market?

As a general contractor we are a very broad-based company. This enables us to offer our customers a comprehensive service portfolio, starting from DVD/BD authoring through packaging consulting and media production right down to logistical and digital delivery. Of course, the whole of the industry keeps talking solely about the price, but other things are decisive in day-to-day business, too: reliability, perfect processes and innovative ideas, for example - in other words "best service." Ultimately, you realise there's a lot of truth in the good
old business adage "buy cheap, pay dearly."

Amongst the range of services you offers, which one did grow in importance over the past 2 years, which one diminished, and which new service(s) will you be offering in the coming 2 years?

Nothing too surprising: BD authoring has grown just as much as the overall number of units in BD manufacturing; production figures have tended to be slightly down reflecting the international market figures; and amazingly enough, CD output has remained fairly stable. In overall terms, average order volumes are decreasing right across the board, for all types of media. Against this background, we continue to see tremendous market potential in the logistical services which we've had in our portfolio for over seven years. In this field we operate as a logistics supplier both for e-commerce as well as outside the media sector.

There is a lot of alarmist talks about the rapid demise of packaged media in the face of online delivery. What is your view as to how long discs will be around?

Of course, the output figures for packaged media are down throughout the world, but even so, packaged media remains the cash cow of the media sector. We don't see any signs of packaged media disappearing from the market in the immediate future. On the contrary. What we see is a rapid growth in the diversification of content offered right across all markets (including music as well as film). As a result, packaged media is increasingly set to become products for collectors and connoisseurs. The major challenge which the entire sector faces isn't the question of online versus packaged media. It's the question of distributing work in general. We've reached the stage where Internet online distribution has become much more complex and confusing than classic distribution channels ever were. If you can't be found online - and the likelihood of not being found is relatively high if you only have a small sales budget to work with - then you won't really be able to make much money in this supposedly seminal distribution channel.

Given the slower than expected take-up of 3D, do you thing 3D is here to stay or consumer interest in stereoscopy is temporary?

Even in the run-up to the IFA consumer electronics fair in Berlin very few developers wanted to talk any more about 3D. Marco Gonska, Managing Director of the WLC company which helps TV manufacturers to optimise their image display, was one of the few not to mince matters. He even spoke of a 3D disaster. And anyone wandering through IFA at this particular time will quickly realise that the hot topics are smart TV and UHD.

Do you think the consumer take-up of 3D depends on the arrival of glasses-free autostereoscopic systems. If yes, how many years do you believe consumers will have to wait for a high-quality glasses-free system to rival the existing shutter glasses 3D systems?

If 3D TV is to have any chance at all of penetrating the mass market - who knows, the train may already have left the station - then probably only in the form of an auto stereoscopic display system. But even here some healthy scepticism is called for: the technology simply isn't compatible with our physiology (at least not yet). Even in protracted doses, autostereoscopy can cause many people to experience eye pain, headaches and feel dizzy. Ultimately, the consumer should feel completely fine with 3D. And technology should be there to serve people, not the other way round.

Cloud-based UltraViolet digital delivery has yet to make inroads in Europe. What needs to happen for consumers to embrace this digital service? Could UltraViolet be superseded by large retailers' own digital locker system like Tesco's Blinkbox?

First of all, and let's be quite clear about this, end consumers aren't (yet) familiar with UltraViolet. So, above all it's the software and hardware providers who now need to get the concept across to the consumer. But to do this, all the important players first have to pull together (and once again, they're simply not doing this). Yet, if they don't, this system is unlikely to make any real inroads at all.

Do you think UltraViolet has the potential to increase sales of BD discs (as the studios intended) or be the death knell of the packaged media?

UltraViolet offers the BD buyer the bonus of a DRM-protected copy, which of course could be regarded as an additional benefit in principle. But then you start asking yourself whether the classic BD buyer is really interested in such "additional benefits" - all the more so, since some providers have clearly set time limits for their streaming offers. For consumers who definitely do not want to stick their films in some cupboard, but want to see them, quickly and legally, UltraViolet is clearly an interesting option. From today's perspective, and given that these are two completely opposite forms of consumer behaviour, UltraViolet is highly unlikely to have any major long-term impact on BD sales.

What do you see as the opportunities and pitfalls associated with Digital Copy on a disc?

Based on what's available at the moment I'd say that the opportunities are somewhat limited. Clearly, BD/DVD buyers don't appear to be all that interested in this additional benefit, either.

How much of a revolution does smart TV represent, given that consumers are already comfortable using other screens (laptops, tablets and smartphones) to access Internet-delivered content?

Smart TV is one of the top products at this year's IFA, even though the concept is hardly new. The take-up rate, at least in this part of the world, is still quite modest. A recent study indicated that there are only 14 million smart TVs in Germany. That barely covers 34% of all households. And of these, only 58% are connected to the Internet. Given that sales of TVs dramatically collapsed in the first two quarters of this year, manufacturers are now clearly pinning their hopes of better sales in the short term on smart TV. But the real underlying trend is towards intelligent connectivity of all available devices in the
medium and long term.

Ultra high definition 4K TVs are coming to the market. Is this a response to consumers demanding a better quality picture or a push by CE manufacturers who need to introduce higher-margin products?

At the moment, 4K is undoubtedly a classic early adopter issue. If you consider that conventional HDTV took over 20 years from the time it was first invented until its eventual commercial breakthrough, then you realistically have to allow a couple more years of "development time" for UHD. Having said that, the situation in this regard is still even more muddled than it was at the time with HD TV. Japan already wants to establish UHD 2 - meaning 8K! - by 2020. Sure, the number of pixels may sound completely alluring, but the end-consumer is probably less inclined to upgrade his TV system yet again. What's more, not enough content has been produced to be compatible with the format. For BD itself, 4K is of course counterproductive: the format still has a long way to go before it even starts to rival the market penetration of DVDs, for example.

Do you think 4K could be the shot of adrenalin Blu-ray needs given that a BD disc is best suited to bring ultra HD content to the home?

I strongly doubt whether we, as independent replicators, really need this "shot of adrenaline." After all, given the way the market and profit margins are developing in our sector, who on earth can still afford to invest in the next and even more complex generation of optical storage media?

How to you see Hollywood squaring the circle between the inexorable fall of high-revenue producing packaged media and the unstoppable rise of low-revenue generating online digital delivery?

There's no doubt that digital delivery has its upsides: no manufacturing costs, fast handling, zero returns... At the start, enthusiasts promoting the idea thought that it would save them all the work and costs of sales and distribution. This idea has now been disabused. Even so, the consumption of digital content will increase, of course, because consumers no longer have the same TV habits. Packaged media however is increasingly turning into products for connoisseurs and collectors, but it definitely will no longer cover the mass market.

If you let your imagination run wild, what system, format, application aimed at delivering content to the home would you like to see implemented in 10 years time?

As marvellous as the idea sounds - the idea that we are advancing towards a society in which all content is available at any time - the Gross National Product of Happiness - is unlikely to rise to any perceptible degree. Seen from this vantage point, what counts is not so much the quantity, but the quality of the content. And the same will still hold true ten years down the line. All this is inseparably linked to inspiration, creativity and the ability to strike a nerve and touch people's hearts. As human beings we are extremely fortunate in that
this outcome isn't really programmable in advance. It's not really controllable. So, in the final analysis, technology is always a step behind people - and that's a comforting thought.

Contact: www.kdg-mt.com....