BBC's Lesley Johnson sets sail for Children in Need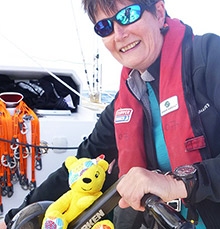 Lesley Johnson, Operations Director at BBC Consumer Products, will take part in the Clipper Round The World Yacht Race in aid of Children in Need.

The Clipper Round the World Yacht Race was set up 16 years ago by Sir Robin Knox Johnston to encourage ordinary people to take up the challenge of ocean yacht racing.

Johnson will take a short break from overseeing BBC Worldwide's production, manufacturing, supply chain and global delivery of physical and digital videos to join Team GB in Leg 7 of the round-the-globe race, leaving San Francisco on 10 April and finishing in New York on 9 June.

"I have always wanted to learn to sail properly and signed up 18 months ago. I have now done my sail training (levels 1,2 and 3) and will be joining the Great Britain entry in just a few days time," mother-of-two Johnson told DVD and Beyond.

"I will sail from San Francisco to New York via Panama, that's 5,500 nautical miles and I am aiming to raise £1 for every nm for Children in Need. The sailing is tough, 24 hours in all weathers and subject to the vagaries of ocean storms, it's scary and exhilarating, but the fact that I am doing some good for disadvantaged children will keep me going in the darkest hours."

"Training has been really tough, there are hard moments of self doubt but the team spirit really pulls people through," Johnson told her hometown newspaper Borehamwood Times. "We will be there to support each other in the darkest times. We will be sailing 24/7. I know that, at those horrible 3am wet and cold moments when I am tired, I will remember what I am raising money for and it will give me the edge to carry on."

To date, Lesley Johnson has raised nearly £2,000. She can be sponsored at: www.justgiving.com/lesleyjohnson61. Give generously!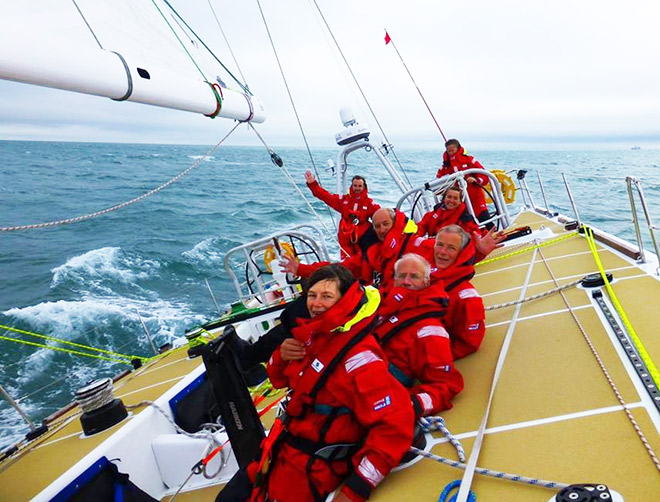 (05.04.2014)

Here's the first update (28.04.2014) from Lesley on the good ship Great Britain, a week into their journey to Panama

Day Two
... of the race and the sun has shone all day. Flying the code 3 spinnaker and rolling along on the pacific ocean, escorted by dolphins for a while this afternoon. As you probably saw from yellow brick we had a disastrous race start - we left the pontoon with our main sail on the deck and had to rig it on the go....suffice to say it went wrong and we ended up passing the start line in last position....We have made up for it now and are standing fifth. Last night the stars were magnificent and today I have learned how to trim the spinnaker for maximum boat speed. So far it is brilliant, everything I expected it to be and more. The round the world crew are so supportive and I am learning fast. Just finished a 6 hour shift and going to get my head down for a couple of hours. Press association interviewed me again on the pontoon re the CIN fund raising so that may pop up somewhere ....

Day Four
Things are great here, beyond words. I have fallen in love with the wise blue ocean. I feel so at home on this yacht, the sun is shining, we have the kite (spinnaker) up and I have discovered a new skill "trimming". Trimming is when you keep the sail as powered up as possible.The spinnaker "kite" is a huge sail out the front of the boat that when filled with air makes the boat go fast, but it is prone to collapse, so to trim you stand with the working sheet in your hands (round a winch of course otherwise it would be impossible to control) you ease the sheet to let air into the sail and power it up or call for the winch grinders to grind it in if it is in danger of collapse.

Its a great job and I love it as you really get the feeling of sailing the boat, but you can only do it for 30 mins at a time as your arms and neck ache. I am writing blogs for clipper every 3-4 days and have just recorded a video diary for the CiN website so watch out for that.....you will get an idea of what this is like....amazing just doesn't describe it.

Day Seven
Its started to get very very hot... Really getting the hang of trimming the sails now and its great to know that I am contributing to making the boat go faster. Really feel part of the team and the worlders are so encouraging and helpful. I did mother duty 2 days ago and that was tough. I was up at 2.30 am for my watch, mother duty started at 6 am with preparing breakfast for the oncoming watch, second sitting for the off coming watch. We made two loaves of bread ginger and sultana, and oregano...lunch was spaghetti carbonara and dinner beef stew. At the end of the day and all the washing up for 19 people, clean the galley and then luxury ....a shower !!!

Our yellowbrick updater isn't transmitting regularly, but one thing I have learned on the boat is that Distance to Finish (DTF) isn?t always the beast measure of who is in the lead as it can look like there is only 3 miles between you on DTF but there is actually 70 miles between the boats in latitude. Finally crew blog should have gone up on the Clipper site and CiN and the video diary has now been sent.

--------------------------

Here's the second update (05.05.2014) from Lesley on the good ship Great Britain, a week into their journey to Panama

2nd May

Its very very hot here..even my finger tips are sweating on this keyboard. The sailing is fine the sleeping is harder its like being in a sauna. The sooner the race ends the better as we can then sleep on deck while we motor sail.

I cant believe that on my first leg we are winning everything, first through the scoring gate, first through the first finish line and first through the second. We are now sailing to the third, but we expect the race committee to "call the race" at midnight tomorrow when the back markers will have gone through the first gate.

It would be amazing to get a win on my very first race. It makes me contemplate what makes us so competitive,and I have to say its the team spirit, the desire to keep going and even if its 2am and we need to change a sail, just getting on with it. There has been some controversy over some software Simon is using,and we have been asked to stop using it from the next race. We on team GB will show them, its not a piece of electronics that is sailing this boat, its the crew and we will carry on dedicated as we are to getting those first place pennants.

We have acquired a pet,a fledgling seabird (Auntie Anne would know what it is) its about the size of a thrush with a white belly. He has been christened Boris and has been travelling with us on deck or flying alongside for 2 days now.


5th May

What a brilliant day.We have won the first race in Leg 7..It has been a hard slog, in the middle of last night we had no wind at all...apart that is from a whale which decided to track alongside us and occasionally blew out...it sounded like a huge fart which was very funny.We got the search light out but couldnt see it. At dusk we also had three seabirds roosting on our bowsprit,it was incredible to watch them dive bombing in for half an hour and knocking each other off the perch at the front of the boat. They hung around for ages until we had to perform one of the night's many sail changes and they were thrown off.

We were trucking along at about 7 knots and 2 miles ahead of Henri Lloyd and then the wind died. At one point we were actually going backwards on the current and for an hour we had zero boat speed. Then from the 3am watch change our fortunes changed and we had consistent wind to the finish line.

As we were closing in on the finish Ollie our watch leader asked if I and Pudsey would like to helm the boat across the finish line. It was amazing and quite surreal, miles and miles of blue ocean around and this crazy bunch of Brits whooping and yelling with no-one to see!

And then as if by magic we were treated to a display of about 50 dolphins herding a school of tuna to the kill. Its the stuff that David Attenborough films are made of and an incredible privilege to watch first hand off the bow of the boat.

We are now motor sailing the last 600 miles to Panama and expect to be there by the 9th.

----------------------

Here is the third update (19.05.2014) from Lesley. Since sending this message the race to Jamaica has ended, with GB coming in 2nd place just 31 seconds behind Henri Lloyd!

Hi Everyone,

As I write we are 14 miles (2 hours sailing) from the finish line in first position, but with our nemesis Henry Lloyd less than a mile right behind us and in full view.

Its very very tense. Unlike the last race where we crossed the invisible
finish line alone in the middle of the ocean, this is a real nailbiter and I am sure it has been equally tense for you yellow brick watchers at home. We can feel you willing us on and we are putting every ounce of effort under the baking sun into getting our code one spinnaker trimmed.

We have just had a watch change and I have dived below to send this out.

Fortunately now we are sailing downwind and the boat has flattened out so moving around is much easier. I have to say I had just perfected my
technique of climbing the companionway ladder after falling off three times into the wet locker....I am rather relieved none the less. Everything is hard at 35 degrees of heel, moving around on deck involved climbing up the deck hanging onto winches and taught ropes, hauling yourself up to the high side to get every ounce of weight on the part of the boat most out of the water. You are clipped on of course because one false move and you would fall through the guardrails into the water rushing by over the gunwhales
below.

As you can imagine everything down below is also a huge challenge at this rate of heel. Your bunk has as pulley system on it so you can angle it up and wedge yourself in (essential if there is a tack when you are asleep) you also have a lee cloth to tighten across the gap which should help you falling out. But even the simplest of every day things like getting dressed, brushing your teeth, cooking and eating are ten times harder.

As we have been largely on the same tack for the last four days we have moved all heavy items like sails to the high side. Racing rules dictate that the sails cannot be placed on deck or further aft than the
galley.....its hard to imagine, but we now have a sort of obstacle course to climb over to get to the forward heads (toilets)...and it makes some interesting arrangements at meal times.

For the last two days this race has really felt like a race as we have been in sight of Switzerland and then this morning Henri Lloyd also. We can see the coast of Jamaica and will be in port with another win in the bag.

If we get it it will be a great rags to riches tale ....12th position at
the start of the race and first as we cross the finish line.....and that
all without the help of any magic software, just real hard graft and focus from the crew.

Other things I have been pondering on this race in the quieter moments is the ever changing colour of the ocean...yes I know that its all affected by the seabed and the sky, but language itself doesn't have enough words to describe the nuances of shades of petrel, aqua, cobalt, azure, royal, steel grey, green and of course the shimmering flecks and ripples of silver, red peach and gold at sunset and sunrise. I know I keep saying it but the privilege of being out here at sea with all its moods and weather is an experience of a lifetime.

Wish us well with the fairest of wind and we will I hope cross that in in a couple of hours.

Love to all

L


Race trackerwww.clipperroundtheworld.com/race-standings

Crew Blog www.clipperroundtheworld.com/crew-diary

Children In Need Article www.bbc.co.uk/blogs/childreninneed/posts/Lesley-and-Pudsey-on-the-high-seas...